Georgia Trend Daily – Nov. 10, 2022
Nov. 10, 2022 Georgia Recorder
Ross Williams reports that Herschel Walker and Sen. Raphael Warnock may be enjoying a break from their hectic campaign schedules for now, but they will soon be back on the roads and the airwaves hoping to convince Georgians to vote for them in the Dec. 6 runoff election. So will the grassroots organizations that aim to help them.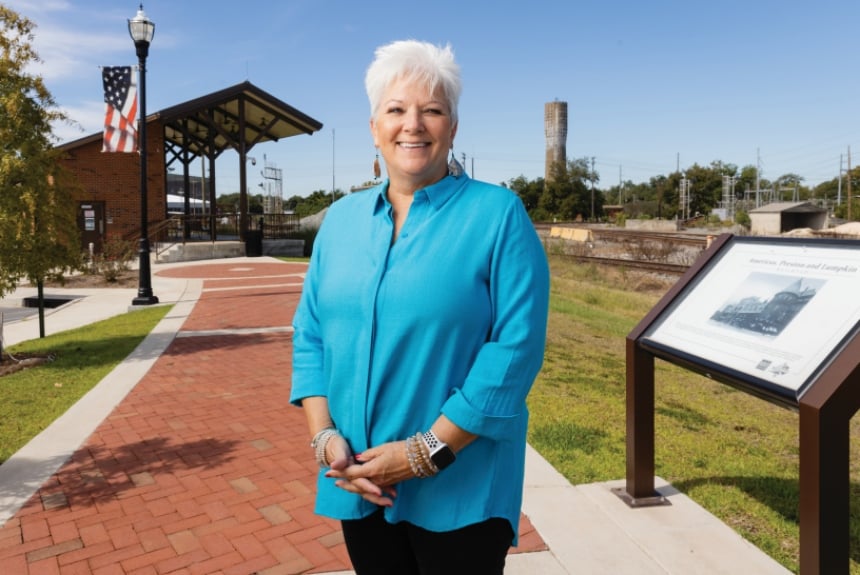 Nov. 10, 2022 Georgia Trend – Exclusive!
Jennifer Hafer reports that while many locals in small towns across Georgia complain about the delays caused by trains crossing the railroad tracks in their downtowns, the city of Cordele has embraced its rail history. In doing so, it is welcoming people from allover the world – virtually and in-person – to this small South Georgia town.

Nov. 10, 2022 Atlanta Journal-Constitution
Michael E. Kanell reports that no doubt now, the brakes are engaged: the metro Atlanta housing market has continued to slow, as higher mortgage rates depress prices and sales. The median sale price in October $379,455, a slight decline from the month before, and a nearly 8% drop since June, according to the Georgia Multiple Listing Service, which tracks sales in a 12-county area centered on the city of Atlanta.

Nov. 10, 2022 University System of Georgia
Staff reports that the USG saw a decrease of 6,179 students or -1.8% across the state. Eight institutions had an increase in enrollment, while 17 declined and one remained flat compared to last year.

Nov. 10, 2022 The Brunswick News
Larry Hobbs reports that the late-season Hurricane Nicole already flexing its muscle Wednesday in the Golden Isles, Glynn County and Brunswick officials are bracing for high storm surge, flooding, beach erosion and strong winds throughout Thursday. Nicole is an unusually large hurricane system that will cut a broad swath in its path as it sweeps up Florida and crosses into Georgia well west of here some time Thursday night, said Ben Nelson, senior meteorologist with the National Weather Service in Jacksonville.

Nov. 10, 2022 Athens Banner-Herald
Marisa Mecke reports the newest defense for saving the honeybees is in development right now in Georgia. A multitude of factors have placed the bees in a precarious situation, say scientists.

Nov. 10, 2022 Georgia Trend – Exclusive!
Jason Bearden reports that the housing crisis in Georgia is significantly impacting low-income individuals and families who live in both urban and rural areas across our state. When Georgians struggle to find an affordable place to live, the likelihood of negative health outcomes increases.

Nov. 10, 2022 GPB
Ellen Eldridge reports that Georgia has the fourth highest number of uninsured children, with an estimated 176,000 children going without health coverage, according to a Georgetown University Center for Children and Families analysis of U.S. Census Bureau data. Georgia's one of six states nationwide at the greatest risk of having children lose their health insurance once federal protections end — and it performs poorly when compared to other states in the Deep South.

Nov. 10, 2022 The Current
Margaret Coker and Jake Shore report that Georgians selected incumbent Republicans for top state races, but were deadlocked about who should serve as U.S. senator, suggesting the possibility of a split-ticket victory in the 2022 elections between Republicans and Democrats and underscoring the Peach State's identity as a battleground in these hyperpartisan times.

Nov. 10, 2022 Valdosta Daily Times, CNHI
Asia Ashley reports that three jurisdictions in Georgia will be monitored by the U.S. Justice Department for compliance with federal voting laws. The Justice Department announced its plans to monitor compliance in 64 jurisdictions in 24 states for the Nov. 8 general election, a practice the Civil Rights Division has had since the Voting Rights Act of 1965 to protect the rights of voters.


Nov. 10, 2022 Capitol Beat News
Rebecca Grapevine reports that a Georgia Senate committee focused on addressing homelessness heard Wednesday from a variety of Georgians who have directly experienced living on the streets. Those who testified came from diverse backgrounds but shared the common experience of homelessness.

Nov. 10, 2022 Atlanta Journal-Constitution
Patricia Murphy, Greg Bluestein and Tia Mitchell report that Republican Senate nominee Herschel Walker will have plenty of backup as he starts his sprint to a December 6 runoff against Democratic U.S. Sen. Raphael Warnock. U.S. Sen. Ted Cruz is headlining a rally with the former football star at a Canton brewery this evening.