Georgia Trend Daily – Nov. 7, 2022
Nov. 7, 2022 Valdosta Daily Times, Ga.Fl.News
Malia Thomas reports that nearly 300 jobs are coming to Lowndes County as a global baking company builds its second production facility in the community. According to Andrea Schruijer, executive director of the Valdosta Lowndes County Development Authority, Grupo Bimbo will invest $200 million to build a new manufacturing facility at the Westside Business Park.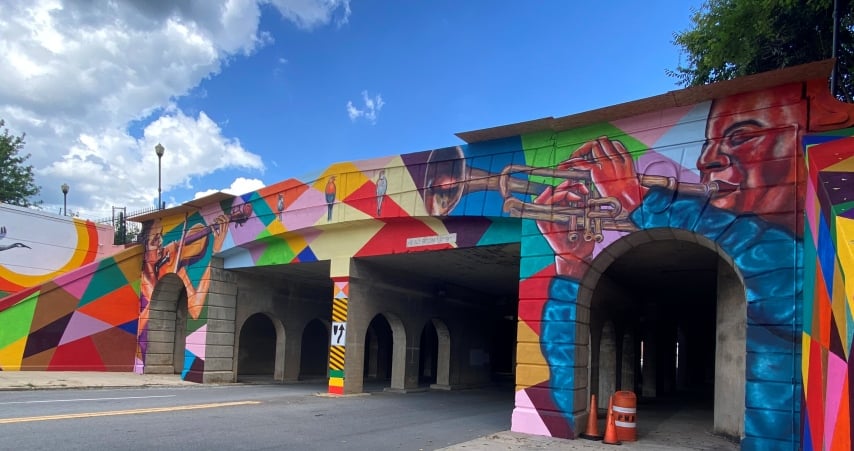 Nov. 7, 2022 Georgia Trend – Exclusive!
Kenna Simmons reports that transportation is crucial to Georgia's success and helps it claim titles like the No. 1 state to do business – but it's not every day that a transit authority in the state wins a cultural award. That's what happened in Macon, where the Macon-Bibb Transit Authority (MTA) was recognized for paying homage to the city's arts and cultural life.

Nov. 7, 2022 Atlanta Journal-Constitution
Michael E. Kanell reports that Coca-Cola has confirmed reports that it is planning to offer buyouts to some employees as the company moves to cut costs. A spokeswoman for the Atlanta-based beverage icon said a restructuring is in the works and described it as a "voluntary separation program," but declined to say anything about the magnitude of the cuts.

Nov. 7, 2022 The Center Square
T.A. DeFeo reports that Georgia Gov. Brian Kemp has signed an extension of the state's gas tax moratorium, saying such a move is needed because of a potential diesel fuel shortage. The extension runs through Dec. 11.

Nov. 7, 2022 GlobalAtlanta.com
Trevor Williams reports that nine Atlanta companies were tapped as winners of the Atlanta Metro Export Challenge, an annual grant program where companies receive $5,000 toward growing their international sales. The reimbursable grants, now being awarded for their sixth year, help local companies explore new markets by covering the costs of attending trade shows, internationalizing websites, translating sales materials or traveling to meet customers, among other creative uses.

Nov. 7, 2022 Rome News-Tribune
Adam Carey reports that CoosaCon made a triumphant return Saturday to a jam-packed Thornton Center in Armuchee. The multi-fandom convention for comics, anime, gaming and cosplay is in its second year in Rome.

Nov. 7, 2022 Marietta Daily Journal
Jake Busch reports that Cobb County has set its sights on repairing a county owned dam between Town Center and Marietta. The county estimated that the restoration of Laura Lake Dam, which it said "was heavily damaged by the 2009 flood," will cost around $8.7 million.

Nov. 7, 2022 The Brunswick News
Gordon Jackson reports that Union Carbide Corporation has filed a motion to dismiss a lawsuit brought against it for its decision to void a contract to sell a 3,900-acre tract of land for a planned spaceport to Camden County. Camden County officials filed a lawsuit in July against Union Carbide (UCC) after the company announced its decision not to sell the land in the wake of a countywide referendum where more than 70% of voters voted to prohibit commissioners from spending any more money on the project.

Nov. 7, 2022 Georgia Recorder
Jill Nolin reports that the longtime leader of the Georgia House of Representatives announced Friday that he will not seek another term as speaker. House Speaker David Ralston, who has led the chamber since 2010, said in a statement that he needs to focus on a "health challenge which has arisen recently."

Nov. 7, 2022 The Current
Craig Nelson reports that the political strategy of appealing to white grievances and fears about the future of the state under the leadership of a non-white person appears to be alive and well, as organizations that support Kemp and oppose Democrats make a last-minute push to rally white voters from beyond Atlanta to the polls.


Nov. 7, 2022 GPB
Ellen Eldridge reports that advocates of recovery from substance use disorder say they are frustrated by the worsening of the opioid epidemic in Georgia. "The problem, especially of opiate overdose and opiate use and misuse, is getting way out of hand," Georgia Council on Substance Abuse Executive Director Neil Campbell said shortly after news of forthcoming settlement money broke earlier this week.

Nov. 7, 2022 Atlanta Journal-Constitution
Maya T. Prabhu reports that Georgia's lieutenant governor has two constitutional responsibilities: to serve as president of the state Senate and to step in if the governor dies or becomes temporarily unable to perform their duties. But since the office's creation in 1945, the person holding the office has had powers that range from taking a role in the formation of the chamber's committees and having a hand in the future of legislation to simply manning the gavel in the senate.