Georgia Trend Daily – Oct. 24, 2022
Oct. 24, 2022 The Brunswick News
Hank Rowland reports that billions of dollars and thousands of jobs are at stake in Georgia if the federal government expands the North Atlantic Whale Strike Reduction Rule in its current form, the head of the Georgia Ports Authority warns. That's not all, GPA Executive Direction Griff Lynch notes in a letter to U.S. Commerce Secretary Gina M. Raimondo.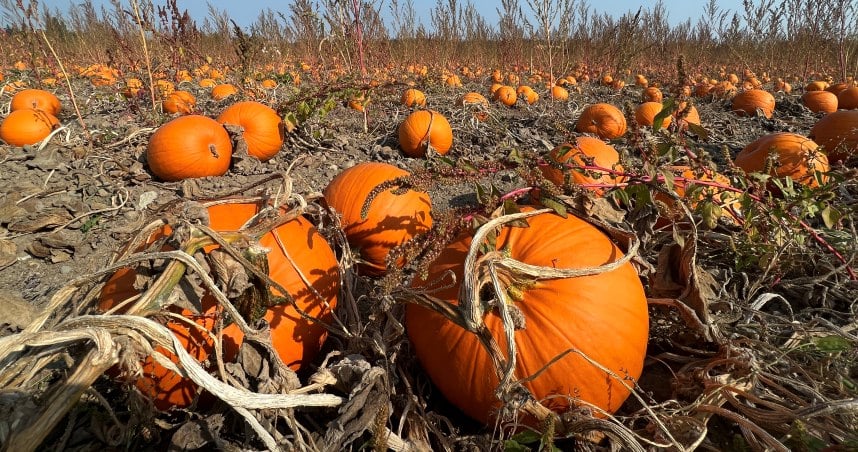 Oct. 24, 2022 Georgia Trend – Exclusive!
Sucheta Rawal reports, changing foliage, dropping temperatures, the aroma of cinnamon, and all of a sudden, pumpkins are everywhere — at grocery stores, on porches and on restaurant menus. According to the U.S. Department of Agriculture, 80% of the U.S. pumpkin crop is available in October. Whether you like to carve them into jack-o'-lanterns or bake them in a pie, here are a few helpful insights into America's favorite fall fruit.

Oct. 24, 2022 Atlanta Journal-Constitution
Drew Kann and Zachary Hansen report that residents near the future $5 billion Rivian electric vehicle plant sued Friday to try to stop grading work on the property, alleging the site isn't properly zoned and that local officials are turning a blind eye. Five Georgians sued the Joint Development Authority (JDA) of Jasper, Morgan, Newton and Walton Counties and the company it hired to begin grading the 2,000-acre factory site.

Oct. 24, 2022 Rome News-Tribune
John Bailey reports that as the Port of Savannah powered through with record amounts of traffic over the past two years, the Appalachian Regional Port in Murray County facilitated rail and truck traffic to areas nearby. As businesses continue locate, relocate or expand in Northwest Georgia, the inland port — think of it as a rail-to-truck transfer service — continues to look toward expansion despite a recent slowdown in container traffic.

Oct. 24, 2022 Savannah Morning News
Eden Turner reports, the Savannah-based insurance brokerage agency Sterling Seacrest Pritchard released its annual Construction Risk Sentiment Index on Sept. 26. The agency found that the top three risks for construction companies were material costs and delays (93.02%), staffing concerns (74.42%) and economic issues (25.58%).

Oct. 24, 2022 WSB Radio
Staff reports that a new 3D rendering of the future of Gwinnett Place Mall shows a massive central park, a focus on walkability, a cultural center, and tons of retail and residential buildings. County leaders revealed more details from the bold and ambitious $1 billion plan during a presentation at Gwinnett County Government headquarters Tuesday.

Oct. 24, 2022 GlobalAtlanta.com
Trevor Williams reports, amid a growing wave of investment from South Korea, the Georgia Department of Economic Development is growing its internal team devoted to handling inbound projects from the country. The department announced Oct. 20 that it has brought in Seunghun (Jacob) Lee as a project manager assisting Korean firms setting up shop in the state.

Oct. 24, 2022 Georgia Recorder
Ray Glier reports that in May 2018, the U.S. Supreme Court opened the spigot to the $165 billion U.S. sports betting industry by allowing states to legalize online sports gambling as legislatures pressed for ways to close budget gaps. Revenue from taxes from online betting has flowed into the treasuries of 22 states, including Georgia's neighbor Tennessee, which has made approximately $80 million in sports betting tax revenue since November 2020.

Oct. 24, 2022 Valdosta Daily Times
Asia Ashley reports, amid a state labor department plagued with challenges, voting is now underway to choose a new commissioner to oversee the agency. Current Labor Commissioner Mark Butler, a Republican who was elected to the position in 2010, decided not to seek reelection during a time in which the Georgia Department of Labor was embroiled in a lawsuit over backlog and delays in unemployment claims throughout the pandemic.

Oct. 24, 2022 GPB
Orlando Montoya reports, Georgia voters will fill a top leadership position for the state's No. 1 industry when they head to the polls during this year's midterm elections. Three candidates are on the ballot for agriculture commissioner: Nakita Hemingway, a Democrat; state Sen. Tyler Harper (R), and Libertarian David Raudabaugh.


Oct. 24, 2022 Capitol Beat News
Rebecca Grapevine reports that Georgia voters are being asked to choose between two nationally prominent Black men with deep ties to the state when they vote in a U.S. Senate race that could determine the balance of power in Washington. Democratic Sen. Raphael Warnock and Republican challenger Herschel Walker are both deeply Christian and both well known nationwide as well as in Georgia.

Oct. 24, 2022 Atlanta Journal-Constitution
Ty Tagami reports that Georgia students held their ground in reading and somewhat in math, according to the latest results of a highly regarded federal test that had not been administered since 2019, the year before COVID-19 shut down schools and disrupted society. The news for America, and to some extent for Georgia, is discouraging, particularly in math.