Regaining Altitude
Hartsfield-Jackson Atlanta International Airport is recovering from pandemic challenges while continuing to implement its modernization plan.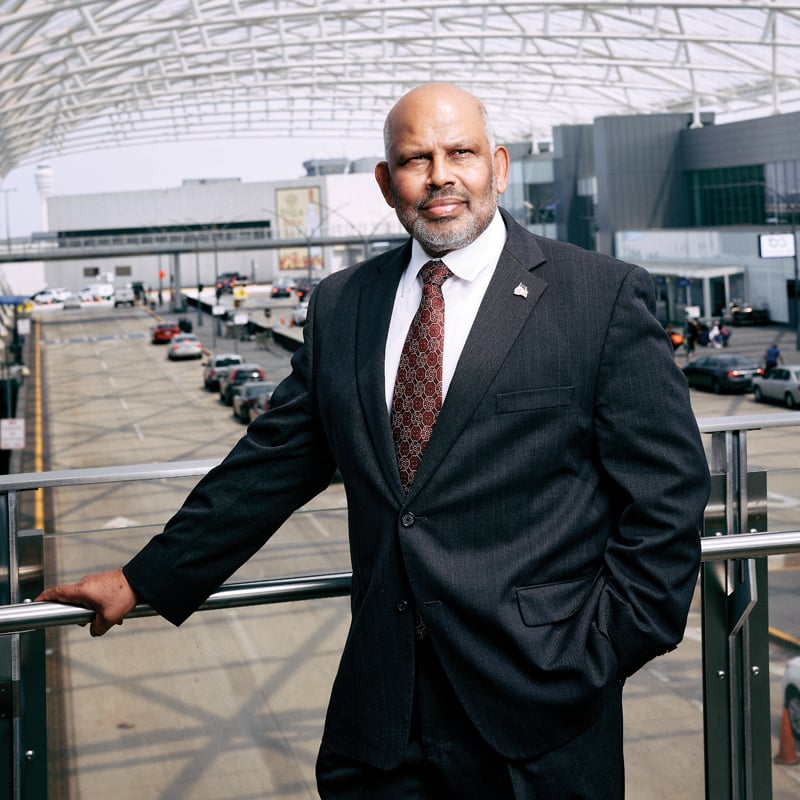 For two years, travelers passing through Hartsfield-Jackson Atlanta International Airport have rushed across its polished floors toward their departure gate or final destination, unaware that just 60 feet below workers were blasting massive tunnels through solid rock to help speed passenger passage through the airport.
And at the same time as the shockwaves generated by the blasting ricocheted underground, management above ground was being battered with a different set of shocks, this time caused both by the COVID-19 pandemic that struck in March 2020 and for a time halted most air travel – and by the surprisingly rapid rebound in demand for air travel that has followed.
By April 2020, the number of flight operations at Hartsfield slid from 2,500 to 500 a day, along with a 95% reduction in passengers compared to the prior year. To management's chagrin, in 2020 Atlanta fell from first to second place as the world's busiest airport.
Things started to change in 2021, as both domestic and foreign passengers began to take to the skies once more. By April of this year, Atlanta had reclaimed its first-place ranking with 75.7 million passengers for 2021 and a 30% increase in aircraft movements – both figures still well below 2019 levels.
Some sectors of the industry have begun to achieve liftoff – but in a turbulent atmosphere marred by economic uncertainty, financial stress, continuing COVID concerns, labor shortages and flight delays, it's almost déjà vu all over again. As in 2020 when airports and airlines around the world had little time to brace for a very bumpy landing, many have been caught off guard by passengers' rush to travel again.
Hartsfield-Jackson's General Manager Balram Bheodari says two factors helped him navigate the swift changes in aviation through the pandemic and the recovery. The first was to convene the airport's multiple stakeholders – the airlines, Atlanta's Department of Aviation, federal agencies and other groups – and develop a playbook for dealing with the situation. "People had stopped flying, there were empty planes that needed to be parked, but there was a big airport that still had to be kept open," he says.
With the playbook in hand, the second element was that all these stakeholders came together as what Bheodari calls "a team of one" to work on the problems and identify solutions. Even as they were figuring out how to navigate through the downturn, they were putting in place strategies for a successful resumption of operations. "The only thing we did not anticipate was the shortage of labor," he says. To cope with that challenge, airport officials have sponsored job and career fairs.
Bheodari acknowledges, however, that some stores are still struggling to open for their usual hours, while other business partners are looking at reducing the scope of operations to manage their resources.
The decline in passengers and aircraft operations during the pandemic dealt Hartsfield-Jackson, like other airports across the world, a severe financial blow. Total revenue plummeted by one-third from 2019 to 2021, according to the City of Atlanta Department of Aviation's 2021 financial report. Operating revenue declined 22% with especially steep losses from airport concessions. At the same time, according to the report, the airport faced a sharp increase in operating expenses.
Bheodari says Hartsfield-Jackson has always made financial health a strategic priority and had a robust revenue program in place. And while the airport was going to take a significant financial hit from the pandemic, Bheodari says grants totaling $195.7 million from the federal CARES Act in 2020 and 2021 cushioned some of the blow. "We were able to maintain our revenue level at or just below our 2019 revenue level," he notes. Revenue increased with the resurgence in travel and he says the trend is expected to continue in the year ahead, with the hope that by next year or 2024 airport revenue will be back to pre-pandemic levels.
The number of international travelers passing through the airport is also increasing. In 2020, there were just 500,000. That number doubled in 2021, and by May 2022 rose to 2.7 million, says Bheodari. Though international travel still lags domestic traffic, Bheodari expects it to grow as global vaccination rates rise and travel restrictions ease. Nor is he fazed by the prospect of thousands of international soccer fans descending on the city in 2026 to watch FIFA World Cup games, noting that some planning has already been done as part of the city's bid to host the events.
Business travel is also on the upswing nationally and globally and has reached about 85% of pre-pandemic levels in Atlanta, Bheodari estimates.
Another bright spot was a 15% increase in cargo handled at the airport, Federal Aviation Administration (FAA) data show. In 2021, Hartsfield-Jackson handled more than 3.6 billion pounds of cargo, compared to 3.1 billion in 2020. That made it the 13th busiest air cargo location in the nation.
---
Maintaining Momentum
Though the pandemic interfered with flights and travel, it did not get in the way of Hartsfield-Jackson's 20-year, multibillion-dollar expansion and modernization plan. The cost of total construction in progress in 2021 was more than $741 million, the Department of Aviation reported.
Modernizing the main terminal, expanding cargo facilities and concourses, adding gates, altering runways and adding parking spaces are all part of a master plan published in 2015.
The distinctive, massive transparent canopies – themselves an engineering feat – that now shield passengers from the elements as they enter the main terminal from the north or south were completed in September 2019. In 2021, the ATL West parking deck, expansion of the South Security Checkpoint and four new pedestrian bridges from the parking garages to the terminal building were finished. And in April 2022, work began on the South parking deck – the start of a multiyear domestic terminal parking deck renewal and replacement project.
While some of these changes were obvious to airport visitors – if only because of the inconvenience they occasionally caused – others were going on unnoticed underground. Those included a $330 million tunneling project to boost the capacity of the airport's underground Plane Train that ferries passenger from the main terminal to the various concourses. It's scheduled for completion in 2024. One element distinguished this project from most other tunnel construction: the need to conceal 208 blasts of 45,000 pounds of dynamite from travelers scurrying about above.
The completed project will shave 18 seconds off the arrival times between trains – reducing wait times from 108 seconds to 90 seconds. That may not sound like a lot, but it will enable 12,000 passengers an hour, 2,000 more than the current system, to be whisked through the airport, says Tom Nissalke, assistant general manager of planning and development. That's an increase of 20%.
In addition, the plan calls for the installation of a fourth escalator to carry the additional flow of passengers from the train level to the main concourse, and a renovated baggage claim area.
It has also provided plenty of work for Atlanta-based Technique Concrete Construction, one of more than 50 small, disadvantaged, minority or female-owned firms participating. As part of a joint venture with Clark Construction and Atkinson Construction, Technique has been working on the 700-foot extension of the Plane Train tunnel. Billy Freeman Jr., owner and CEO, says Technique is the nation's first certified minority tunneling contractor.
With a multimillion-dollar contract, Technique was responsible for installing rebar, pouring concrete and moving utilities like fresh water, sewer and storm water to allow for tunnel construction under the terminals, MARTA station and SkyTrain – all without disrupting the operation of the North and South terminals.
"The risk was high. We could not do anything fast. Nobody knew what was under there. We had to dig down vertically and then make the turn to go under horizontally," Freeman says.
The addition of five more gates at the north end of Concourse T and 6,000 square feet of concession space is scheduled for completion by spring 2023. The $124.5 million contract was awarded to a joint venture between Skanska, a global construction and development firm, and Atlanta-based companies New South Construction, FS360 and Synergy Development Partners, one of the fastest-growing women-owned minority companies in Georgia. The new gates will join the 195 gates already in place at the airport.
A federal grant of $40 million from the Bipartisan Infrastructure Law, announced in July, will kick off pre-construction work to expand and upgrade Concourse D, one of the more crowded areas in the airport. The complete project is projected to cost hundreds of millions and take about five years to finish.
---
Improved Experience
In addition to the physical changes at the airport, officials have been busy making adjustments to improve the passenger experience. That includes implementation of technology solutions. "We changed the way we looked at our cleaning program to minimize any germ impact on the traveling public," Bheodari notes.
"Frictionless" and "touchless" became the order of the day to reduce the amount of human physical contact. The newly renovated West parking deck, for example, is designed to be completely automated with license plate readers to facilitate contactless entry and exit to the deck and minimize inconvenience. Touchless food ordering expanded, and Hartsfield-Jackson joined other major airports in introducing somewhat-controversial facial recognition technology to increase screening efficiency.
The airport is also attracting new entrants to improve the travel experience for affluent flyers. This spring, American Express announced a plan to open its largest Centurion Lounge in Atlanta. Its reported price tag is $36 million. The 26,000-square-foot club will be located in Concourse E, offering a full buffet, bourbon bar, outdoor terraces and other benefits to eligible card members. The new lounge is scheduled to open in 2023.
And in June, Signature Aviation, the world's largest private aviation terminal operator, revealed that in collaboration with PS, a private luxury terminal service for commercial flights, it will open a salon that promises an elevated airport experience – its first outside PS's Los Angeles International Airport home base. The new facility will include a private room or suite with daybed, shower and personally cooked meals along with transportation to and from the commercial aircraft and chauffeur service to a hotel or home.
Bheodari says he is not concerned that these companies could compete with airport concessionaires, noting these will provide a new revenue stream for the airport. Nor does he worry that Delta Air Lines' newly renovated hubs at LaGuardia, Los Angeles, Salt Lake City and other locations could draw traffic away from Atlanta, saying that the city's diverse economy will sustain the busy airport.
---
Uncertain Environment
Despite these encouraging signs, Bheodari anticipates potential future challenges. Rising labor costs for flight crews, mechanics and service providers will remain problematic until new qualified candidates are trained. Inflation in the cost of goods and services and especially fuel is another headache. So is the uncertainty about whether the current surge in travel will continue or taper off in the coming months.
The unpredictability of this surge has affected not only airports but also airlines around the world. As air traffic ground to a halt during the pandemic, airlines laid off or encouraged early retirement of thousands of workers, including many of their most experienced pilots. When air traffic rebounded, staff shortages were a key factor in causing airlines to cancel or delay many flights or rejigger their entire flight schedules, leaving infuriated passengers chafing at the gate.
"The environment we're navigating today is unlike anything we've ever faced," Delta CEO Ed Bastian wrote in a June letter to travelers as off-duty pilots picketed, seeking improvements in pay, retirement benefits and job protections, as well as changes to overloaded schedules. "We've spent years establishing Delta as the industry leader in reliability, and though the majority of our flights continue to operate on time, this level of disruption and uncertainty is unacceptable."
To help, Bastian noted that airport boarding procedures in Atlanta were being updated to facilitate on-time departures and schedule changes, and corporate employees from other locations are being brought in to assist. He has also said Delta was "depeaking" Atlanta because of the spiking nature of demand for travel, proactively cutting hundreds of flights from its schedule between July 1 and August 7.
Bheodari says about 100 flights a day are being canceled in Atlanta out of 2,000, less than 5% of the total flight activity a day. "We work very closely with our airline partners to minimize the impact, and for the most part they accommodate those passengers on other flights," he says.
In addition to the immediate challenges the airport faces, it also has a long-term commitment to sustainability. In February it released its first carbon policy as a step to achieving the city of Atlanta's 100% clean and renewable energy goal by 2035 and joining the aviation industry's commitment to achieve Net Zero by 2050. It also aims to earn LEED certification campus-wide.
"Sustainability is one of the core elements of our strategic plan," says Bheodari. "We are not going to look at sustainability as individual elements but as a campus-wide holistic program. We are partnering with our stakeholders and our community. We have the data to support what we are doing."
Effective airport management is vital not only to leisure travelers but also to those who must fly for business. Dave Williams, senior vice president of public policy at the Metro Atlanta Chamber, has only praise for how the airport is being managed. "We believe Hartsfield-Jackson did an incredible job in maintaining service, especially for essential travel," he says. "It was critical that the airport remained open, and there was no interruption of service."