Peach Plate: Inspired by Mothers
Oreatha's at the Point offers bold creations.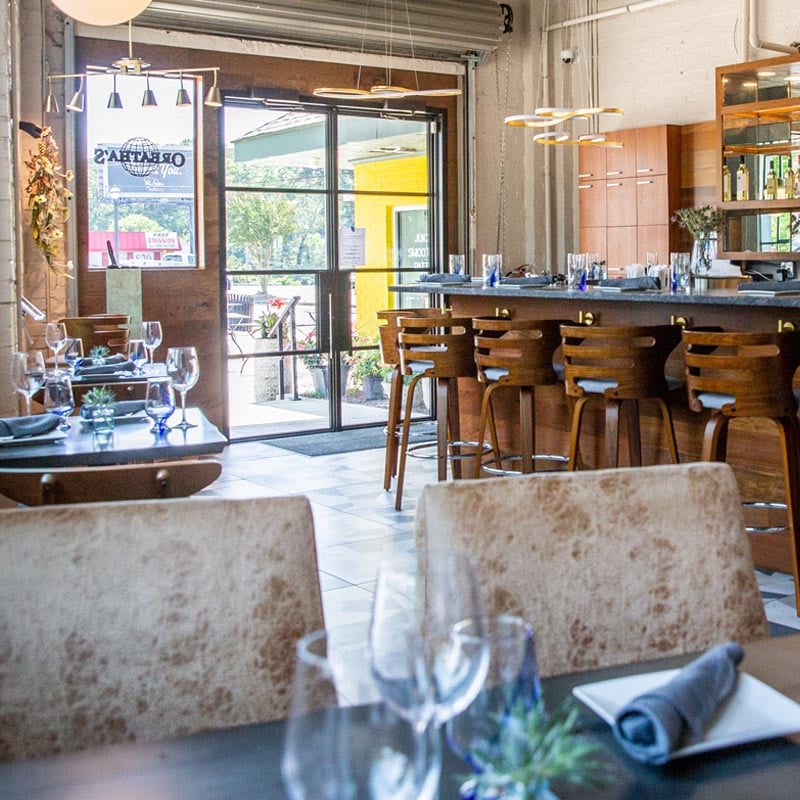 Driving through the formerly segregated Southwest Atlanta neighborhood of Cascade Heights evokes mixed emotions. While you see revitalized local businesses and a variety of architectural styles, you also consider this was the home of notables Congressman John Lewis and baseball Hall of Famer Hank Aaron, both of whom endured racism and fought for racial equality. It's meaningful that restauranter and chef Deborah VanTrece, lauded for her Twisted Soul Cookhouse & Pours restaurant on Huff Road, picked this historic Black neighborhood as the location for three new eateries, the first of which is Oreatha's at the Point.
The 1,500-square-foot space feels like walking into someone's home. With large windows drawing in natural light, blue-and-beige pastel interiors and low, sofa-like chairs in muted colors, the space is casual, modern and welcoming. There is a spacious patio overlooking a triangular section of Cascade Road. Hints of colors on the walls accentuate the female-centric artwork – paintings and photographs acquired by VanTrece and business partner Shea Embry during their world travels. Images of women of all ages and races hint at what's to come: a representation of what mothers cook and serve across different cultures.
On the menu, you won't find signature dishes from a certain part of the globe but rather a fusion of globally inspired flavors enhanced with a Southern twist. Oreatha's Executive Chef Christian "Lucke" Bell draws inspiration from his own mother and grandmother to create bold new dishes.
The hummus plate with naan sounds like a safe place to start. However, it is presented as a muddle of garlicky eggplant and chickpea dips, topped with slices of undercooked eggplant. Tempura-battered artichokes are fascinatingly soft, though a bit on the greasy side. Accompanying it are sliced fried okra, shishito peppers and cauliflower served with a spicy garlic-chili harissa oil – a nice sharing plate for vegans. The duck Rangoon has an interesting twist on the classic Asian appetizer, with a hint of cream cheese, smoky barbecued duck meat and a sweet-and-sour peach dipping sauce.
Farm-fresh seasonal and locally sourced produce makes its way into many of the dishes. The panzanella salad combines elements of Italian burrata with Southern-style cornbread croutons and tender chopped collard greens, topped with a creamy and flavorful balsamic vinaigrette dressing.
Whole fried cornmeal-crusted catfish is tender and moist, delicately balancing on a bed of creamy cauliflower grits and curry coleslaw. This Thai spin on the classic fish and grits, served with spicy tamarind hot sauce, is perhaps the most flavorful entrée at Oreatha's.
The deconstructed duck pot pie is VanTrece's mother's recipe (after whom the restaurant is named) and a featured item on the menu. It is served unconventionally in a bowl of sweet coconut curry made with sweet potatoes and kale, barbecue-flavored smoked duck, and topped with flaky buttermilk biscuit.
The Moroccan Chicken Tagine is beautifully presented in a traditional earthen dome, though the saffron rice with pieces of olives and raisins is a bit too soggy, and the chicken dry and peppery.
Rotating desserts at Oreatha's are prepared by pastry chefs Sade "Sam" McMullen and Briana Riddick. A warm chocolate bread pudding with chocolate chips and delicate dulce de leche caramel arrives freshly baked in a triangular cast iron pan. It offers a nice contrast of bitter, sweet and creamy flavors. If you prefer something more decadent, the rich chocolate mousse cake with a gluten-free, flourless chocolate cake and strawberry drizzle will not disappoint.
Once the restaurant's liquor license is approved, Oreatha's will offer a full bar with handcrafted cocktails curated by VanTrece's daughter Kursten Berry (also beverage director at Twisted Soul). Until then, diners are offered up to two glasses of complementary house wine or beer.
As Orethea's fine-tunes operations, it plans to change the menu seasonally and evolve its style to local diners' preferences, perhaps something a loving mother would do at any inclusive home as she caters to her discerning family members.