Georgia's first pimento cheese-themed restaurant
Suga's Cheese Shoppe & Café opens in Powder Springs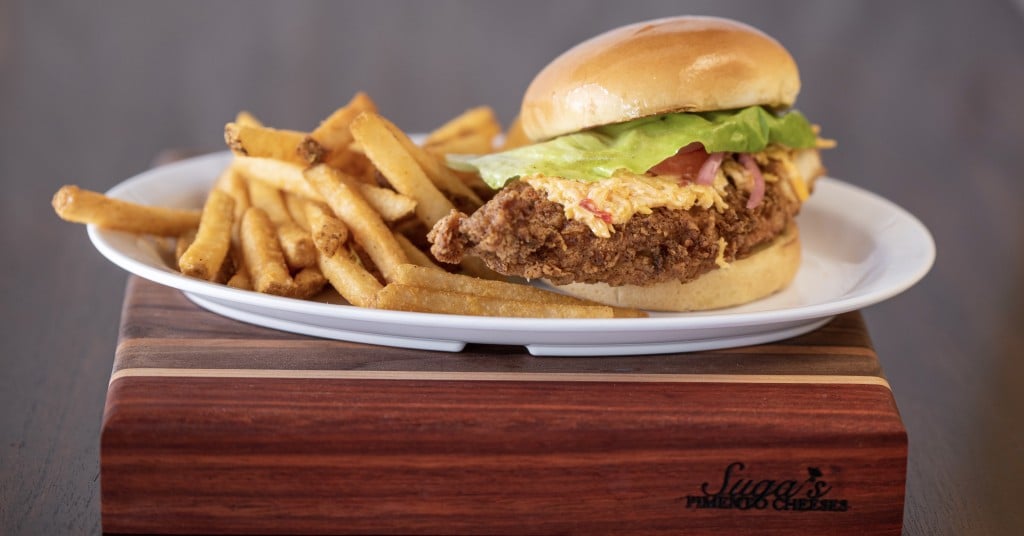 Pimento cheese, aka the "caviar of the South," isn't just for dipping your crackers into anymore. One Georgia chef has stretched the curd to open an entire restaurant with a not-so-cheesy pimento cheese theme.
Co-founder and chef Stacey West (who goes by "Suga") worked as a nurse for over 30 years. In her second career, she graduated from Le Cordon Bleu College of Culinary Arts in Atlanta, and worked with some of Georgia's top chefs, such as Hilary White of The Hil at Serenbe and Holly Chute, executive chef at Georgia Grown.
With her partner Robert West and her son Quinton Jones, also a chef, she launched her company and for four years, they sold Suga's Pimento Cheeses at farmers markets, festivals and pop-up brunches in metro Atlanta. The fresh shredded cheese, mayonnaise and sweet red pimento peppers concoction always sold out. Her customers loved the superior quality cheese that came in varied flavors and was so versatile. They often asked for recipes and Chef Suga always had ideas on how to enhance any dish with pimento cheese.
To meet rising demand, they opened Suga's Cheese Shoppe & Café in downtown Powder Springs in December 2021. With paintings of magnolia and old, moss-laden oak trees on the walls, and fresh flowers on each table, the modern café pays homage to a casual Southern style café where you would go for iced tea and sandwiches. But here you can order 12 kinds of handcrafted pimento cheese, including four vegan varieties, as well as an extensive lunch menu that includes sandwiches, wraps and burgers.
What makes Suga's unique is that it is the only known pimento cheese-themed restaurant in Georgia (perhaps even in the nation). Chef Suga's elastic imagination has made pimento cheese a star on her menu. For example, smoked gouda pimento melts into buttery soft warm biscuits, served with strawberry balsamic jam and honey butter. The brisket patty burgers come with robust options of black truffle pimento cheese, fiery roasted poblano with Monterey jack, or mild bacon asiago pimento. Even the shrimp scampi blends pesto and feta pimento cheese into its creamy white wine garlic sauce.
If you prefer a dairy-free option, there is vegan grilled cheese sandwich with vegan smoked gouda pimento cheese (made of potato and corn base), and zesty Vegan Impossible burger with Original Vegantastic Pimento Cheese. Unlike other plant-based cheeses, these taste and melt just like regular cheese. And if you think savory is the limit for pimento, you must try Suga's original, blueberry or Oreo cheesecakes, made with — you guessed it – pimento cheese!
Since its opening, Suga's has become a popular hangout in the upcoming neighborhood of downtown Powder Springs. Besides a laidback lunch, it also offers Sunday brunch with live music.
If you like being creative at home, stop by Suga's marketplace where you can purchase pimento cheeses to-go, as well as a variety of gourmet food accompaniments by local vendors. With your own cocktail mixers, bacon jams, hot sauces, crackers, and pickles, you should be able to whip up a Southern style charcuterie board in no time.
Photos by Rose Thorn Studio
Do you follow us? Find us on Linkedin, Facebook, Twitter and Instagram.