Main Streets on a Mission
Moving pedestrians safely around downtowns is vital to the economic life of Georgia communities.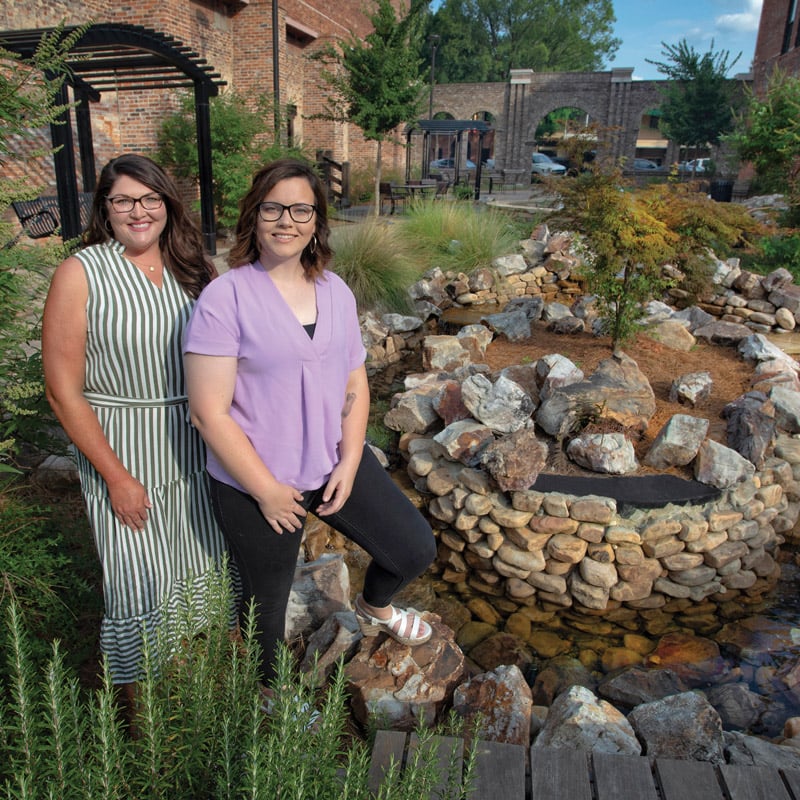 When you hear "downtown revitalization" you might picture restaurants, brew pubs, boutiques and offices in character-filled, brick-clad buildings. Plants and trees line the well-lit streets and benches offer spots to watch small-town life go by. But without people – specifically, pedestrians – moving in and out of shops and restaurants while spending money in those businesses, downtowns wouldn't survive.
That's why enabling pedestrians to move around safely is a priority for Georgia's Main Street program.
"The ultimate mission of Main Street is to help revitalize these historic commercial districts," says Jessica Worthington, director of the Office of Downtown Development and Georgia Main Streets. "And when we're looking at revitalization, our way of looking at it is holistic. That's where that pedestrian experience comes into play. It's all about how someone actually engages with the space – and for us that space is downtown. It's not just, 'How did somebody engage with one individual property?' It's, 'How do we engage with the entire downtown? How do we move around? How do we navigate? Where do we park?' And then, of course, wanting to make sure that downtown is a safe, inclusive environment for everybody."
The Main Street movement has had a significant impact on historic downtown business districts across the country – and in the 105 Georgia communities that are program members.
To keep people strolling safely through the Main Streets of Georgia, downtown development and Main Street programs have gotten creative. And in at least one case, the efforts have been motivated by a personal tragedy.
"Pedestrian safety and that pedestrian experience [don't] always have to be huge, multimillion dollar projects," Worthington says. "[They] can be as simple as redesigning or repainting a crosswalk. So that way it's bright and it gets your attention and becomes an aesthetically pleasing piece of art, but also becomes something that [makes] people slow down, pay attention and stop – again, enhancing that safety, that pedestrian experience."
As cities and towns have looked beyond the COVID-19 pandemic and pedestrian traffic has picked up, Main Streets had their best year ever in 2021. "Our impact was $1.2 billion, which is the highest in the past 42 years that we've been doing this," Worthington says. It's a stat that makes it more important than ever to keep the growing numbers of pedestrians safe.
Here's a look at projects in three cities – Acworth, Douglas and Dublin – that have put pedestrian safety at the forefront and delivered more foot traffic to businesses downtown.
---
Douglas
Safety Increases Sales
For Dave Hughes, Main Street director in the South Georgia town of Douglas, downtown pedestrian safety is vital and personal. In February 2020, Hughes and his wife, Sheila, were walking across the street from her downtown shop to a restaurant for dinner.
"We were struck by a vehicle while we were in a crosswalk," Hughes says. The driver was making a left turn and despite the well-lit streets, didn't see the couple in the intersection. "She struck both of us," Hughes says. "I [suffered] minor injuries, but my wife was killed."
As he began to recover from the devastating accident, Hughes started thinking about what he could do to make sure this didn't happen to anyone else in his town. As Main Street manager, he had the resources and know-how to address the issue.
"I decided that one of the biggest things I could do for downtown Douglas and as Main Street director was to improve pedestrian safety," he says. Douglas has a vibrant downtown district of shops and restaurants, many of which sit along Main Street – Ga. Hwy. 441. Because it's a state highway, Hughes had to work with the Georgia Department of Transportation (GDOT) to implement his ideas. In summer 2020, he got on the phone with GDOT.
"We talked about pedestrian safety," he says. "And they were pretty open to listen to whatever I had to say. One thing I noticed is that we didn't have any sign-age downtown at any of our streets, nothing on 441 that relates to yield or stop for pedestrians. So, my first request was to get that signage put up."
A few months later, GDOT obliged with yield and "stop for pedestrian" signs at the six intersections that form the core business district. The signs are close to the traffic lights so they are hard to miss, Hughes says, though he worries that people don't pay enough attention to them.
And that brought him to his second request: To improve the crosswalks themselves. Again, it required discussions with GDOT because they cross Hwy. 441.
"We have a couple of mid-block crosswalks that you're just taking your life in your hands when you step out," Hughes says, "because traffic's not going to stop. They just don't."
The second request was specifically for flashing beacons at the mid-block crosswalks, which GDOT added last fall.
"Pedestrians push the button, and the beacon comes on," Hughes says. "Of course, at first, the flashing beacons would go on and drivers kept going. Four or five, six cars go through before someone would stop." Now, drivers are used to seeing them and stop for pedestrians, he says.
"Most everybody in the businesses downtown is thankful about it," he says. "That made our downtown much safer."
The changes also help increase sales for downtown businesses. When downtowns are safer for pedestrians, businesses see more foot traffic, people window-shop, stroll in and out of boutiques and stop for a meal or a snack.
"We have over 35 retail shops alone in the … core business district – retail shops and boutiques," Hughes says. "We have 13 dining establishments within that area, along with 12 salons, spas and barber shops. It's a busy downtown."
And all that foot traffic, bringing more business to downtown, has brought about Hughes' next project to keep pedestrians safe – lowering the speed limit through the district from 35 to 25 miles per hour. Sounds like it's time for another call to GDOT.
---
Dublin
Creating Beautiful Connectivity
Parking is to downtown development what the foundation is to a house – something that should be out of sight, but robust enough to support the structure. Without convenient parking, people don't visit downtowns. They don't shop in local stores. They don't attend events. And parking can't be too far from the destination, or the pedestrian safety piece becomes even more important and perhaps unmanageable.
In Dublin, a city in Middle Georgia, a plaza offered a solution to the parking problem while addressing other issues as well. It all started in 2013 when the city wanted to revitalize a section of downtown that had been underused for decades, says Tara Bradshaw, Dublin's city planner and its former director of Main Street.
"We knew that if we could put the right public infrastructure in place, and the right incentives in place, that we could transform this particular area of our historic downtown," Bradshaw says.
But there were challenges. The area had been underutilized in part because it had no access to needed infrastructure – updated sewer and water, natural gas and off-street parking.
"We didn't want to just go in and put in the infrastructure and build another parking lot," Bradshaw says. "We wanted to build a park that was connected to that infrastructure. We wanted to create a beautiful green space that would serve as sort of a connectivity conduit to get people from the infrastructure they needed, like off-street parking, to the core of our downtown."
Not only would this park provide a safe way for pedestrians to get around the downtown, it would also be an appealing gathering space as well.
"This is where connectivity was so important to us. People will walk a little bit farther if you can give them somewhere beautiful to walk," Bradshaw says. "When we have to cross a vast expanse of asphalt, that's when we really get dour about it. That was the whole premise behind Jackson Street Plaza. We needed parking, there was no way we could get around that. But we wanted to provide the beautiful connectivity so that [pedestrians] can get access to businesses that were relocating here in this area."
The plaza has more than lived up to the expected benefits, Bradshaw says. It remains a safe way for pedestrians to move throughout downtown. It's also been a catalyst for economic development we're starting to see there, but it's a symbolic connection between the two sides of the tracks."
On one city block bordering the connected green space, nine of 11 properties were transformed through a complete historic renovation, Bradshaw says. "Here's the best part," she adds. "We look at investment and connectivity as a way for us to catalyze private investment. … What we saw was that the city of Dublin invested about $3 million in this area. And we wound up with almost $10 million in private investment." This includes residential units, commercial spaces, new businesses and 150 jobs.
The impact of Jackson Street Plaza continues to this day, says Jordan Crabb, the current Main Street director. Not only did it spark the development Bradshaw mentions, but it draws people from around the state who want to see the plaza and enjoy the downtown experience. "It has become one of the most, if not the most, photographed spaces in Dublin-Laurens County," she says. "It has become one of the most popular venues events. And it's been just a great safe zone if you're waiting to get a table at Company Supply or Deano's [Italian]. It's also been a great space for us to have even more events downtown and to keep our pedestrians safe during those different events."
---
Acworth
Adding a Symbolic Span
Acworth, in Northwest Metro Atlanta, is a classic rail town. For decades the still-active railroad has paralleled Main Street with two sets of tracks, effectively cutting one side of town off from the other when trains roar through and limiting access to the revitalized historic downtown shops, restaurants and businesses.
As Acworth grew, development moved from the Historic District across the tracks to the Park Side District, where Logan Farm Park offers walking trails, a huge playground, green space and picnic shelters. Apartments, a senior living facility, restaurants and that essential downtown space – parking – have also opened on the Park Side.
But because of the busy railroad, people on the Park Side were cut off from downtown, and vice versa. With the activities and places to enjoy on both sides of the track, connectivity became essential.
"Out of that redevelopment [of Park Side], the awareness came that we didn't want to create two separate downtowns," says Jeff Chase, Acworth's director of downtown development, tourism and historic preservation. "We wanted that connectivity."
The solution came in 2019 with the opening of a pedestrian overpass with an elevator and stairs that connects Park Side with the Historic District. The city explored a number of options before deciding to construct the bridge, and Chase says it's become "not only a functional connector to our Park Side and really helped with the development we're starting to see there, but it's a symbolic connection between the two sides of the tracks."
The design harkens back to an actual railroad bridge that might cross a river and has become "popular for photo ops and with people who just want to go out there and look at trains and look at the view," he says.
In addition to the bridge, the city put in two pedestrian-activated electronic flashing crosswalks. One crosses Main Street just south of the Historic District at Red Top Brewhouse. The other crosses Southside Drive – the street on the Park Side that parallels the tracks – at the Cowen Historic Mill, an event venue.
Now that there is connectivity across the tracks, the next step is to create a trail master plan to connect Park Side, the Historic District and Lake Acworth, which is about a mile away.
It's all in support of the mission of Main Street, Worthington says, and "how we look at engaging with businesses downtown, and instead of just thinking of them as this one building, this one property, it's more holistic, as far as the experience."
---
Georgia's Exceptional Main Streets
There are 105 Georgia communities that participate in the Main Street program. Of those, 19 are known as GEMS – a Georgia Exceptional Main Street. These cities have risen above the expectations of the Main Street program by working in collaboration with business and civic leaders to provide a strong foundation for their downtowns.
Georgia's GEMS are:
Acworth
Athens
Bainbridge
Brunswick
Cartersville Columbus
Dublin
Greensboro
Madison
Milledgeville
Monroe
Moultrie
Newnan
Rome
Statesboro
Thomasville
Tifton
Toccoa
Valdosta