Georgia Trend Daily – July 18, 2022
July 18, 2022 Capitol Beat News
Dave Williams reports that the Georgia Supreme Court has declined to take up a legal challenge to Georgia Power's plan to collect $525 million from customers in coal ash pond closure costs. The Sierra Club had appealed to the high court after both a Fulton County trial court and the state Court of Appeals ruled in favor of the Atlanta-based utility, upholding a 2019 vote by the Georgia Public Service Commission giving Georgia Power the green light on its plan.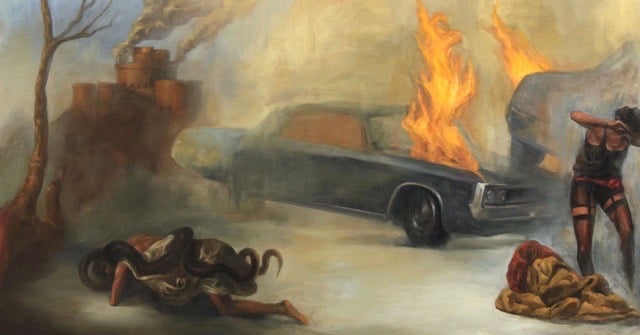 July 18, 2022 Georgia Trend – Exclusive!
Kenna Simmons reports that professors of art both teach and do, and you can see the evidence at a new show at Atlanta's eyedrum gallery. "Professors of Art: Georgia" opened July 16 and will delight any art lover in its variety, showcasing works in a number of media and styles created by faculty from Georgia's public and private higher education institutions.

July 18, 2022 Atlanta Journal-Constitution
Zachary Hansen reports that a company is pitching a sprawling warehouse and industrial complex in Covington, east of Atlanta, that would nearly double the industrial space in Newton County's seat, and add to the region's explosive surge of distribution and light manufacturing space. The proposed 4-million-square-foot industrial park, bigger than two Lenox Square malls, spans nearly 500 acres, according to state paperwork filed last week.

July 18, 2022 Gwinnett Daily Post
Curt Yeomans reports that Hartsfield-Jackson Atlanta International Airport may be on the south side of Atlanta but its $66 billion economic impact is felt across the entire metro region — even in Gwinnett County, according to airport General Manager Balram Bheodari. Bheodari addressed the Gwinnett Chamber during its monthly On Topic luncheon at the 1818 Club on Friday.

July 18, 2022 Macon Telegraph
Micah Johnston reports that a U.S. Senator from Georgia is in charge of a Congressional committee tasked with ironing out the details of a funding bill that could bring jobs and research money to Middle Georgia. Sen. Raphael Warnock is leading the conference committee, made of Senators and House members, that could present Congress with a resolved bill by the end of the month.

July 18, 2022 Savannah Morning News
Marisa Mecke reports that a project recently undertaken by University of Georgia engineers hopes to insure coastal marshlands remain protected. In a new collaboration with The Nature Conservancy, and funded by Georgia Sea Grant, the researchers are approaching marsh preservation by bringing unlikely partners to the table: insurance agencies.

July 18, 2022 Rome News-Tribune
John Bailey reports that a firm that makes a variety of architectural wood doors, laminate countertops, butcher block countertops and similar products has recently completed a 40,000-square-foot expansion to its facility in West Rome. Holstein, Iowa-based VT Industries began their operations in Rome in 1990.

July 18, 2022 Marietta Daily Journal
Andrew Cicco reports that Atlanta United vice president of business operations Georgia O'Donoghue spoke of brighter and better things for the team in her talk to the Marietta Area Council of the Cobb County Chamber of Commerce. That brighter future for the soccer club's practice facility includes serving as a World Cup training site, as well as a new media coverage deal with Apple TV, according to O'Donoghue.

July 18, 2022 WABE
Sam Gringlas reports that a panel of judges is now one step closer to ruling on whether Georgia's restrictive abortion law can take effect. The state of Georgia and the coalition of groups challenging the law submitted new legal briefs Friday night, just before a midnight deadline.

July 18, 2022 State Affairs
Beau Evans reports, since 2020, Georgia lawmakers have sat on a bill that would cap interest rates for so-called title pawns, which often come with sky-high rates for people in a pinch who take out small loans to pay everyday bills and in doing so, put up the title to their car as collateral. The need to cap these interest rates – which can swell to 300% – has become more urgent as increasing numbers of low-income Georgians pawn their car titles and fall into debt amid soaring inflation, local advocates say.

July 18, 2022 Atlanta Journal-Constitution
Staff reports, pummeled with attacks from Gov. Brian Kemp and his allies over her stance on public safety, Stacey Abrams has launched a new counteroffensive to reframe the narrative. She filmed a direct-to-camera ad outlining her proposal to hike pay for certain law enforcement officers and her plan to reduce violent crime.