Art featured from across Georgia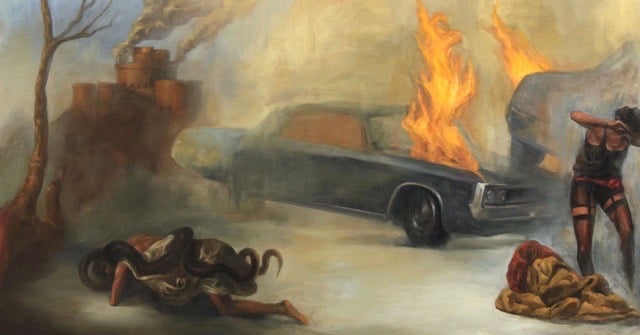 Professors of art both teach and do, and you can see the evidence at a new show at Atlanta's eyedrum gallery. "Professors of Art: Georgia" opened July 16 and will delight any art lover in its variety, showcasing works in a number of media and styles created by faculty from Georgia's public and private higher education institutions.
Work from 31 professors at Kennesaw State University, Georgia Southern University, Augusta University, Clark Atlanta University, Georgia State University, Mercer University and others are included. One artist will receive an Award of Top Honor and will have a solo exhibition at eyedrum in 2023.
Not only is this a good opportunity for art lovers to see a range of talented Georgia artists, it's also a way to promote faculty (maybe literally) – exhibition of their works is often a requirement for professors to keep their teaching positions or gain tenure.
The works in the exhibit were selected by Michael Marling de Cuellar, a recently retired professor from the University of North Georgia in Dahlonega. This is the first exhibition of three planned: The next shows will include the solo exhibition as well as a juried group exhibition of work by maters of fine arts (MFA) candidates from across the state in 2024.
eyedrum is a nonprofit art gallery, exhibition and performance venue, and community space that presents works of art with an emphasis on experimental, new forms and works that are not widely presented elsewhere. The show runs through August 13.
Photos provided by eyedrum. Top, Treacherous Narrative, oil on canvas by Donald Robson, associate professor of painting and drawing, Kennesaw State University. Above, He's a Tool, She's a Fool, acrylic on panel by Chadwick Tolley, associate professor of printmaking and painting, Augusta University
Do you follow us? Find us on Linkedin, Facebook, Twitter and Instagram.