Chamber music pairs with food and wine at Serenbe
Creative presentation, non-tradition venue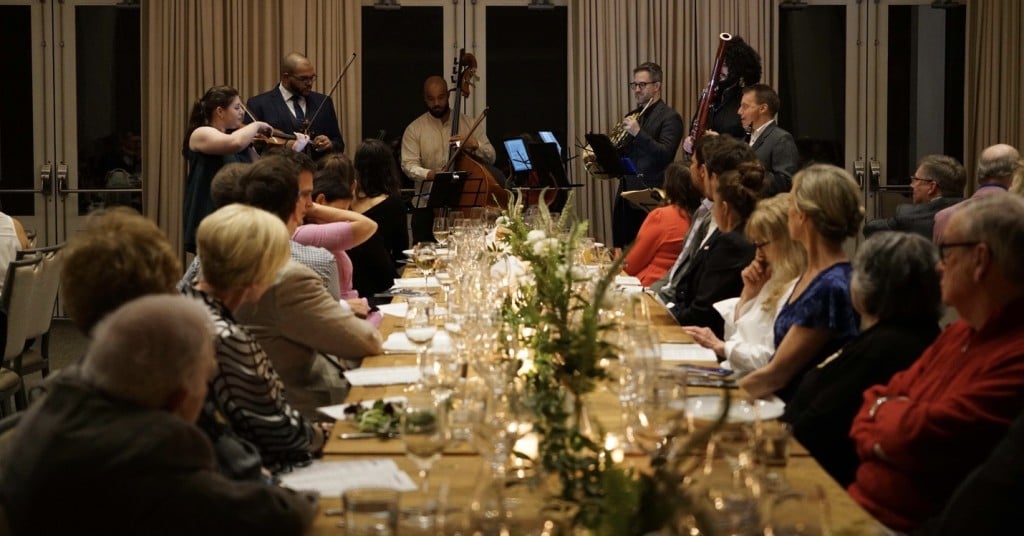 What can be more perfect than farm-fresh food and the world's finest wines enjoyed in an idyllic setting not far from Atlanta? The answer is – paired music! Not any ordinary background restaurant music — not even a live soothing jazz band or echoing techno beats – but Tertulia, a chamber music series that only takes place in restaurants.
What is Tertulia?
The name Tertulia, which means "gathering" in Spanish, signifies "a chamber music series that presents concerts in restaurants, in an atmosphere that combines lively conversation and dining with the opportunity to hear some of the greatest performers of our time" Think of it as an intimate dinner party of 50 people, with a private concert and some of the best known musicians in the world playing at an arm's distance. Founder Julia Villagra wanted to attract people who love good food and music. Oboist James Austin Smith, praised for his "brilliant performances" by The New York Times, serves as artistic director. Tertulia performs only in three cities – New York, San Francisco and now at Serenbe.
Art Farm and Tertulia
When Faith McCoy Scriven joined as the music council chair of the Art Farm (Serenbe's nonprofit arts group), she set about bringing Tertulia to the "beautiful place to make music." (She is also on Tertulia's board.) She reached out to Smith, a friend from college, and invited him to come check out the venue for an afternoon. Smith loved the unique environment at Serenbe and decided to introduce metro Atlanta's residents to Tertulia's world-class chamber music.
The Experience
The long shaded driveway and sounds of chirping birds instantly draw you into the natural surroundings at the Serenbe community in Chattahoochee Hills. Walk past the inn and vegetable garden to enter one of the conference halls set up for special events. Guests greet each other with friendly southern banter before settling down at communal tables for multiple courses of food and wine.
Chef Nic Bour of The Farmhouse uses daily picks from the garden to prepare family-style courses. On this day, that meant mixed heirloom tomato salad with whipped burrata and basil coulis, and melt-in-your-mouth seared yellowfin tuna topped with citrusy yuzu slaw and creamy avocado mousse. Paired with Vermentino from a 100-year old vineyard in Liguria, Italy, the food was light and refreshing on a warm summer evening. The menu continued with delicate pan-roasted halibut and dark French burgundy, and petit fours of passion-fruit cheesecake, chocolate truffles and fruit tarts, accompanied by a glass of bubbly Lambrusco.
Between each course, the dining room coverted into concert hall, with harmonious and melodic tunes of the flute, oboe, clarinet, bassoon and horn. The five musicians embraced summer's theme with breezy wind chamber music. The music took center stage, with conversations stilled and dining service suspended (there's no distracting chatter to spoil the concert).
"You don't need to go to a dinner before a concert and then sit tight in a concert hall. This embraces all of it!" says Scriven.
All Weekend Long
If a sit-down dinner is not your show, Tertulia offers other audience engaging events such as Backstage Pass, a casual wine and cheese gathering at Halsa, and a kid-friendly Cupcakes Concert at Serenbe's Blue Eyed Daisy Bakeshop. The series of Tertulia events scheduled throughout the year include an Autumn Brahms piano ensemble with obo and violin in September, and Vivaldi's Four Seasons in December.
Photo of Tertulia musicians, top, by Jessica Ashley Photography. Food photos by Sucheta Rawal.
Do you follow us? Find us on Linkedin, Facebook, Twitter and Instagram.