Meet Georgia's youngest ice cream entrepreneur
Lil' Ice Cream Dude's Cool World Ice Cream Shop Expands in Athens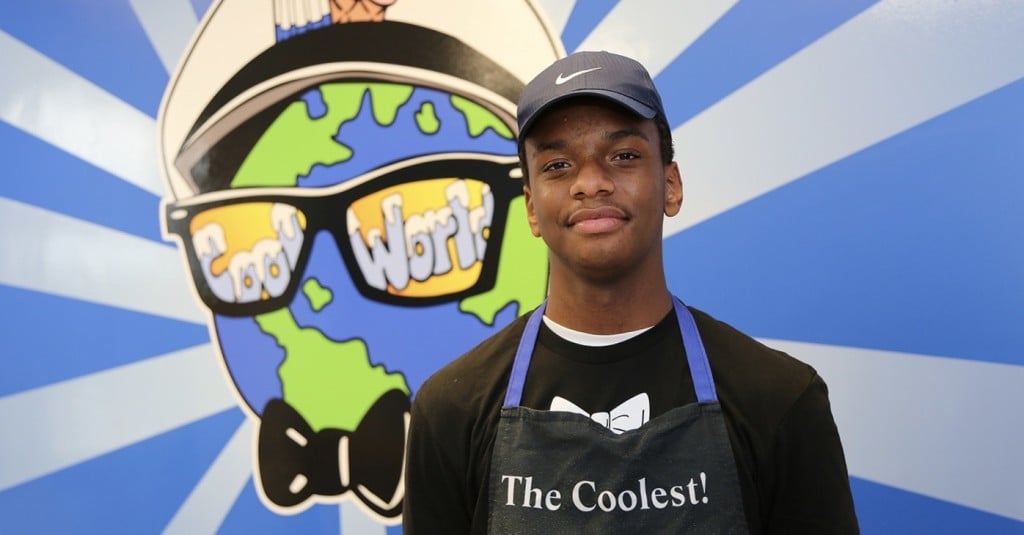 While you'd expect an 8-year old to love ice cream, you would rarely find one who dedicates his childhood to building an ice cream enterprise.
Not satisfied with his $7 allowance, Beau Shell wanted to make money to buy his own toys, help the family and his school's missionary. After he persistently asked his parents to give him an ice cream cart for his 8thbirthday, he got a custom-made cart that a family friend helped build, complete with a stationery chest freezer set in a frame with bike wheels.
That was ten years ago. It became a hit around Athens, and Shell gathered cash and in-kind donations to open a brick and mortar store in 2019. Now, at age 18, the recent Cedar Shoals High School graduate has a renovated storefront, including a prep kitchen and serving and dining areas, that was named as one of the top "41 of the Best Scoop Shops and Frozen Treat Brands in the U.S.," by the Today Show.
"My parents fondly called me 'ice cream dude' because even as a young kid, I manipulated both my parents to buy me ice cream every day after school," Shell says, explaining why he named his shop – Lil' Ice Cream Dude's Cool World Ice Cream Shop.
Cool World sells a variety of quality ice cream flavors, ice cream sandwiches, Italian ice, milkshakes, sundaes, floats and dairy-free Coolie Shakes. He bakes sugar, snickerdoodle, chocolate chip and salted caramel cookies to layer in ice cream sandwiches. One result is the decadent Peanut Butter Boom, a block of chocolate peanut butter ice cream between two peanut butter cookies.
In the summer, patrons cool down with vanilla ice cream loaded with peanut butter cups and moose tracks fudge swirls in Moose Tracks. And in the fall, they return for his Pumpkin Spice ice cream concoctions. Kids particularly enjoy the vibrant colors and flavors of Lil Blue Cookie Hero – blue and white cookie ice creams topped with blue cookie dough and cream-filled cookies. Shell is personally dedicated to quality control, tasting and ordering each flavor himself. He is also planning to develop his own ice cream flavors, now that he has the space and equipment for it.
Beau Shell has not only made his parent's investment worthwhile, he is supporting his family too. His father, Rick, retired from his job of 32 years to join the family ice cream business, while his mother, Vickie, left her teaching job to work full time for her son. "I proved myself to my parents, and they encouraged me to do better and are helping me grow my business," says Shell.
Balancing homework, band practice and golf, while running his business, Shell also makes time to inspire other entrepreneurs through his public speaking and his children's book. He will be starting his college education at the University of Georgia (UGA) this Fall. His goals are to gain more knowledge to expand his business across the nation and help create employment opportunities. Shell says, "We are a true ice cream shop always engaging in our community, and serving good ice cream."
Cool World Ice Cream Shop is located at 1040 Gaines School Road, #218, in Athens.
Photos provided by Cool World Ice Cream Shop
Do you follow us? Find us on Linkedin, Facebook, Twitter and Instagram.