Georgia Trend Daily – May 20, 2022
May 20, 2022 Savannah Morning News
Zach Dennis reports, in a recent rundown of their picks for the best beaches in the country to visit, Travel & Leisure listed nearby North Beach on Tybee Island among their selections. Other picks included Poipu Beach in Kauai, Hawaii; Coronado Beach in San Diego, Calif.; Clearwater Beach, Fla.; Wrightsville Beach, N.C.; and Coney Island Beach in Brooklyn, N.Y.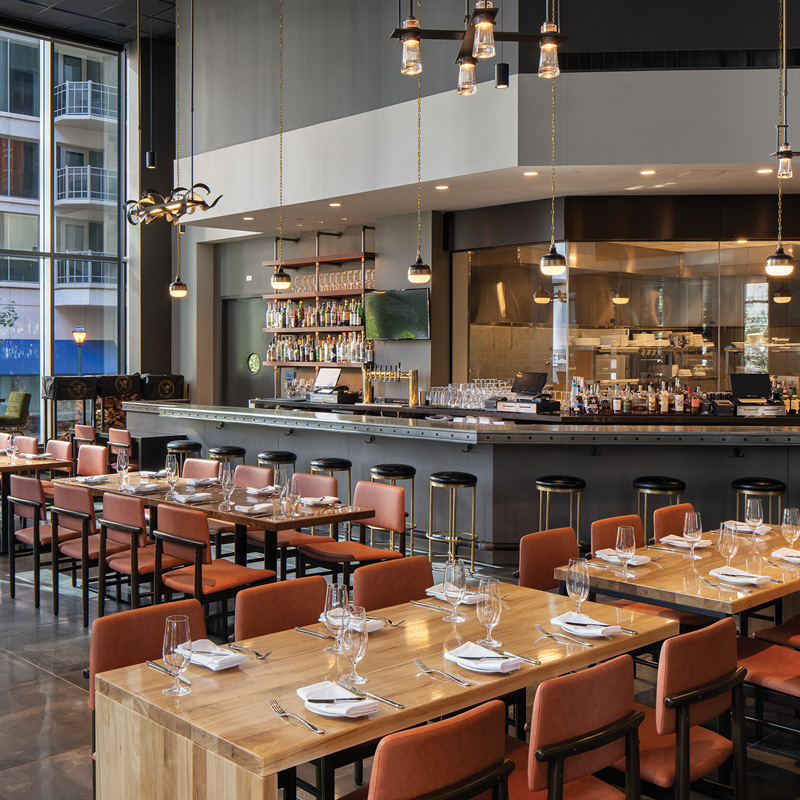 May 20, 2022 Georgia Trend – Exclusive!
Sucheta Rawal reports, absent a lobby, the entrance to the culinary-themed Epicurean Atlanta hotel in Midtown has an expansive leather-wrapped zinc bar against the backdrop of a bustling kitchen. The restaurant's host stand doubles as a fridge and offers a welcome drink.

May 20, 2022 Atlanta Journal-Constitution
Michael E. Kanell reports that the stock market has plunged, interest rates have climbed, inflation may be biting, and talk of recession is in the air, but business has been pretty good at Filta Environmental Kitchen Solutions. Like many Georgia employers, the Athens-based company has been less worried about finding customers and more worried about obtaining workers to get the job done, said Scott Clark, owner of the firm that filters and deep-cleans fryers in commercial kitchens.

May 20, 2022 The Center Square
T.A. DeFeo reports that the Georgia Ports Authority plans to spend roughly $430 million on infrastructure improvements at the Port of Savannah. Of the $430 million, GPA is covering $395.4 million, funded through the authority's proceeds. The federal government is chipping in a $34.6 million grant.

May 20, 2022 Augusta Chronicle
Joe Hotchkiss reports that Augusta has been rated the top metro area in Georgia for people to live and to retire. The Garden City outperformed both Atlanta and Savannah in the annual rankings released Tuesday by U.S. News and World Report.

May 20, 2022 WABE
Jim Burress reports that Georgia drivers pay some of the highest insurance premiums in the nation. The pricey rates have become a center-point campaign issue in the contest for Georgia's insurance commissioner as the state's primary election nears.

May 20, 2022 State Affairs
Beau Evans reports that thousands of Georgia's low-income families are set for a cut to their food stamps when a pandemic-era federal program ends later this month, heightening concerns that many children could go hungry once schools let out for summer break. Roughly 1 in 9 Georgians have benefitted from a $95 monthly bump in their monthly food-stamp checks since the Covid-19 pandemic broke out in March 2020, according to the state Department of Human Services.


May 20, 2022 Rome News-Tribune
John Bailey reports that a Fulton County judge has effectively put state Senate District 52 candidate Jeff Lewis back on the Republican primary ballot pending his appeal. Lewis and a third candidate, Derek Keeney, are seeking to unseat incumbent Chuck Hufstetler.

May 20, 2022 Georgia Recorder
Jacob Fischler reports that the U.S. House panel investigating the Jan. 6, 2021, attack on the U.S. Capitol on Thursday asked Republican Rep. Barry Loudermilk of Georgia to appear before the committee to answer questions about a tour of the Capitol that Loudermilk gave the day before the assault. But Loudermilk and the top Republican on the House Administration Committee, Rodney Davis of Illinois, issued a statement in response strongly rebutting any suggestion that Loudermilk acted improperly.

May 20, 2022 New York Times
Jonathan Weisman reports that Herschel Walker, the former football star leading Georgia's Republican primary for Senate, had a mixed message about racial issues for 70 or so supporters, mainly white, who came to hear his stump speech this week at the Georgia Sports Hall of Fame. He started with a joking aside — "I don't know if you know this, but I'm Black" — before asking, "Where is this racism thing coming from?"

May 20, 2022 The Current
Craig Nelson reports, for third-time congressional candidate Joyce Marie Griggs, it is an issue that won't go away. After flaring up in the Democratic primary in 2020, the demise of Griggs' legal career has emerged again in her current race against Wade Herring and Michelle Munroe for the Democratic nomination to run against Republican Rep. Earl L. "Buddy" Carter in November.

May 20, 2022 Capitol Beat News
Dave Williams reports that a Civil War heritage preservation group has the right to sue Henry and Newton counties over the removal or planned removal of Confederate monuments, a lawyer for the Sons of Confederate Veterans (SCV) told the Georgia Supreme Court Thursday. Legislation the General Assembly passed in 2019 authorized "any person, group or legal entity" to challenge any acts in violation of the law, which prohibited the desecration or removal of historic monuments from public property.


May 20, 2022 Atlanta Journal-Constitution
Greg Bluestein reports, a test of Donald Trump's influence in the most politically divided state in the nation. A marquee race for Georgia's top job that could set up a rematch between two archrivals. A chance for Democrats to prove the energy behind their 2020 success was no anomaly.