Peach Plate: Pleasing Many Palates
Reverence awakens new senses.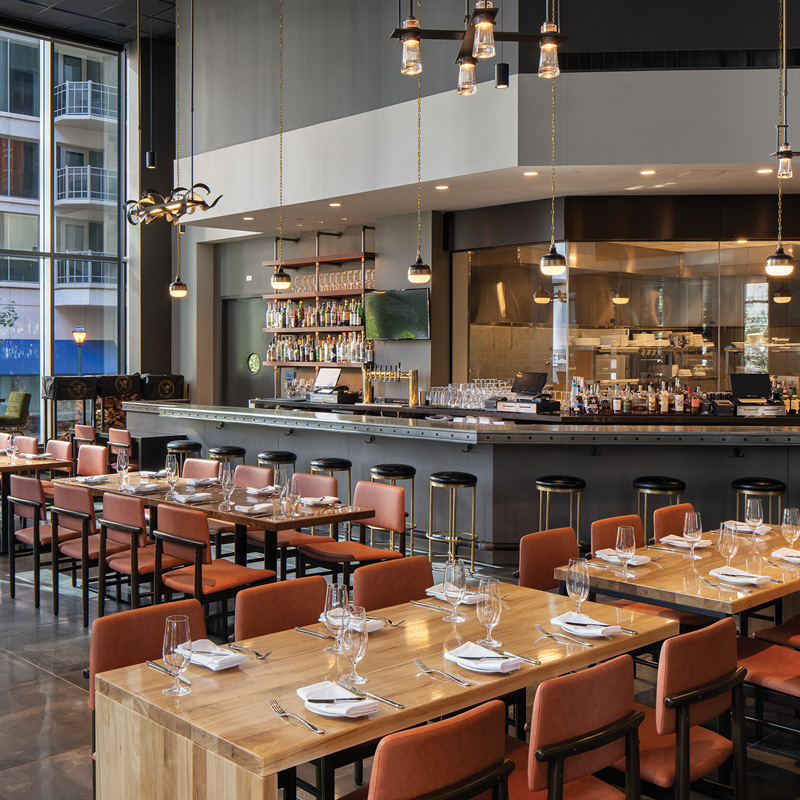 Absent a lobby, the entrance to the culinary-themed Epicurean Atlanta hotel in Midtown has an expansive leather-wrapped zinc bar against the backdrop of a bustling kitchen. The restaurant's host stand doubles as a fridge and offers a welcome drink. You've arrived at the Reverence restaurant and the hotel's check-in desk.
The inviting dining room has a modern industrial feel with suggestive culinary hints in the decor. Seating options include a long bar, comfortable lounge, high-tops and contemporary wood tables as well as a two-level patio. With floor-to-ceiling glass windows peering onto West Peachtree Street, there are plenty of people-watching opportunities.
You can't miss an oversized wine display showcasing 1,500-plus bottles. General Manager and Sommelier Arthur Huynh, who has an advanced certification in wine and spirits, is quick to suggest a rare bottle, while painting a picture of the vineyard's terroir. The cocktail menu is stellar as well, with a focus on strong spirits – rye, cognac and bourbon. Try the Old Fashioned with bacon-infused bourbon to prep your palate.
The menu has three sections – small, medium and large plates – not suggesting courses. Just order based on your appetite. The theme is "globally inspired," drawing on Scotland-born Executive Chef Ewart Wardhaugh's diverse culinary background from working on five continents.
Start with the trilogy of salmon, which looks like two pieces of sushi but is a lot more. Layers of salmon belly rillette, bourbon-cured Scottish gravlax and salmon caviar, wrapped in nori, offer a nice balance of crunch vs. creamy. The shrimp-and-grits croquetas are a Spanish-Southern tango reminiscent of arancini. Fried grit balls lie on a bed of thinly sliced, salty Benton's aged ham.
The "medium plates" are larger appetizers. The Moroccan duck meatballs sit on a flavorful chunky tomato sauce of Ras El Hanout, candied jalapeño, labneh, golden raisins and pine nuts. The ceviche looks as surprising as it tastes. But once you get past that, compressed sweet potato and cantaloupe cubes dressed in Peruvian-style tiger's milk and kale gazpacho is a light and refreshing twist on a classic dish.
Make sure to bring a large appetite for the supersized entrees. A turkey-leg-sized woodfire-grilled heritage pork chop engulfs the plate, with roasted heirloom carrots, cauliflower purée and marbled potatoes. It's a miracle how a meat portion this size is tender and juicy. The daily steak frites are triple-cooked fries with a choice of beef or fish. An oversized Scottish Salmon steak has minimal seasoning of salt and pepper but is perfectly chargrilled with juices intact. It is served steak-frites style with acceptable fries and homemade steak sauce, mustard, ketchup and chimichurri.
If you feel like splurging on your appetite and wallet, go with the 42-ounce Wagyu Tomahawk steak.Made with the best quality beef from Australia, the showstopping 14- to 16-inch bone-in steak is served with homemade potato rösti, beer-battered onion rings and cauliflower goat cheese grits.
Desserts bring additional surprises, with classics presented in ways you may not have imagined. The shortbread cheesecake, with a shortbread base, ricotta and mascarpone cheese filling and lemon curd, doesn't really look like a cheesecake but reminds you of one on the tongue. And the hot chocolate is not a drink, but rather a cup of chocolate truffle with coffee ganache, served with a cinnamon-sugar doughnut for dunking. Certainly, a play on churros con chocolate. The Epic ATL's Halva Pavla cake is more of your traditional European layered pastry with rich chocolate, hazelnuts, coffee meringue, blueberry ganache and ginger cream – a safe bet.
Reverence tries to please a multitude of palates, offering a wide taste of the world under one roof. It also showcases modern takes on classic dishes, served in unexpected ways. If you don't go with preconceived notions about what your plate should look or taste like, you may enjoy the blend of random ingredients and awaken new senses.
Culinary enthusiasts should pair dinner with a live cooking demonstration, mixology or wine-tasting class at the hotel's 85-seat state-of-the-art Epicurean Theater.