Georgia Trend Daily – April 22, 2022
April 22, 2022 Georgia.org
Staff reports that Governor Brian P. Kemp yesterday announced that sustainability-focused East Jordan Plastics, one of the largest horticultural container manufacturers in North America, will invest more than $44 million in a new facility in Lyons. The project is expected to create 80 new jobs in Toombs County.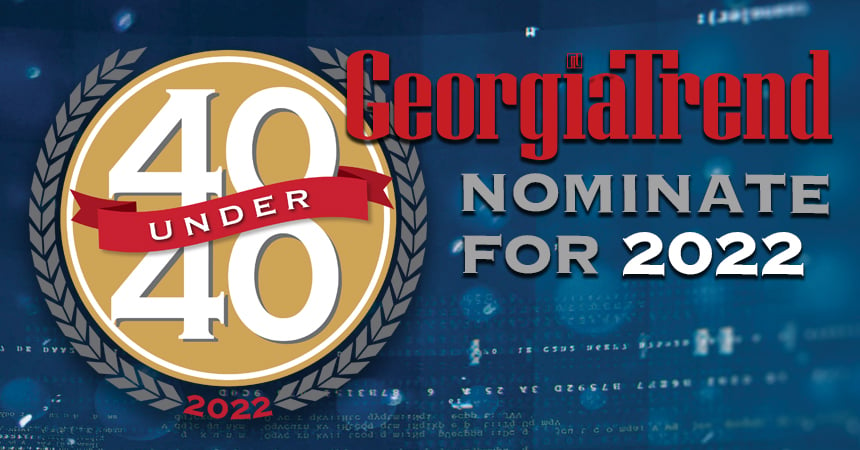 April 22, 2022 Georgia Trend – Exclusive!
Mary Ann DeMuth reports that nominations for Georgia Trend's annual 40 Under 40 honors are now being accepted. Friends, work associates, family members and eligible honorees can submit nominations through Friday, April 22 at 5 pm. Ideal 40 Under 40 candidates are successful in their professions and equally, if not more, passionate about community service.

April 22, 2022 Atlanta Journal-Constitution
Eric Stirgus reports that Atlanta-based Coca-Cola announced Tuesday that it's donating $1 million to the Technical College System of Georgia to expand its commercial truck driving program, which both sides hope will address an industry driver shortage. The trucking industry has lost 6% of its drivers nationwide since the coronavirus pandemic, according to the American Trucking Association.

April 22, 2022 GlobalAtlanta.com
Trevor Williams reports that a group of 10 Israeli startups visited Georgia Tech earlier this month to pitch solutions helping steer the future of connected cars. The delegation was led by Drive TLV, an incubator focused on smart mobility, which visited Atlanta after a stop in Silicon Valley and headed afterward to Detroit.

April 22, 2022 WABE
Staff reports that Apple workers in Atlanta filed to unionize Wednesday, becoming the first retail employees for the tech giant to do so in the nation, according to Communications Workers of America, the union representing the employees. Staff at the Apple store in Atlanta's Cumberland Mall submitted their filing Monday. It included salespeople, technicians, creatives and operations specialists, CWA said in a statement Wednesday.

April 22, 2022 Rome News-Tribune
John Druckenmiller reports, as unemployment remains low three months into the new year, the focus on providing a strategic work force expands. In Bartow County, the chamber just launched a website focusing on employers, job seekers and the community — ForBartow.com.

April 22, 2022 Marietta Daily Journal
Staff reports that SK Commercial Realty unveiled plans this week for a $6 million renovation of its office building at the Battery Atlanta in Cumberland. Renovations at 900 Circle 75 Parkway are expected to be completed by June 1 and will include improvements to the front lobby, a new tenant lounge and amenity center, a new high-tech conference facility, a state-of-the-art fitness center, elevator modifications, and upgraded corridors and restrooms on all 17 floors, according to a news release.

April 22, 2022 Brunswick News
Gordon Jackson reports that a new study estimates anywhere from 37% to 43% of sales tax generated in the Golden Isles comes from people living in other communities. The results of the study were announced by Ralph Staffins, president and CEO of the Golden Isles Chamber of Commerce, at Wednesday's board meeting.

April 22, 2022 Albany Herald
Alan Mauldin reports that funding for trail construction, an amphitheater and other improvements totaling $12.5 million has been provided for improvements at Radium Springs. The funding, announced by U.S. Agriculture Secretary Tom Vilsack, also includes funding to help preserve water flow at the spring during droughts.

April 22, 2022 GPB
Ellen Eldridge reports that the strips that determine whether a substance contains fentanyl are currently considered paraphernalia in Georgia. Fentanyl test strips are in a legal gray area because, while they are available online, a police officer could consider them a drug-related object.

April 22, 2022 State Affairs
Beau Evans reports, quietly over the last two-and-a-half years, Georgia has released hundreds of the state's most dangerous sex predators from their ankle monitors despite court officials giving state lawmakers a roadmap in 2019 for how to fix the issue. So far, nothing's changed.

April 22, 2022 Valdosta Daily Times, CNHI
Asia Ashley reports that new laws advancing Georgia veteran benefits, including tax exemptions, were signed by Gov. Brian Kemp this week. A key bill approved by the legislature this year essentially eliminates state income taxes for veterans.

April 22, 2022 The Center Square
T.A. DeFeo reports that Georgia Gov. Brian Kemp signed an executive order to create a special commission to examine how to fix the state's healthcare worker shortage. The 15-member Healthcare Workforce Commission must report its findings to the governor by the end of the year.

April 22, 2022 Atlanta Journal-Constitution
Greg Bluestein reports that David Perdue is getting another major boost from an outside group with ties to Donald Trump in his bid to unseat Gov. Brian Kemp. It's not immediately clear if Trump's Save America PAC is behind the new cash infusion, and the former president's spokesman declined comment.