Sample locally made chocolates
Artisan treats enhance Easter baskets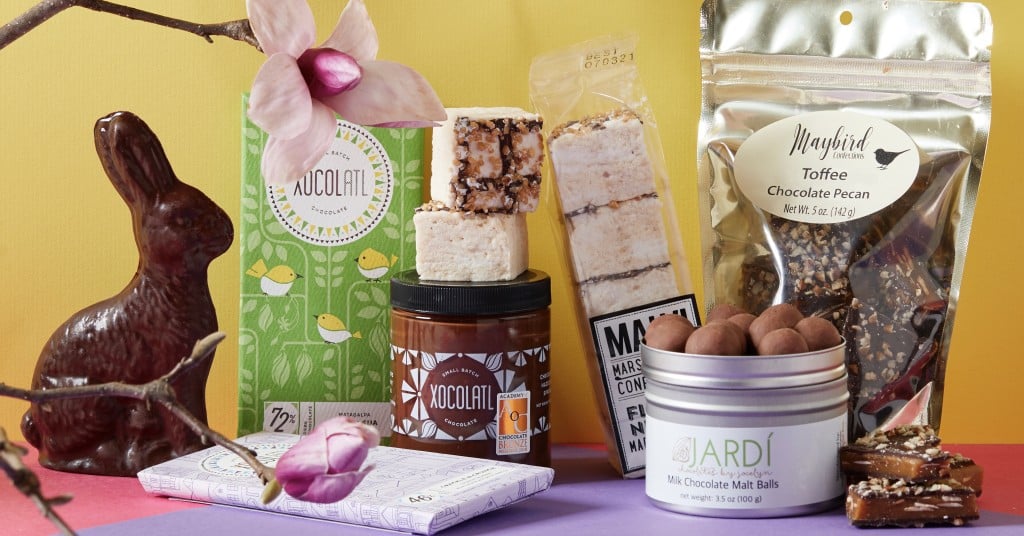 If you are planning to celebrate Easter by purchasing store-bought chocolate eggs and bunny-shaped candy, you may want to think outside the box – literally. Handmade artisan chocolate not only tastes better, it also helps local small business owners thrive and give back to the global community.
Xocolatl Small Batch Chocolate, Atlanta
Inside their micro-factory located at Krog Street Market, owners Elaine Read and Matt Weyandt make a variety of pure single-origin dark chocolate bars using cacao beans sourced from around the globe. With no added cocoa butter, soy emulsifiers or fillers, it's pure chocolate. Xocolatl's premade bundles for Easter come in small "The Bunny Bundle," medium "Easter in Atlanta" and large "The Unnecessarily Extravagant Easter Set," so you can fill a basket with one click of a button if shopping online. Besides Xocolatl's products, you will also find other items in the gift sets that are made by Atlanta-based. women-owned small businesses such as Jardi chocolates, Malvi marshmallows and Maybird Confections.
This year, Xocolatl will donate $1 from every Easter bunny and $2 from every Easter gift set purchased to Save the Children Emergency Response Fund, with programs that help children in the hardest-to-reach places.
"Easter is a time when parents, grandparents, aunts and uncles rejoice with children in their lives by giving them baskets filled with colorful eggs, candy and toys. We know that our customers are the kind of people who also care about other people's kids, even total strangers' kids, when they are in distress. With the twin crises in Afghanistan and Ukraine, Matt and I wanted to do something to help kids — the most vulnerable humans in all of these situations — and it made sense to us to utilize our Easter chocolate sales in this way," says Read.
Condor Chocolates, Athens
Located in the historic Five Points neighborhood, Condor Chocolates is a must stop for small-batch chocolates, specialty coffees and gelato. It was founded by Georgia-born-and-bred brothers Nick and Peter Dale, who were inspired by summers in South America to create the bean-to-bar concept using coffee and cacao from Ecuador, organic cane sugar and organic cacao butter to make simple and delicious treats. For spring, Condor is offering delicate dark chocolate hazelnut eggs and sweet chocolate bunnies, available for purchase in store and online.
Paul Thomas Chocolates, Dahlonega
In 1975, Paul Thomas Hoffman quit his job in rocket engineering to start making candy. After his first venture turned into one of Florida's biggest chocolate makers, Thomas moved to Georgia and opened this chocolate kitchen on the square in Dahlonega where nearly everything on the shelves is handmade on location.
For Easter, grab a rabbit lollipop, coconut cashew crunch or a 4 oz. chocolate Happy Duck. The current owners, brothers Micah and Danny Mihok, started working at the shop in college and took over after Thomas retired. They donate a percentage of their sales to charities providing health service, temporary lodging and skills training.
Now you have plenty of reasons to eat more chocolate!
Top photo of the Unnecessarily Extravagant Easter Set by Bailey Garrot; Condor Chocolates photo above by Tori Hiel
Do you follow us? Find us on Linkedin, Facebook, Twitter and Instagram.