Peach Plate: Craft Beer Meets Hip-Hop
Hippin Hops Brewery and Oyster Bar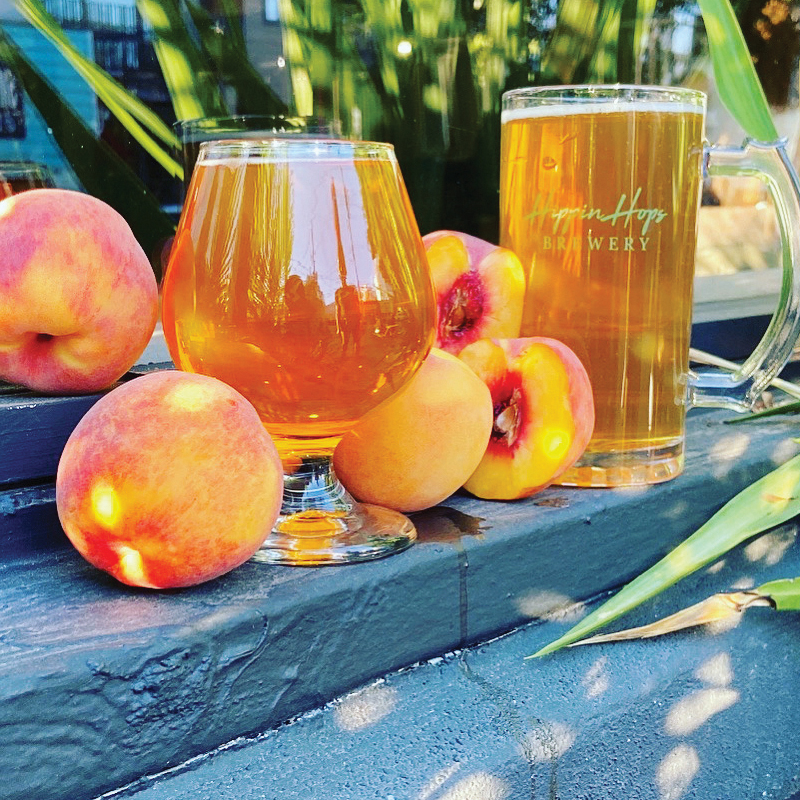 Located at East Atlanta Village is a new hip and casual brewery and restaurant. The exterior recalls beer gardens where you can just hang out with your two- and four-legged companions, while the cozy inside feels like the tasting room of a working brewery. With sacks of malt flour on rugged cement floors, picnic-style benches with plastic chairs and a long bar exposing large tanks, there's no doubt that beer is made here.
In fact, Hippin Hops is among the first Black-owned brick-and-mortar breweries in Georgia, and soon to be the largest Black-owned craft brewery in the nation. Clarence and Donnica Boston, who live in East Atlanta and own several restaurants and an oyster farm in North Carolina, opened Hippin Hops in 2020 out of their love for hip-hop music and brewing beer.
The establishment on Glenwood Avenue is small, but there's a lot going on behind the scenes. "When you order a glass of beer, there's a good chance it is fermenting in one of those three-barrel system tanks you see behind the bar," the friendly waitress informs me. The tanks are connected to kegs and taps. There's also a canning machine so you can get your beers in four packs to-go.
The biggest draw at Hippin Hops is, of course, the hops. Brewed on site, there are bold, sweet and bitter stouts, sours, ales, lagers, Belgians and IPAs. The microbrewery appeals to all flavor palates, and the bartenders are happy to provide drink suggestions and offer samples.
"So Peachy" pays ode to Georgia with its peach and vanilla sour notes. It is easy to drink and pairs well with any dish on the menu. The "Hop Star" is a traditional West Coast-style, intensely hoppy IPA. If you are a fan of Guinness, you will enjoy the smoked coffee and chocolate flavors in the dark stout named "Black Don't Crack."
Non-beer drinkers can sip on the not-too-tart citrusy and low-alcohol beer, "I Got The Keys." And if you want something easy, light and refreshing, try "The Backwoodz Seltzer," with hints of strawberry and lemon. The brewery also makes daily beer slushies, such as mango margarita, pina colada and pineapple beermosa, sweet enough to be had for dessert.
The menu is inspired by Louisiana seafood and southern cooking. It's served fast-food style, with disposable cutlery. The star attractions are raw and cooked oysters, especially on Thursdays when it's $1 oyster happy hour. The oyster collardfeller is baked with collard greens, chunks of smoked turkey and smoked gouda. Sweet, salty and cheesy, it tastes like Thanksgiving dinner on the half shell and is a complete meal in itself. Traditionalists can opt for raw oysters, with lemon, cocktail sauce, horseradish and crackers. Six large, tender, mild and meaty half-shells come on a reasonably priced plate.
The gator bites with remoulade dipping sauce are good for sharing while you're sipping your hops. The breaded and fried alligator tail meat is surprisingly tender and well-seasoned with a touch of parsley, garlic, paprika and Old Bay.
The fish and grits entrée also doesn't disappoint. Extra creamy gouda and parmesan cheese grits are finished off with parmesan cream sauce and topped with breaded, fried catfish. Salty and crispy seafood contrasting with soft and cheesy grits reminds you of being in the South.
For handhelds, there's shrimp, alligator, catfish and oyster po' boys to choose from. All of the seafood is fried with the same seasoning as the other dishes and served on a six-inch, soft French bread roll, with lettuce, tomato and homemade remoulade sauce. The shrimp po'boy also has a hint of sweet and spicy chutney that favors the tastebuds. Paired with Cajun fries, it's a simple and comforting meal.
The vibe at Hippin Hops changes on weekends with dimmed lights, neon signs and a live DJ. People linger with a drink, snack on fried foods and listen to music.
Hippin Hops opened a second location with a full bar, distillery and Mediterranean menu on Hosea L. Williams Drive in February. Another location in Stone Mountain, with a soul food menu plus a large production facility and taproom, will open soon.