Georgia Trend Daily – Feb. 25, 2022
Feb. 25, 2022 Georgia Ports Authority
Staff reports, at yesterday's Savannah State of the Port, Griff Lynch, Georgia Ports Authority's executive director, unveiled plans to expand the port's container capacity by 60 percent. The enhancements will bring the Port of Savannah's annual capacity from 6 million twenty-foot equivalent container units to 9.5 million TEUs by 2025.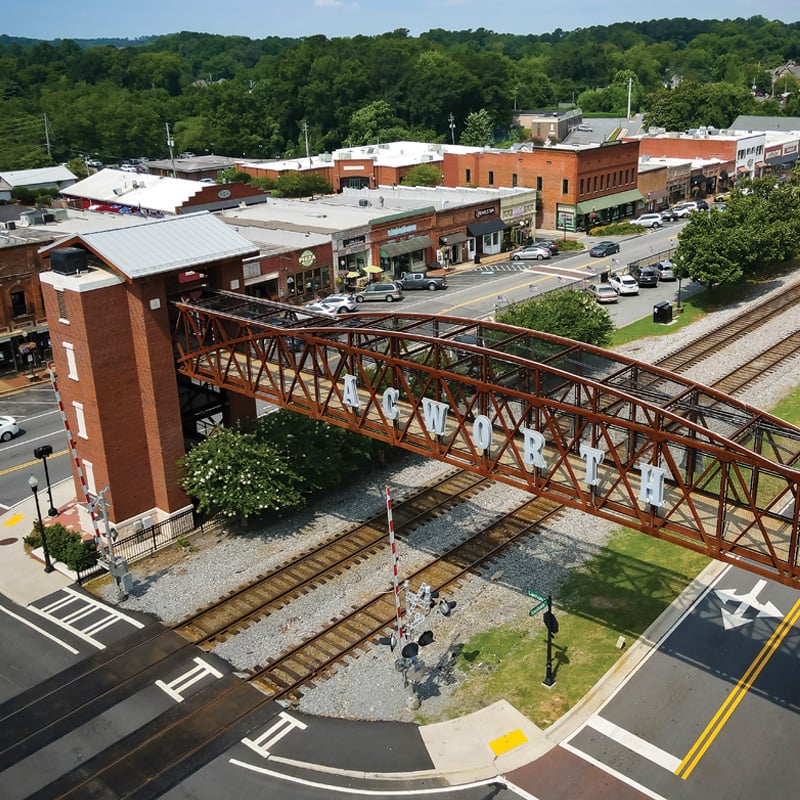 Feb. 25, 2022 Georgia Trend – Exclusive!
Betty Darby, Brian Lee and Randy Southerland report that in spite of the lingering pandemic, foresighted folks throughout Georgia rolled up their sleeves to make their communities better places to live, work and play – often by fostering healthy working relationships. To honor those efforts, the Georgia Municipal Association (GMA) and Georgia Trend teamed up to recognize nine cities with the third annual Visionary Cities Awards for projects that create positive change through collaboration and civic engagement.

Feb. 25, 2022 Atlanta Journal-Constitution
Bob Townsend reports that SweetWater Brewing celebrated its 25th anniversary Feb. 19. The company first opened on Fulton Industrial Boulevard in 1997, then, in 2003, moved to Ottley Drive in Brookwood Hills, where it has continued to grow. SweetWater ranks 11th among craft breweries in U.S., based on beer sales, according to the Brewers Association.

Feb. 25, 2022 Georgia.gov
Staff reports that, Governor Brian P. Kemp yesterday announced at the Savannah State of the Port that Serena & Lily, a high-end furniture company, will create 75 jobs as they locate their first East Coast operation in a 1.2-million-square-foot distribution facility in Effingham County. "Our unmatched logistics infrastructure through air, land, and sea is an asset to any company that chooses to locate here," said Governor Brian Kemp.

Feb. 25, 2022 GlobalAtlanta.com
Trevor Williams reports, before there was CuriosityLab, the three-mile autonomous vehicle testing ground that has made Peachtree Corners a magnet for international companies running pilots of the latest mobility technologies, there was Siemens. The German industrial giant has operated multiple factories and offices north of Atlanta since at least a decade before the city was incorporated in 2012.

Feb. 25, 2022 Albany Herald
Staff reports that Tifton Coca-Cola Bottling Company, a sales and distribution center of Coca-Cola Bottling Company United Inc., will host an outdoor grand opening ceremony for its new $65 million facility off Lamb Loop Friday at 10 a.m. The 343,000-square-foot facility, which also includes a warehouse, fleet shop, administrative offices, and meeting space, is home to the latest technology and state-of-the-art equipment used in the beverage industry — a benefit to both associates and customers.

Feb. 25, 2022 Saporta Report
David Pendered reports that the era of youth protests is to continue Friday at the Georgia Capitol, where a group of students intends to gather to protest legislation that aims to curb the teaching of structural racism, often described as critical race theory. According to a statement about the event, the purpose is to oppose two bills that "seek to ban critical race theory in public classrooms, which would seriously damage students' access to education."

Feb. 25, 2022 GPB
Jill Nolin reports that a proposed database of children with frequent encounters with the state's crisis services has been dropped from a wide-ranging mental health bill. The creation of a pediatric registry was one of the provisions raising concerns about a bill sponsored by House Speaker David Ralston, who has called the measure his top priority for the session.

Feb. 25, 2022 Georgia Recorder
Ross Williams and Jill Nolin report that Atlanta Democratic Sen. Sally Harrell fought back emotion in the Senate chamber Thursday as she urged her colleagues to vote down a bill that would ban transgender girls from playing on girls' school sports teams. "I'm the mother of a trans child," she said.

Feb. 25, 2022 State Affairs
Beau Evans reports that paying for Georgia's roughly 2,300 public k-12 and charter schools ranks among the state's most important taxpayer costs. At $12 billion this year, state spending on schools dwarfs other crucial expenses like Medicaid, law enforcement and mental-health service.

Feb. 25, 2022 Capitol Beat News
Dave Williams reports that Republicans in the Georgia Senate approved new district boundaries for the state Public Service Commission (PSC) Thursday over objections from minority Democrats. The new map, which now heads to the state House of Representatives, would move 41 of 159 counties from one commission district to another.

Feb. 25, 2022 Atlanta Journal-Constitution
Greg Bluestein and Isaac Sabetai report that Stacey Abrams and U.S. Sen. Raphael Warnock are expanding their donor bases far beyond Georgia to wage their Democratic campaigns. Republican Herschel Walker's recent trip to former President Donald Trump's resort in Florida was one of a string of fundraising forays beyond state lines.