Visionary Cities
Honoring those communities across the state that are creating positive change.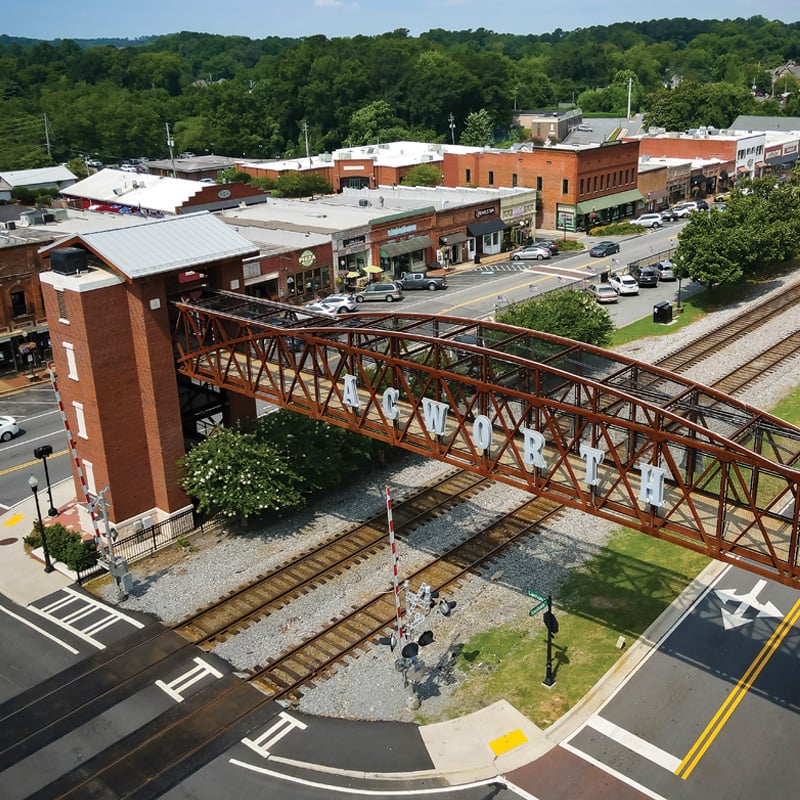 In spite of the lingering pandemic, foresighted folks throughout Georgia rolled up their sleeves to make their communities better places to live, work and play – often by fostering healthy working relationships.
To honor those efforts, the Georgia Municipal Association (GMA) and Georgia Trend teamed up to recognize nine cities with the third annual Visionary Cities Awards for projects that create positive change through collaboration and civic engagement. These run the gamut from improving central business districts and community quality of life to creating comprehensive services for homeless people, from connecting local farmers with a wider array of customers to embracing diversity, inclusion and equity, and more.
"We've seen Georgia's cities go above and beyond to continue serving and connecting their residents," says GMA Executive Director Larry Hanson. "It's our privilege to recognize the elected officials, city staff and community leaders responsible for this year's visionary initiatives. These cities exemplify what it means to be forward-thinking and they serve as inspiring examples of civility, collaboration and what it means to create communities of positive change across Georgia."
The Visionary Cities are grouped by population: Large (more than 25,000), Medium (5,000 to 24,999) and Small (fewer than 4,999). Join us in celebrating these communities' significant accomplishments. – Mary Ann DeMuth
---
Large Cities
The Road to Success
By Betty Darby
Canton
Admit it: when you hear the words "strategic plan," you may think of a dry-though-necessary public policy document. But what if that plan was actively worked with an invested public? That's what's happening in Canton, where the Roadmap for Success is changing how this growing community is doing business and guiding everyone in the same direction.
Canton lies in Cherokee County, a once-rural northwest Georgia county experiencing massive change as it becomes part of the suburban commuter band around Atlanta. In a little over 20 years, the population has grown from about 7,500 to more than 33,000.
The Roadmap for Success originated in Bill Grant's successful campaign for mayor. Grant owns a strategic brand design firm and wanted to apply the same planning focus to the city as his firm implements in the corporate world. After a year of intense input-gathering from Canton's citizenry, the city council agreed to eight defining steps on Canton's path to becoming "the Coolest Small Town in America." They range from creating great neighborhoods to enhancing Canton's historic downtown to connecting citizens to parks and recreation.
To see it at work, consider the Archer Street Parking Deck, now under construction. What was originally going to be a mundane place to park cars evolved to include a solar canopy to offset City Hall's energy usage, electric vehicle charging stations and a redesign that capitalizes on the deck's park frontage as public art space.
"When a developer brings a project to the city, they start with reviewing the roadmap, and they have to tell us how their project would adhere to it and advance our eight tenets. If it doesn't, the project is not for Canton, and it saves everyone a lot of time and money," Grant says.
---
Lawrenceville
Summer job programs are nothing new. But the nonprofit community service group Impact46 had something significantly more robust in mind when it approached the city of Lawrenceville a few years ago about creating the Summer of Impact internship program.
The kids who participate in the program – students from Lawrenceville high schools – tend to be those for whom a summer job is a necessity, not an option. What if, organizers asked, those jobs could be more meaningful than just passing hamburgers through the drive-thru window for minimum wage? What if they could pay better, teach career-oriented skills and be worthy of inclusion on resumes?
Participants quickly learned there's more to this program than just a job. Applicants must complete a leadership program, learn to develop a resume and prepare for interviews. And, once all the hurdles are jumped, the program holds a signing day, patterned after the signing day hosted for athletes moving on to college spots.
The city of Lawrenceville's community relations, finance, public works and purchasing departments have participated, as well as the Aurora Theatre and the Gwinnett Stripers, a minor league team for the Atlanta Braves, among others. Success stories since the program launched in 2018 include a young man who had intended to drop out of school, but discovered he loved electrical work after an internship at the city. He went on to graduate and now works for the city while pursuing his electrical training.
"Through the Summer of Impact program, students from Central Gwinnett and Discovery high schools are given a unique opportunity to be immersed in their field of interest with a local business or nonprofit," says Lawrenceville Mayor David Still. "It is a win-win for the students, the business and the community. Through this program, we are building a legacy of leaders in Lawrenceville."
---
Macon-Bibb County
Tragedies typically spur headlines and outrage and often not much else. But in Macon-Bibb County, after two homeless men froze to death on Christmas night in 2020, the city and its community allies moved with astounding speed. In just under two weeks, the Brookdale Warming Center (now known as the Brookdale Resource Center) opened its doors to offer more than just a heated shelter from the night. It also has a comprehensive service program for homeless people.
The Bibb County School District allowed the project to use a closed school facility for what was originally envisioned as a temporary, emergency solution. That hastily-put-together program has now turned into a United Way agency that combines the services of multiple nonprofits and faith-based groups with the efforts of Macon-Bibb County. The city used federal Coronavirus Aid, Relief and Economic Security (CARES) Act funding to buy the property, and American Rescue Plan funds as operational funding.
"It is definitely a permanent resource, and we've got plans to expand it," says Mayor Lester Miller. "I think something that was tragic has allowed our community to come together."
What about the "not in my backyard" reaction that municipal officials so often face? Miller says they haven't seen much of it at the former school. Because they are providing security at the site, which makes the whole neighborhood safer, and putting a vacant building that was a potential source of blight back to use, there has been little community pushback, he says.
Services include practical things like showers and laundry facilities, along with permanent bedding to replace the emergency cots the center opened with. The Macon Transit Authority provides vouchers to reach the site. Once there, mental health services and job and housing assistance are also available to clients. Plans include a community garden.
---
Medium Cities
Patience and Teamwork
By Brian A. Lee
Acworth
Home to two historically Black churches and two schools established during segregation (the Roberts School and a Rosenwald School), Acworth's Parkside District is central to the city's diverse history. It was also in desperate need of redevelopment due to neglect and the effects of racial discrimination. Thanks to a long-term plan, designation in 2010 as an Opportunity Zone and a total of $20 million in investment, the district has gained parks, a community center, new restaurants, homes and businesses, an art center and a history museum.
Among the highlights are the new $12 million Acworth Community Center, with its Expanding Horizons program that provides field trips, recreational opportunities and mentorship; and the new Doyal Hill Park, named for the city council's first Black alderman, with an interpretive exhibit featuring public art honoring Acworth's rich Black history.
The city also made sure that Black historical landmarks were preserved, using community block grant funds to renovate the Roberts and Rosenwald Schools. Substandard residential property was replaced by subsidized housing for low-income seniors, and Downtown Development Authority funding built a pedestrian bridge that includes an elevator on each side and programmable LED lighting technology and which spans the railroad tracks, connecting each side of the district. Lastly, the 120-acre Logan Farm Park offers multiuse paths, open green space, a playground, group pavilion and more.
These "equitable and inclusive" efforts won Acworth the selection to the All-America Cities Hall of Fame. "The key challenge throughout the development and implementation process of the Parkside District was patience," says James Albright, Acworth's city manager. "There were years where we took huge leaps toward accomplishing our goals and vision, but also years that small steps were taken and not a lot was accomplished. In the end, patience and discipline allowed the city's leadership team to follow the plan, one step at a time, and see it ultimately come to fruition. We are very proud of what the Parkside District is to our community, and we are honored to be recognized as a Visionary City."
---
Covington
Like so many cities within the Atlanta metro area, Covington has grown like crazy. The city council and mayor saw it coming, listing "Prepare for the Community of Tomorrow" as one of the goals in the strategic plan. So when City Manager Scott Andrews was hired in 2019, he looked for unique ways to prioritize and enhance community engagement.
The city's initiative is made up of a series of groups that residents can join, tackling issues ranging from community beautification, homelessness, future planning and more. Examples include Coffee Talks with the Mayor, a citizens' police review board, a public art program called PAINT and a youth council.
"One of the key challenges as we started our community engagement initiative was bringing together the public and stakeholders to be a part of the programs," says City Manager Scott Andrews. "Preparing for the city of tomorrow means ensuring that everyone has a voice at the table, so we took the goal of having as many voices as possible seriously."
Andrews saw a unique opportunity to use electronic communications and marketing for the first time. The base group of contacts created from existing email lists, volunteer lists and local social groups is called Covington's "Community Champions." Social media helped spread the word about group meetings, and also widened participation by urging attendees to "bring one or two friends with you" to the next session.
To ensure groups got the proper attention, the city assigned two contacts to each. Group leaders were tapped to help facilitate efficient communication, including small group meetings with council, staff and residents. That way, someone is always available to assist with facilitation of the groups.
"It is so inspiring to see that when we brought many people into the room, they made the change happen for the community," Andrews says. "We saw artists, social workers, planners and many others see a need in the community and provide for the need. Our many accomplishments would not be successful without our volunteers and for their dedication we are incredibly grateful."
---
Moultrie
The transformation of Moultrie's downtown didn't happen overnight. Six years ago, the city worked with other downtown organizations to create a strategic plan whose goal was to improve blighted areas while making the redeveloped spaces attractive to residents of all ages, races and genders and encouraging economic development in Colquitt County's largest city. Now five projects have made that reality.
Moultrie's first pocket park, created from a vacant corner lot donated by Southwest Georgia Bank, kicked off the downtown enhancements. Two more parks followed: a walk-through park connecting to a newly renovated parking area, and Mule Barn Park, which turned a highly visible corner once clogged with debris, trash and drainage issues into an inviting spot with tables and seating walls, trees and plants, better lighting and other improvements.
"Mule Barn Park is a great addition to our downtown, enhancing its vitality and beauty," says Mayor Bill McIntosh. "It will be enjoyed by many people for years to come."
In March 2021, the fourth big project, a new downtown Welcome Center, opened and has already hosted thousands of visitors and conference attendees at its courthouse square location. Abraham Baldwin Agricultural College donated the former satellite office facility to the city. The fifth project added other downtown enhancements including a speaker system, free WiFi and a security camera network.
"All of these maiden projects have spurred private growth estimated to be around $2 million," says Amy Johnson, Moultrie's downtown economic development and public relations director. "Since beginning these projects, multiple businesses have opened, murals have been introduced and an announcement for a new mental health facility was made. Thousands of citizens and visitors of all ages, races and religions now experience and enjoy downtown more than ever before."
---
Small Cities
Deepening Connections
by Randy Southerland
Cornelia
When Cornelia Mayor John Borrow took office in 2020, one of the first things he wanted to know was what the community needed and how to make that happen. So he asked city staffers to identify a group of residents, business owners, city staff, volunteers and other partners to figure it out.
The Cornelia Vision Committee began with a SWOT analysis to examine the city's strengths and weaknesses, and used that to set goals and create an action plan consistent with the comprehensive plan.
"One of the strengths was that we're really close to three different highways, but one of the weaknesses is that we don't utilize them as well as we should," says Community Development Director Jessie Owensby.
Among the goals were strengthening community relations to get more people involved, recruiting education partners and bringing more businesses to downtown.
The committee can point to a number of accomplishments. After compiling a list of desired businesses for downtown and developing a recruitment strategy, several new retail,
restaurants and other companies have opened and are sparking more activity in the community. Another recruiting effort centered on education and brought Genesis Academy, a new private Christian school, to the heart of downtown.
To strengthen the economy, the city is working with the economic development agency Partnership Habersham and existing local industries to bring more businesses into the county.
This effort prompted one of the county's largest employers – Field Dale Farms – to ramp up efforts to persuade more of its vendors to relocate to the county.
Finally, succession planning became a priority to ensure progress and expertise are not lost. The committee identified individuals who had the talent and willingness for service in the future, Owensby added.
By taking such a forward-looking approach to planning, the city is helping create a more viable and prosperous future for the entire community.
---
Ringgold
When Ringgold's Rabbit Valley Farmers Market opened in April 2021, it connected local growers with new customers, both of whom needed each other in the middle of a pandemic. The new market did more than that, though – it also gave a big boost to the city's downtown.
The idea for the market emerged in 2020. "It was right when the grocery stores were empty and nobody was getting out doing anything," recalls Samantha Martin, a local farmer who came up with the idea as she talked with other growers about the pandemic's impact. "I said it's a shame that everybody doesn't have [the access to fresh produce] we have."
To make that a reality, Martin, who now manages the new market, researched how markets in other cities were set up and organized. She then partnered with the city of Ringgold and its Downtown Development Authority (DDA), Convention and Visitors Bureau, and local businesses through the Ringgold Downtown Partners.
"We wanted to connect everybody with farmers and we wanted all the local farmers to have plenty of customers," says Martin.
The city welcomed the new market by securing space at the Ringgold Market Pavilion at Depot Square.
"Leveraging this city and DDA property was instrumental in the success of the market," says City Council Member Kelly Bomar.
Bringing in large numbers of people to downtown – an average of 828 people each Saturday – helped local merchants, and the market encouraged downtown shopping with a deal where market customers who purchased a logoed canvas bag could then get a discount from participating local stores.
Special events like a Trick or Treat market, a First Responders Day and
Mother's Day market also brought in- creased business to downtown stores, says Bomar. The market also produced Ringgold's first ever Oktoberfest, and hosted a Wine and Art market that brought 600 people downtown on a Friday night.
Public-private partnerships were im- portant to the market's success, too. For example, Ringgold Telephone Co. sponsored a local Power of Produce (POP) Club, where kids receive tokens to spend at the market. More than 800 children participated in the Ringgold program.
And that was just year one – the market will be back for 26 weeks starting in April and hopes to build on its successful debut.
---
Tybee Island
Tybee Island has a long and colorful history, but that past also includes slavery, segregation and racial discrimination. Now the city is making a determined effort to acknowledge all of its history and ensure a better future for all. Residents and tourists alike.
In 2020, the city passed a resolution promoting justice and equality in response to national calls for racial justice. It pledged to "move toward embracing diversity and making sure that people know this is a welcoming environment for everyone," says Michelle Owens, Tybee's Main Street administrator.
The city launched tangible programs including racial sensitivity training for all employees. Surveys asked employees about their own experiences with racial and sexual bias in the workplace. Focus groups went deeper into the issues revealed by the surveys, according to City Manager Shawn Gillen.
In addition, researchers at Savannah State University are analyzing city data for patterns of racial bias in arrest, sentencing and use of force records.
The city also joined with local organizations to recognize the area's history.
In the summers of 1960 to 1963, young African Americans risked arrest to wade in the waters of Tybee Island beach in defiance of Jim Crow laws. These wade-ins led to the desegregation of the whites-only beach.
Two markers commemorating the historical wade-ins and another documenting recent efforts at racial justice were installed between the Tybee Island Lighthouse and Fort Screven. The 2021 Juneteenth Celebration was expanded to an entire weekend with a range of events beyond the traditional reenactment of the Civil Rights wade-in at the beach.
New attention is also being focused on the island's role in the slave trade. In the 1760s, a house on Lazaretto Creek quarantined sick Africans before they were sold in Savannah's slave market. The many who didn't survive were buried in unmarked graves.
"[The resolution] was something that the city worked on with the community to develop these steps to fulfill our goals of embracing diversity, equity and inclusion," says Gillen.