Georgia Trend Daily – Feb. 9, 2022
Feb. 9, 2022 Georgia.gov
Staff reports that Governor Brian P. Kemp announced that Ryder System, Inc., a leader in supply chain, dedicated transportation, and commercial fleet management solutions, will invest $44 million in a new, high-tech third-party distribution center in Locust Grove. The project is expected to create more than 250 jobs.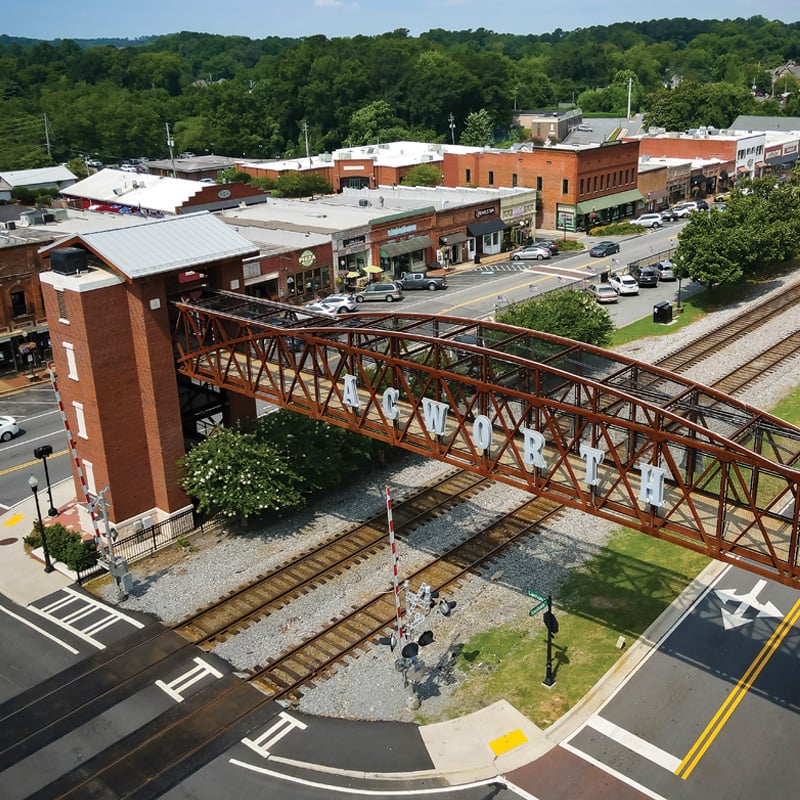 Feb. 9, 2022 Georgia Trend – Exclusive!
Betty Darby, Brian Lee and Randy Southerland report that in spite of the lingering COVID-19 pandemic, foresighted folks throughout Georgia rolled up their sleeves to make their communities better places to live, work and play – often by fostering healthy working relationships. To honor those efforts, the Georgia Municipal Association (GMA) and Georgia Trend teamed up to recognize nine cities with the third annual Visionary Cities Awards for projects that create positive change through collaboration and civic engagement.

Feb. 9, 2022 Atlanta Journal-Constitution
Mark Niesse reports that a data breach of the voting software company EasyVote Solutions exposed Georgia voters' registration information on the internet, the company confirmed Tuesday. Public information about voters was posted to an online forum, but the breach didn't involve Social Security numbers or driver's license numbers, said Charles Davis, chief financial officer for EasyVote.

Feb. 9, 2022 Brunswick News
Gordon Jackson reports that the Port of Brunswick is about to get busier because of changes to the Ocean Terminal at the Port of Savannah. As for how busy the Port of Brunswick will be, there is still some uncertainty, said Ryan Moore, president and CEO of the Golden Isles Development Authority, at an authority meeting Tuesday.


Feb. 9, 2022 Savannah Morning News
Nancy Guan reports that for the second year in a row, Tybee Island was the recipient of the Georgia Municipal Association's (GMA) Visionary City Award. This year, Tybee was awarded for addressing the community's history of racism and discriminatory practices by working with residents on racial justice, equity and inclusion projects.

Feb. 9, 2022 Kennesaw State University
Abbey O'Brien Barrows reports that the Board of Regents of the University System of Georgia approved Tuesday a new doctoral degree in Kennesaw State's College of Computing and Software Engineering. The new Ph.D. in Computer Science is an innovative program that blends the highest level of theoretical foundations with the practice of computer science.

Feb. 9, 2022 WABE
Molly Samuel reports that Atlanta mayor Andre Dickens says he's committed to getting the city on track to meet its climate change goal to only use renewable energy by 2035. At a town hall with local environmentalists Monday night, the mayor said he supported Atlanta's green energy ambitions as a councilman, and he continues to now.

Feb. 9, 2022 State Affairs
Beau Evans reports that Georgia's state government notched its highest-ever annual staff turnover rate at 23% from mid-2020 to mid-2021, according to state data – higher than many other state governments such as Louisiana, Alabama and Arizona. Low salaries and stiff competition from the private sector have siphoned off employees at key agencies caring for foster kids, helping mental-health patients and fighting the COVID-19 pandemic.

Feb. 9, 2022 The Current
Mary Landers reports that Camden County will hold a special election March 8 to determine the fate of the proposed Spaceport Camden. Probate Judge Robert C. Sweatt Jr. on Tuesday issued an order verifying the referendum was warranted by a petition filed in December and signed by at least 10 percent of the county's registered voters, as required by the Georgia Constitution.

Feb. 9, 2022 GPB
Brenda Waters reports that the Georgia General Assembly convened in the House today for its second joint session of the year, after Gov. Brian Kemp's Jan. 13 State of the State address. Georgia Supreme Court Chief Justice David Nahmias gave his State of the Judiciary address to the Assembly.

Feb. 9, 2022 Georgia Recorder
Stanley Dunlap reports, on the same day that Gov. Brian Kemp and the Georgia Legislature proclaimed as "Okefenokee Swamp Day," a bipartisan group of state lawmakers filed a bill Tuesday aimed at protecting the national wildlife refuge from mining operations. As part of House Bill 1289, the lawmakers aim to prevent companies from getting state permits to mine along Trail Ridge, which serves as a barrier to the Okefenokee Wildlife Refuge, where Alabama-based Twin Pines Minerals is applying to mine heavy minerals along 570 acres, with the potential to expand to thousands more should it prove successful.

Feb. 9, 2022 The Center Square
Nyamekye Daniel reports that the Georgia Senate unanimously approved a bill Tuesday that would cut taxes for Georgia residents who donate to foster care organizations. Senate Bill 370 would provide up to $2,500 per person in tax credits to taxpayers who contribute to organizations that help children who age out of foster care.

Feb. 9, 2022 Capitol Beat News
Dave Williams reports that new mothers in Georgia could receive health coverage through Medicaid for up to a year after giving birth, up from the current six months, under legislation that cleared the state Senate unanimously. Gov. Brian Kemp backs the measure and included $28.2 million in his fiscal 2023 budget proposal to pay for it.

Feb. 9, 2022 Atlanta Journal-Constitution
Greg Bluestein reports that Stacey Abrams apologized Tuesday for going maskless in pictures with masked elementary school students after growing backlash from Republicans who accused her of hypocritical behavior. The Democratic candidate for governor told CNN that she took her mask off to read to students at a Decatur school last week so that children listening remotely in other classrooms could better hear her, but that she shouldn't have posed maskless for photos after her reading.