Georgia Trend Daily – Jan. 26, 2022
Jan. 26, 2022 Georgia Ports Authority
Staff reports that the Port of Savannah moved a record 5.6 million twenty-foot equivalent container units in Calendar Year 2021, growing volumes by a million TEUs, or 20 percent, compared to 2020. In Brunswick, Colonel's Island Terminal handled 649,550 units of cars, trucks and machinery, an increase of 10.6 percent.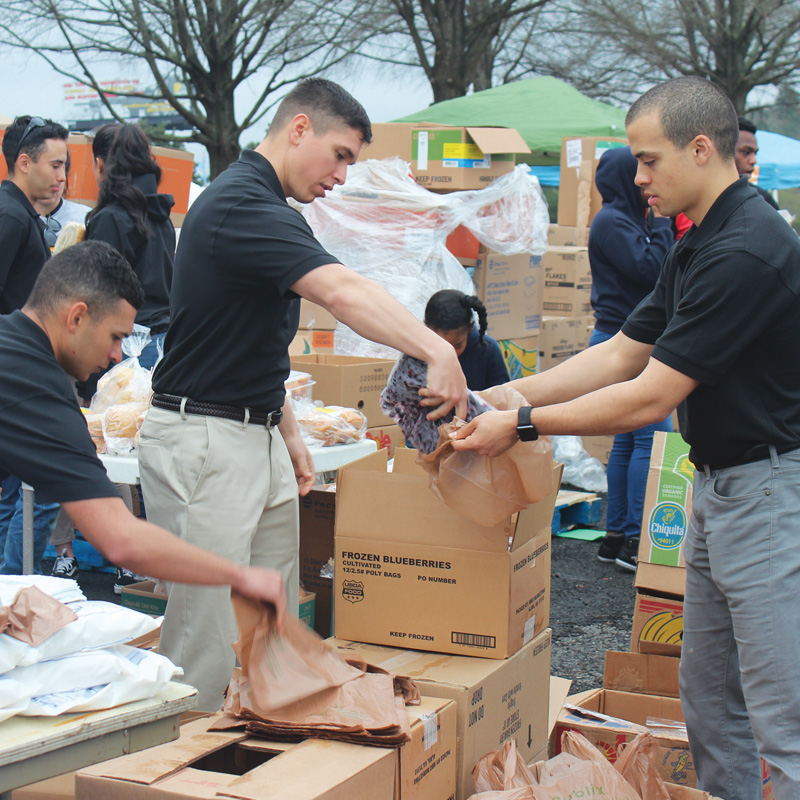 Jan. 26, 2022 Georgia Trend – Exclusive!
Candice Dyer reports that before the pandemic, an estimated one in five Georgians was designated "food insecure." Those numbers exploded by 35% in the time of COVID-19, says Frank Sheppard, president and CEO of Feeding the Valley, a Columbus-based nonprofit food bank that opened in 1983. To address the problem, Feeding the Valley distributes more than 600,000 pounds of food each month across 18 counties in Southwest Georgia, from Calhoun to Webster, along with Russell County in east Alabama.

Jan. 26, 2022 Atlanta Journal-Constitution
Scott Trubey reports that the Development Authority of Fulton County (DAFC) gave preliminary approval Tuesday for property tax breaks that could grow to $29.4 million for a long-planned life sciences and residential complex tied to Georgia Tech. Developer Trammell Crow and Georgia Tech plan a nearly $650 million project at North Avenue and Northside Drive west of Tech's campus.

Jan. 26, 2022 GlobalAtlanta.com
Trevor Williams reports that Saudi Arabia will soon "have the meats," presumably without the pork. Inspire Brands, the fast-growing Atlanta-based franchising company, has ambitious plans for its Arby's sandwich concept in the Middle Eastern country starting in late 2022.

Jan. 26, 2022 Gainesville Times
Conner Evans reports that by some metrics, Georgia's economy is firing on all cylinders with high tax revenues, low unemployment and high rates of industrial construction. But as the Norton Agency looks ahead to what 2022 may bring, it predicts the housing market will see continued problems with high costs, low inventory levels and soaring prices that will block out many first-time home buyers.
Jan. 26, 2022 Georgia Trend – Exclusive!
Julia Roberts reports, our Perspectives series this month features Dr. Kyle Marrero, President of Georgia Southern University. This week we present the third video in the series. You will hear about Georgia Southern's partners who help them create a growing pool of talent in Southeast Georgia and bolster the economic growth of the communities around the university's three campuses.

Jan. 26, 2022 Gwinnett Daily Post
Curt Yeomans reports that Democrats in Gwinnett's legislative delegation hurled claims that their Republican colleagues are working with GOP legislators from elsewhere in Georgia to mount a "state takeover" of the county, and diminish minority voting strength, in the ongoing battle over Gwinnett Board of Commissioners redistricting on Tuesday.

Jan. 26, 2022 New York Times
Richard Fausset reports that the showdown over voting rights in the U.S. Senate may be over for now. But the issue is still smoldering in a stretch of Northeast Georgia countryside where local officials recently introduced a plan to close seven polling sites and consolidate them into one.

Jan. 26, 2022 Fox 5 Atlanta
Staff reports that a surge in gun violence across Georgia has one state senator pushing for a new regulation for firearm owners. State Sen. Sally Harrell, a Democrat who represents Atlanta, filed a bill to require safety training for anyone who owns a firearm in Georgia.

Jan. 26, 2022 Axios Atlanta
Emma Hurt reports that Republican state Sen. John Albers knows what he's talking about when it comes to SB 330, a bill he introduced to incentivize organ donation and support donors. Albers, who lives in Roswell, successfully donated a kidney to his son Will last summer, after Will went into renal failure.

Jan. 26, 2022 Capitol Beat News
Dave Williams reports that Critical-race theory and "Big Tech" will be top targets of Georgia Senate Republicans as the 2022 General Assembly session unfolds, Senate GOP leaders announced Tuesday. The annual Senate Republican priorities list also will include cracking down on violent demonstrators.

Jan. 26, 2022 GPB
Riley Bunch reports that a bill filed in the state Senate would require an in-person visit with a doctor before a woman can access abortion pills — counteracting a federal ruling that makes them available through mail. It also requires women to undergo exams, including ultrasounds, before signing a consent form at least 24 hours before a doctor can provide the abortion pills.

Jan. 26, 2022 Georgia Recorder
Ross Williams reports that a bill aimed at making it easier for Georgia parents to have books banned from their school libraries earned Republican support in a state House subcommittee meeting Tuesday. Under Dallas Republican Sen. Jason Anavitarte's Senate Bill 226, which passed his chamber last year but never came to a House vote, parents who believe school materials to be obscene would be able to report them to the school's principal or their designee, who would have 10 days to determine whether the material is harmful and should be banned.


Jan. 26, 2022 Savannah Morning News
Will Peebles reports that Georgia Gov. Brian Kemp has vowed to support legislation that would remove some of the requirements currently in place for carrying guns in the state. He equated the Second Amendment to the U.S. Constitution to a "carry permit" and has made loosening gun laws a key priority for his 2022 legislative agenda.

Jan. 26, 2022 Rome News-Tribune
Diane Wagner reports that the Republican opponents of U.S. Rep. Marjorie Taylor Greene, R-Rome, are starting to make inroads with 14th Congressional District voters. A TargetPoint poll this month of 450 likely voters in the May 24 GOP primary showed a 13% swing to healthcare executive Jennifer Strahan after respondents were told of some of Greene's more controversial activities.

Jan. 26, 2022 The Current
Mary Landers reports, keeping alive U.S. Rep. Earl L. "Buddy" Carter's request for relief on his property tax in Camden County, a judge on Tuesday sided with the congressman and against the county. Carter had petitioned the court in February for an order to the Camden Board of Assessors and Board of Equalization regarding his contested property tax assessment.

Jan. 26, 2022 Atlanta Journal-Constitution
Patricia Murphy, Greg Bluestein and Tia Mitchell report that of the many powers and prerogatives that House Speaker David Ralston exercises, introducing his own bills is almost never one of them. That will change today, when Ralston puts the force of his Speakership behind a piece of legislation for only the second time ever when he introduces a bipartisan bill to address Georgia's acute shortage of mental health care services.