Power On
Georgia's growing renewable and alternative energy sector.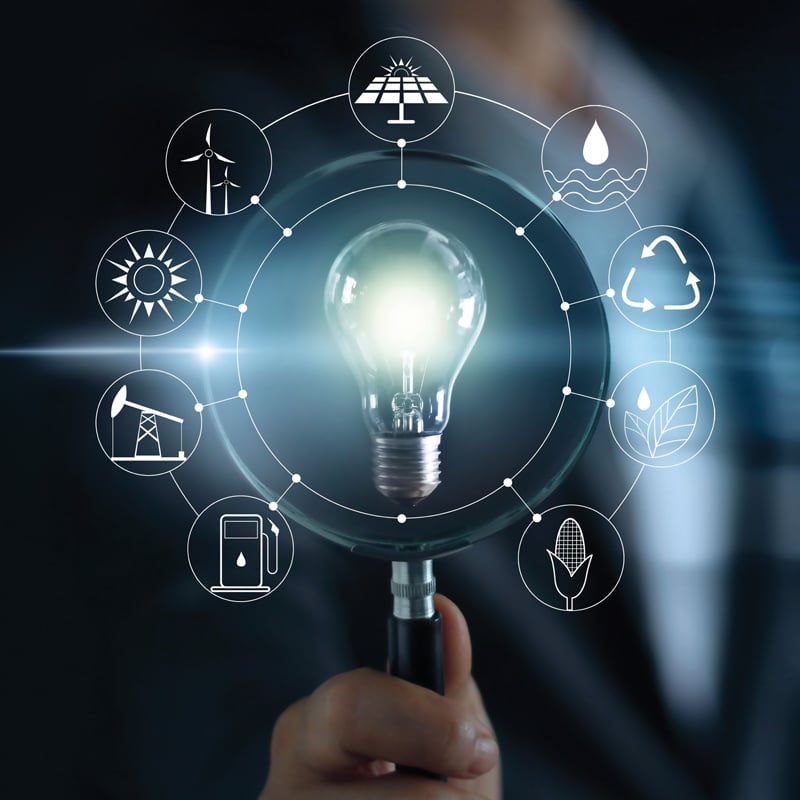 In 2018, when Facebook announced it was opening a massive data center in Newton County, bringing an initial investment of $750 million, it had a big request: to be powered 100% by renewable energy. Fortunately, Georgia was ready and the social media giant is getting its wish.
The campus east of Atlanta will be powered by solar energy produced by Silicon Ranch Corp., which broke ground in October on a $220 million, 250-megawatt (MW) solar farm in Lee County. The solar project, expected to be completed in two to three years, is being built in three phases. Phase one will provide power to Walton Electric Membership Corp. (EMC) as part of that utility's agreement to provide renewable energy to Facebook. A portion of the solar power output is also being sold to Green Power EMC, a renewable energy provider owned by 38 other Georgia EMCs.
"That company [Facebook] asked for 100%, brand newly installed solar, clean energy for their facility," says Scott McMurray, deputy commissioner for global commerce for the Georgia Department of Economic Development. "Georgia EMC was able to provide that for them."
This project and others, like Dalton's Hanwha Q CELLS, a 300,000-square-foot facility and the largest solar panel factory in the Western Hemisphere, are helping Georgia's solar market boom. Investment in solar manufacturing, and commercial and residential use, is being pulled forward by a combination of factors – the Wild West of free-market forces, lowered equipment prices, better technology, federal tax credits and heightened public and corporate awareness.
The result: Georgia is No. 9 in the nation for solar installations, according to the Solar Energy Industries Association (SEIA).
"We're very proud of the amount of solar we have in our system, and we've done all of that without what's called a Renewable Portfolio Standard [a regulation that requires increases in renewable energy production]," says Tricia Pridemore, the Public Service Commission (PSC) chair. The PSC regulates utilities and sets rates for Georgia Power and Atlanta Gas Light.
And the number of solar manufacturing projects in the state keeps growing. In early October 2021, solar panel manufacturer NanoPV announced it was investing more than $36 million dollars to locate a manufacturing and distribution facility in Sumter County. The project will eventually create 2,000 jobs. Rusty Warner, executive director of the Sumter County Development Authority (SCDA) says they are collaborating with South Georgia Technical College (SGTC) and the state's workforce development program, Georgia Quick Start, to help marshal the necessary workers.
"Dr. John Watford [SGTC president] was a big help to me landing this project," he says. "The college actually has a solar lab. I think we'll get a lot of students interested in these higher-paying, skilled-manufacturing jobs."
But Warner has a bigger vision.
"I want Sumter County to be known as the renewable county for the state of Georgia, and I want to get a jump on it," he says. "Renewable is our future. There are [individual corporate] mandates and all companies are looking to have renewables in their portfolios. I have a mayor, a council, a board that understands the idea and method behind it."
Sen. Jon Ossoff campaigned on a message of bringing clean energy and the jobs it produces to Georgia. In June 2021, Ossoff introduced two pieces of solar- centric legislation currently included in the Build Back Better bill – the Solar Energy Manufacturing for America Act, a solar manufacturing tax credit, and RAISE the Roof Act, legislation making rooftop solar installation more affordable.
"My legislation will support the development of polysilicon production, production of ingots, wafers, solar cells and solar modules," Ossoff says. "That's the entire solar supply chain in the U.S. and the tens of thousands of jobs and energy independence and security that come with having that domestic manufacturing and technological capacity.
"We need to take steps to make rooftop [solar] affordable for middle class and working-class households and for small businesses," he says. "We want widespread deployment of solar technology, much of which is produced in Georgia. We want a more resilient energy grid and we want to help households reduce their energy costs by having their own energy generation capacity for solar."
Georgia EMCs recognize that residential solar installation is a popular option, but it can be challenging to implement. In 2021, according to the EnergySage website, the average cost of a 5kW system ran $10,212 after a federal tax credit. The website quotes generous savings, electric bill offsets and a relatively short payback period, but such benefits don't always materialize says Gary Miller, president and CEO of GreyStone Power Corp., an EMC serving parts of Fulton, Douglas, Paulding, Cobb, Bartow, Carroll, Coweta and Fayette counties.
For customers not ready to make expensive rooftop solar investments, GreyStone offers solar offsets through a program called Cooperative Solar while making it very clear the offsets are unlikely to lower their bill – in fact, it will probably go up since solar power costs more to generate.
There are a couple of missing pieces before residential solar makes economic sense for customers adding rooftop solar systems, Miller says.
"You need battery storage to go with solar to begin to see more of the value of solar," he says. "Battery storage is the potential game-changer with solar power, but battery technology – they're working on it and the costs are coming down – but it hasn't hit that point yet, nor is the storage life long enough."
"Not every person that owns a home is a key person for solar," says Drew Hook, manager of residential energy services for GreyStone. "When you're installing solar, you want to size [the system] it for what your home needs. You want to consume what you generate and then add the battery to it for the nighttime."
Ossoff isn't content with promoting only solar as a renewable energy source. In October, he and U.S. Energy Secretary Jennifer Granholm toured sites engaged in alternative energy production in the Savannah area including the innovative LanzaJet facility in Soperton, a biorefinery that makes renewable aviation fuel from sustainable ethanol sources such as plant and animal material.
"I think there are potential offshore wind opportunities," Ossoff says. "I support the continued development of nuclear power and with Georgia's extraordinary economic assets, the logistical capacity, the rapid growth and economic development of our state, we're ideally situated to lead the world in this sector – one of the fastest-growing sectors in the world economy. That's my vision – that Georgia would be a world leader in renewable energy technology and production." Ossoff's vision may be for Georgia to lead in renewable energy, but he knows it will take international cooperation as well. In November, he took his message of accelerating renewable energy to the world when he spoke at the United Nations COP26 global climate summit in Glasgow.
---
Net-zero Georgia
The folks at the Ray C. Anderson Foundation are fully on board with Ossoff's vision for Georgia. They launched Drawdown Georgia – a state-specific, research-based, climate solutions roadmap for individuals, institutions and industry – in October 2020 to show how Georgia could use technology and market-ready solutions to significantly cut the state's carbon footprint by 2030.
"We looked at these promising solutions and did an analysis of what might happen if our state grew these solutions, scaled them to what we consider to be ambitious but achievable levels," says Blair Beasley, director of climate strategies at the Foundation and a member of the core research team for Drawdown Georgia. "This is not maxing out their technical potential, just what if we do more of the things we know how to do. Where would that get us? And we found that in 2030 we could reduce our state's carbon emissions by about one-third and really get our state on this path to a net-zero emissions trajectory by mid- century."
In October 2021, the Ray C. Anderson Center for Sustainable Business at Georgia Tech's Scheller College of Business launched the Drawdown Georgia Business Compact, an initiative to leverage the collective influence of some of Georgia's highest profile companies and institutions – Google, Delta Air Lines, UPS, among others – to achieve net-zero carbon emissions in the state by 2050.
As Beasley says, the solutions and technology are already in place – things like utility-scale and rooftop solar installations, utilizing landfill methane, retrofitting existing buildings so they consume less energy, controlling energy use at peak times and others.
"Many of the company goals you'll see will show that they want to be carbon neutral by 2050," says Beasley. "But we can really get on that path as a state by just doing more of what we know already works."
---
Drive My [Electric] Car
The electric vehicle (EV) supply chain is growing stronger in Georgia, as anyone driving past the $1.67 billion SK Innovation battery plant in Jackson County can attest. Other companies planting their flag in Georgia's EV space include TEKLAS, a Turkish R&D, manufacturer and supplier of EV parts (Gordon County), and GEDIA Automotive Group, a German company producing lightweight structural parts for EVs (Whitfield County). The University of Georgia (UGA) is doing its bit, too. The flagship university is home to the largest fleet of electric buses of any university in the nation, part of a long-term sustainability initiative embarked on several years ago by UGA's Auxiliary Services.
As part of the initiative, UGA's Transportation and Parking Services division began exploring what it would take to add electric buses to its fleet. The biggest hurdle was cost. An electric bus costs around $850,000, about $300,000 more than a standard passenger bus, says Todd Berven, interim director of UGA Transportation and Parking Services. And there were questions about battery range and durability. Three different vendors brought their buses to campus for real- use simulations with student riders.
"We actually weighted the buses down so it simulated a full bus," says Berven.
In April 2019, the university purchased 20 Proterra Catalyst E2 electric buses after receiving a $10 million grant from the GO! Transit Capital Program administered by Georgia's State Road and Tollway Authority (SRTA). Later that year, UGA received a $7.46 million grant from the Federal Transit Administration to purchase another 13 electric buses. Currently, there are 33 electric buses in the 70-bus fleet and plans call for phasing out all of the diesel buses.
"The ultimate goal is to get around 50 electric and the other 20 run on other alternative fuel – it could be CNG [compressed natural gas], hydrogen, whatever new technology's out there we're not even thinking of yet," says Berven.
---
The Nuclear Option
In 2019, Georgia Power, the investor-owned, largest utility in the state, committed to creating energy storage and 72% more renewable (solar, biomass and hydroelectric) generation by 2024. To that end, the utility is building a stand-alone battery energy storage system (BESS) near Columbus – the Mossy Branch Battery Facility. It's the first such system on Georgia's grid and, according to a Georgia Power spokesperson, its goal is to evaluate the system's economics and performance in a real-time, real- world environment. The BESS can store large amounts of energy and also has fast response capability for situations when system events occur, such as a power plant or generating unit going offline.
As of year-end 2020, Georgia Power had 2,566 MW of renewable energy resources online and plans to have approximately 5,400 MW of renewable energy resources in its portfolio by the end of 2025, which will account for about 22% of the company's generation mix.
The utility's biggest investment in carbon-free energy is the long-delayed and billions-of-dollars-over-budget expansion of nuclear Plant Vogtle. Once the two new units are brought online – originally planned for 2016 and 2017, now anticipated in late 2022 and mid-2023 – Georgia Power expects them to provide power for 60 to 80 years.
Pridemore is eager to see the two reactors come online. "When this is finished our state will move from 17% of our baseload power being nuclear to 26% nuclear," she says. "There are great advantages in that, too many to number, but first and foremost nuclear power is 24 hours a day, 365 days a year."
Ossoff says there's strong bipartisan support for his and other efforts to drive investment in the renewable sector while cleaning up the environment.
"I hear from Democratic and Republican elected officials," he says. "It is a win-win for our state and I'm appreciative of the continued encouragement and support I'm hearing from folks in every region and across the political spectrum. This can really unite Georgians.