Peach Plate: French with a Southern Accent
St. Neo's in Savannah pays flavorful homage to the patron saint of fish.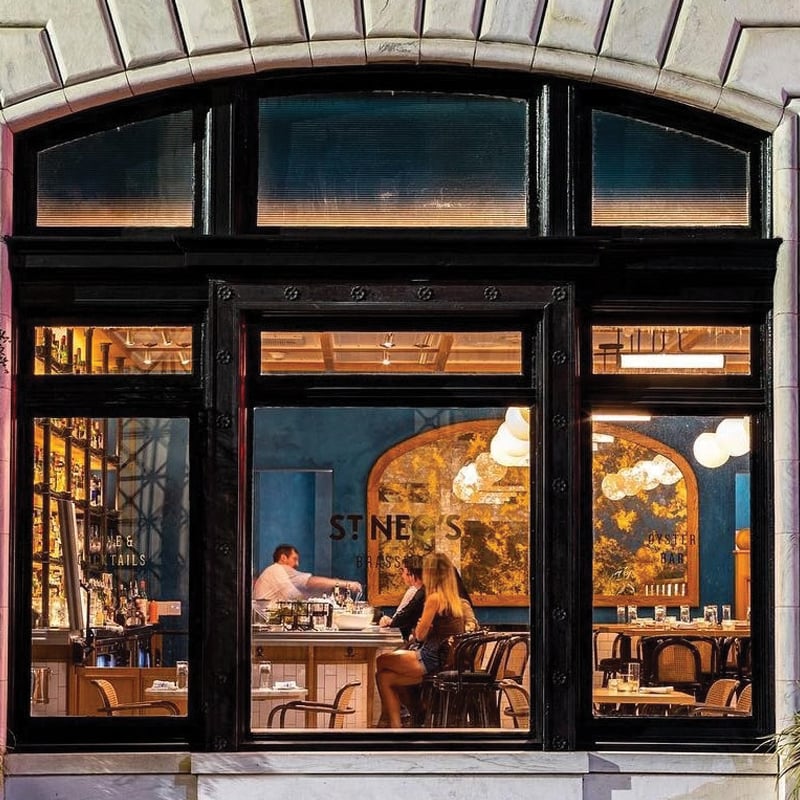 Located in one of Savannah's oldest buildings that dates back to the 1890s, St. Neo's Brasserie is not your typical hotel restaurant. For starters, the interior is a dream come true for decorators and makeover enthusiasts. What was an eyesore of an abandoned building that once housed American Trust and Bank in Savannah's Historic District is now the ultra-chic Drayton Hotel featuring St. Neo's, a Southern-inspired seafood restaurant and raw bar.
The restaurant's backdrop of distressed glass bar and blue velvet walls invites guests to experience nostalgia with a twist of modernity. The décor combines elements of classy French brassieres with fun retro American diners: There are wicker backed chairs, warm globe lights, cozy wood floors and colorful tiles. Inside the dining room, a large mural painted by artist Bob Christian depicts Spanish moss, oak trees and dreamy clouds to remind you of your current surroundings – the Lowcountry.
In summer, the seasonally inspired cocktail menu reimagines agreeable classics with gentler spins. The Tuscan Gaze is a sweeter version of an Old Fashioned, with a hint of grapefruit and Italian amaro. The pucker of kiwi contrasts with coconut liquor and pisco in a drink named Most Beautiful Girl in the Room – a beauty that hits your tastebuds at the right spots. Pear cordial, lemongrass vermouth and a splash of salt bring out a sweet and sour exchange in the John Dorian cocktail, a take on the Appletini. There's also a full bar and an innovative wine list featuring handpicked biodynamic wine selections – produced without chemicals and using natural materials – from Spain, Italy, France, Austria and the U.S.
The dinner menu is curated daily using sustainably sourced seafood and local ingredients. (St. Neo's is named after the patron saint of fish, Saint Neot.) It offers a fine selection of sharable seafood tapas and several wholesome entrees. Only the freshest oysters are flown in (today's came from Massachusetts, the server informs us) and land on a generously portioned raw-bar tower. You can add lobster, shrimp, crudo (raw fish) and crab.
If you bring a group, share a grazing platter of charred rustic homemade sourdough bread with smoked trout and celery salad, salmon mousse, deviled eggs and pickled okra. A side of crisp, beer-battered fried seasonal vegetables with lemon tahini dipping sauce is also good for nibbling.
St. Neo's version of a jumbo lump crab cake uses spiced lemon chips instead of the usual breading. The fresh and light meat is served inside a beautiful blue crab shell sitting on top of a grilled lemon made to look like a rock.
Crispy thin prosciutto chips reveal two perfectly seared diver scallops, with a sweet apple butter sauce. A light and pleasing dish for all the senses.
The main attraction is a blackened shrimp entrée that hones in on Southern cooking influences. The acidity of heirloom tomatoes contrasts against the sweetness of a moist corn spoonbread with a peppery kick from blackened and grilled South Carolina shrimp.
While the patron saint blessed this kitchen with an abundance of sea creatures, there are locally sourced meat and poultry, too. Filet mignon carpaccio is served with a crispy poached egg, and the ribeye with potatoes, Brussels sprouts and mushrooms is a crowd pleaser. Seasonally inspired desserts change daily. In the fall, an interplay of graham cracker-crusted pumpkin tart with fresh figs and candied pistachios with chili will remind you of the changing weather of the South. There's also the chef's selection of petit fours for indecisive diners.
After a flavorful, unpretentious dinner, head down to the speakeasy lounge in the basement of the hotel or upstairs to the rooftop bar for a view of the Savannah River.