Metro Atlanta | Buckhead: Tremendous Assets
Tech companies, complete streets and public safety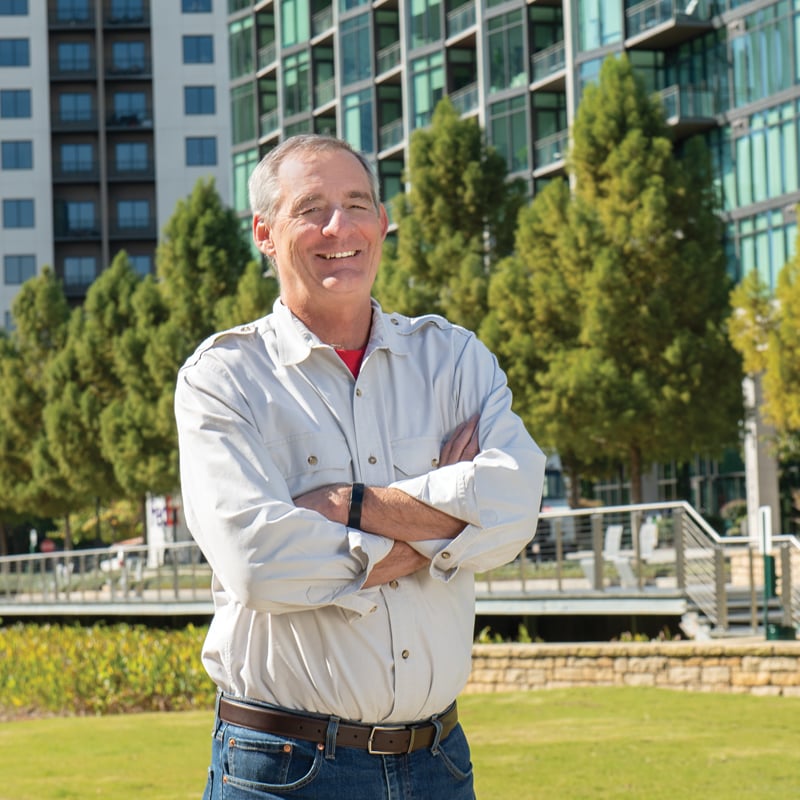 Even as some legislators under the Gold Dome were trying to advance a controversial proposal for Buckhead to split from the city of Atlanta, the affluent community continued to welcome an assortment of companies moving into the area. Invest Atlanta, the official economic development authority for the city of Atlanta, assisted with several of those newcomers, including Salesforce, FLEETCOR, FullStory and Kainos. More than 1,100 jobs were created by 12 companies alone in industries ranging from technology and mobility, hospitality, service, and supply chain and advanced logistics.
"Buckhead has been a tremendous asset to us in the city," says Eloisa Klementich, president and CEO of Invest Atlanta. "I've had a lot of companies land in and call
Buckhead home. The huge number of amenities – retail, business, financial and all of the sectors – add to the makeup of [Atlanta] as a city."
---
Cityhood Quest
Economically, Buckhead is thriving. And where business and industry go, people, families, housing and retail follow. But that still leaves community leaders grappling with tough questions surrounding crime, infrastructure and quality of life. One faction, the Buckhead City Committee (BCC), has proposed Buckhead break away from the city of Atlanta and form its own separately incorporated city. The committee is backed by a contingent of state legislators who will bring the issue before the General Assembly, though none of the elected legislators from Buckhead support the cityhood movement.
A feasibility study funded by the BCC and conducted by the Center for South Georgia Regional Impact at Valdosta State University was released in September. It concluded that the city would be financially viable but was not designed to address larger issues surrounding financial losses to the city of Atlanta if Buckhead City were carved out. In addition, the study did not look at where money would come from to pay for schools, trash collection, water and other services. Public safety – including police, fire and emergency services – would comprise almost half of the proposed city's budget. The study was the next step, with no guarantee of getting a cityhood referendum on the ballot for Buckhead residents to vote on in 2022.
Howard Shook is a six-term Atlanta City Council member (District 7) and 32-year Buckhead resident. Crime and infrastructure are his constituents' biggest concerns. As with any other issue, Shook says residents need all the facts on cityhood.
"We're talking about standing up what would be the fourth or fifth largest city in Georgia," he says. "It's not going to be cheap. There's a lot of disinformation, misinformation and questions yet to be answered in terms of what the true costs are going to be. Then it's up to the individual voters. You're talking about creating a new city of which you would be a stakeholder and a taxpayer. You need to understand the true costs of that. And, to the extent you're interested, the effect it might have on the city of Atlanta which would comprise our southern border."
The Buckhead Coalition is a nonprofit organization that advocates on behalf of the Buckhead community. The group is led by President and CEO Jim Durrett, who also heads up the Buckhead Community Improvement District (BCID). The BCID collects tax dollars from commercial property owners within the CID, often leveraging those funds with monies from other sources to finance projects and programs to address transportation and other infrastructure needs. The Buckhead Coalition and its partner organizations (BCID, the Buckhead Business Association and Livable Buckhead) have come out against cityhood.
"There are many issues, such as crime and city services, that have to be addressed by city government," Durrett says. "However, we believe that the Buckhead community, the city of Atlanta, the metro region and the state of Georgia are much better off with a united Atlanta. That's why the Buckhead Coalition focused on a get-out-the-vote effort to elect a new Atlanta mayor and city council who will lead, listen and collaborate. Atlanta is known throughout the world as a city that comes together to solve big challenges. We must do that again today. And we will be stronger for it."
---
Addressing Crime
According to data posted by Atlanta police, the increase in crime in Buckhead this year exceeds increases in the city of Atlanta. Understanding that crime is top of mind for residents, the Buckhead Coalition developed a comprehensive Buckhead Safety Plan (BSP) that was rolled out in December 2020. The Buckhead Coalition, along with the Atlanta Police Foundation, also handled fundraising and implementation for the plan.
In addition to lobbying about policies and procedures, four new police bicycle units patrol the most highly trafficked parts of Buckhead, including parking lots and decks; three Atlanta Police Department (APD) police cruisers were purchased and branded by the Buckhead CID for use within the CID by off-duty police officers contracted to do private patrols; and plans are underway to create a new APD mini-precinct in the West Village, a busy retail and entertainment district. The CID also funded and installed 28 license plate readers and cameras with plans to add an additional 22 once the funds are raised.
"And it's not just what can be done for Buckhead," Durrett says. "Included in the plan are strong recommendations to the city of Atlanta and others for things that need to be addressed out of our control that would yield results for the safety and security of Buckhead."
---
Economic Investment
The issues around cityhood aren't stopping companies from moving in. Heliox, a Netherlands-based company, opened its North American headquarters in Buckhead in June, with assistance from the Georgia Department of Economic Development (GDEcD). The company, which produces electric vehicle charging systems for vans, trucks, buses and ferries, is also building R&D and training center facilities on its campus and was looking for a location that met specific criteria.
"We wanted to work with Georgia Tech and Tech students so we wanted to be close to the university," says David Aspinwall, president of Heliox North America. "We wanted to do a lot of work with MARTA, and I can literally see MARTA's headquarters from my window. We wanted to be central to the city so we could pull talent from all over the metro region, not just the northern suburbs. We're right at this point where I-75 and 85 and Georgia 400 meet and it's a convenient location. We also like the area culturally. It's close to Piedmont Park, Sweetwater Brewery and Ansley Park. It's in a nice area where we can be in something more dynamic than a suburban industrial park."
Similarly, entrepreneur David Cummings, founder of such software companies as Pardot, SalesLoft and Terminus, was looking for something unique when he founded the Atlanta Tech Village in Buckhead in 2012. He wanted a convenient place to bring together intown creatives with tech programmers and entrepreneurs living in the northern suburbs. It turns out Buckhead needed what the Atlanta Tech Village would bring – the infusion of excitement from the startup community.
"Buckhead was known to be a financial district, amazing restaurants, great hotels, shopping," Cummings says. "A great place to go but not known from a creative, tech side of things. It didn't have any image or center of gravity when it came to the startup community."
Since then, the Atlanta Tech Village has become the fourth largest tech space in the U.S., with more than 7,300 jobs created and more than $1.2 billion in capital raised by the 300-plus startups that began there. Atlanta Tech Village has graduated some dazzling successes.
"The numbers are astronomical," says Cummings. "Calendly [a calendar scheduling software company] started in the Tech Village in 2013. Today the company is worth over $3 billion. Isn't that wild?"
With its quality of life, access to transit, education and highly educated workforce, Cummings says Buckhead provides the perfect ecosystem where technology startups flourish.
"Technology in Atlanta, in Buckhead and the rest of the region, is going to be one of our most important industries this decade," he adds. "The Tech Village, from a Buckhead point of view, is working hard to continue growing that industry in helping us realize our potential."
Colin Connolly, president and CEO of Cousins Properties, would add a hearty "amen" to that assessment. He says Buckhead's traditional "FIRE" economy – finance, insurance and real estate – makes for a strong foundation in the region's commercial real estate market. And that won't go away any time soon. But the handwriting is on the wall.
"A trend that's become increasingly more evident is the influx of tech companies and tech talent into Buckhead, which for many years was centered around Midtown and Georgia Tech," Connolly says. "Over the last five years, we've seen an increase in demand to locate in Buckhead and I'd say a lot has been from the Buckhead MARTA station south to Piedmont Road, influenced by the Atlanta Tech Village. We've seen companies like Workday, Amazon, QGenda, wanting to locate in close proximity to mass transit and the Atlanta Tech Village. That's been a really positive catalyst for the Buckhead market. I call it that entrepreneurial tech culture."
---
Infrastructure Projects
Aiming to further transform the region and the way residents, workers and visitors get from point A to point B, the BCID is investing in an ambitious slate of infrastructure projects. Among these are complete street efforts designed to prioritize safety, comfort and access to destinations for everyone who uses the street, including those who have disabilities.
When construction begins in early 2022, the Piedmont Road complete street project will expand the thoroughfare's capacity from five lanes to seven and add a 10- to 12-foot multi-use path on the west side of Piedmont.
Another complete street project, this one planned for Lenox Road and expected to begin construction next year, will create a multiuse trail resembling a boardwalk or linear park on the west side of Lenox Road between Peachtree Road and the Lenox MARTA Station on East Paces Ferry Road.
In addition, a dangerous intersection behind Phipps Plaza, Wieuca Road and Phipps Boulevard, will be replaced with Atlanta's first multilane roundabout.
This fall the third phase of the Peachtree Road streetscape project will extend from Maple Drive to Shadowlawn Avenue and include granite curbing, sidewalk widening, buried utilities and other enhancements.
Streetscape enhancements and stormwater improvements begun last year in the West Village are moving along, and final sidewalk construction and paving on Roswell Road will begin after the city of Atlanta completes stormwater improvements. The long-term upgrade and repair of sidewalks on Peachtree Road from Peachtree Dunwoody to Maple Drive will enhance safety and aesthetics of the walkway.
If that seems like a lot happening at the same time, it is.
"If you put all these projects together and think about the dollars spent [$48.4 million, estimated], it's an incredible amount," Durrett says. "We probably have more underway right now than we've ever completed in the history of the CID. It's an exciting time."
Which leads to the BCID's most ambitious project, HUB404, a proposed multipurpose 9-acre greenspace that would sit above Georgia 400 and MARTA's rail station, extending from Peachtree Road to Lenox Road. The plan was developed in 2015 in response to the long-held view that Buckhead lacked a central gathering point. A feasibility study and further concept development process determined that the HUB404 solution created more than a park.
"We believe we've got something really attractive here," Durrett says. "It's creating connections that don't exist. Making the community more walkable, capturing stormwater and restoring greenspace."
Plans for HUB404 went into hibernation during COVID-19 but emerged earlier this year given the Biden administration's interest in spending on sustainable infrastructure.
---
Creating Livability
Buckhead is more than a business district. It is home to just over 100,000 residents in 45 distinct neighborhoods, some historic. Creating "livability" is why Denise Starling, executive director of Livable Buckhead, gets up each day. The organization partners with public and private entities to advance the quality of life for those who call Buckhead home – whether they work there, live there or both – by promoting transit use, better housing options, creating parks, even promoting composting and recycling.
And according to the 2020 State of Buckhead survey released earlier this year, even residents who may feel they are not heard by city leaders are pleased with Livable Buckhead's efforts.
"The survey validated a lot of our work," Starling says. "We were pleased to see that people value greenspaces and they helped us prioritize on the types of things we're putting into the green- spaces."
The livability factor is a critical component in Buckhead's future economic and community development.
"There's no question that walkable urban environments are better environments," Durrett says. "They make for a better city and more thriving community. They hold their value, are more vibrant and attract growth where you want growth – in urban areas where you can get around using different modes and have access to transit. We're not doing these projects to accommodate more vehicles. We're doing them so that the trip one might have to take is safer and more reliable, but we're giving them alternatives – which is increasingly more desirable going forward."
---
Local Flavor
Hitting the Trail
"Turning gray infrastructure into something green." That's how Denise Starling, executive director of Livable Buckhead, describes the Path400 greenway, what will eventually be a 5.2-mile urban trail through Buckhead's core. For Starling, Path400 is more than her job; it's a labor of love born out of a conversation in 2010 with Howard Shook, Atlanta's District 7 city council member.
"When I came into office we had the smallest acreage of parks, greenspace and trails per capita of any of the 12 districts in the city," Shook says of Buckhead. "I very publicly asked people if this is acceptable."
A city planner by training, it didn't take long for Starling to spot a swath of public land running the length of Buckhead from the Atlanta BeltLine in the south to north Fulton County along Georgia 400, which divided the region when it was built in the early 1990s.
The project had "pixie dust" on it from the get-go. The Path Foundation jumped
on board as a partner. Georgia Department of Transportation (GDOT) liked the proposal and helped however it could.
"We've been picking off sections and moving them forward one at a time and are about 80% complete now," Starling says. "The next big section, from Wieuca Road to Loridans, should be under construction in the second quarter of 2022."
The paved trail winds up hills and under railroad and MARTA tracks, curving around stately old-growth trees and past new plants thanks to the city of Atlanta's tree bank, which provides carbon offsets for eligible companies. There's even a wetlands area, home to beavers, snakes and other wildlife.
Like the BeltLine, with which it will eventually connect, Path400 bursts with displays of public art, including large murals dispersed throughout the trek.
And in the semi-shaded Miami Circle section of the trail, residents of the Atlanta Housing Authority's nearby high-rise had previously put down literal roots for a community vegetable garden, staking their turf with hard work, sweat and found objects. In a show of solidarity, Path400 and partner volunteers built and installed raised beds spelling out "PATH400" alongside the trail to further encourage this "guerilla gardening." The result is a display of quirky collaborative gardening and art that's authentic and unique.
For a neighborhood that experienced much turmoil when Georgia 400 was built, the trail is "a needed balm and a marvelous experience," Shook says.
"When we first started the design, we got a lot of that hostility of the sort that was directed at GDOT during the 1980s," says Starling. "But we talked to the community before we even started the project. The best compliment I ever had was when I ran into a neighbor on the trail after a section was built and they said, 'You know what? You actually did what we asked you to do.' We want the community to see and value this project. It's an amenity for them."