Go Nuts for Thanksgiving
Think beyond pecan and peanut butter pies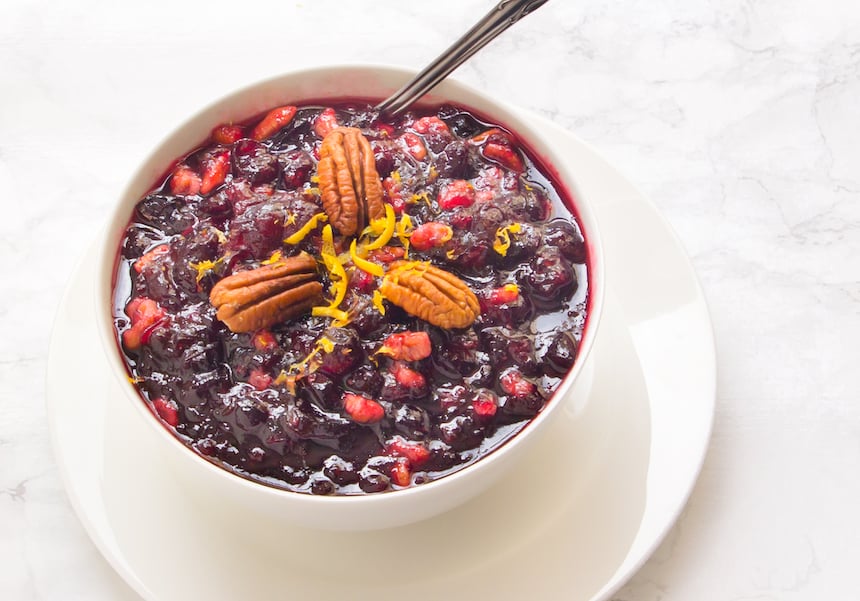 Pecans, peanuts, pistachios, walnuts, macadamia – oh my! Georgia produces a wide variety of nuts. In fact, Georgia leads the way as the nation's top pecan producer, growing 142 million pounds last year.
Nuts are a good source of protein, omega-3 fatty acids, have very low sodium (if unsalted) and are cholesterol free. They are versatile and can be used in a variety of recipes. In a nutshell, you don't have to thrive on chocolate covered nuts, praline pecans and baked goodies. This Thanksgiving, incorporate healthy and delicious nuts into your holiday recipes.
As you think of dishes to serve for Thanksgiving dinner, consider make-in-advance or ready-made walnut pesto on a crostini with feta cheese .
Larry and Beverly Willson, at one of Georgia's longest-running nut farms, Sunnyland Farms in Albany, recommend cutting dried Medjool dates or figs in half, stuffing
them with a whole almond and topping with crumbled blue cheese, for a sweet and salty snack. You can also sprinkle on bacon bites and cayenne for an extra kick.
The Spicy-peanut party hummus recipe by Gloria Piantek was the winner of the 2021 National Peanut Month Recipe Contest. And it's no surprise. The combination of sweet and spicy pepper relish, chipotle peppers, creamy peanut butter and mashed chickpeas, tells your tastebuds that its festive season. You can find more such recipes at the Tifton-based Georgia Peanut Commission's website.
Instead of traditional olive oil and vinegar salad dressing, toss in pecan oil or peanut dressing. The nutty flavor gives more personality to the greens and your guests will keep guessing your "secret recipe."
For a twist on traditional sweet potato casserole, bake a side of easy-to-grab sweet potato muffins featuring small pecan pieces. The recipe calls for the exact same ingredients – canned sweet potatoes, butter, cinnamon, milk, eggs, sugar – and some flour.
This holiday season, branch out from the traditional turkey with chef Virginia Wills's almond crusted trout with pecan brown butter. Dress the fish with roasted almond rice pilaf or Asian cashew slaw. The recipe can be found on the Georgia Pecan Commission website.
A Georgia Grown peach pecan cranberry sauce is easy to make and adds color to the thanksgiving table. It is boozy with pecan liquor, festive with cranberries and can be made in the microwave in just a few minutes. Use the leftover sauce to make hand pies for breakfast the next day. Georgia Grown partners with chefs around the state to share creative recipes like this, using the freshest homegrown ingredients.
For dessert, try a peanut ribbon cake recipe dating back to the 1970s. The already-frozen pound cake, layered with sweet, grated chocolate and chopped peanuts, can be assembled and frozen until ready to serve with whipped cream and liqueur. Take a look at the Georgia Peanut Commission's retro recipe collection and you may discover one of your childhood favorites.
For an after-Thanksgiving treat while you trim the Christmas tree, have the kids help arrange a charcuterie plate with crackers, hard and soft cheeses, sliced salami, roasted mixed nuts and fruit jams. The plate is easy to graze on and takes further advantage of the nutty flavors of the season.
However you decide to go nuts this year, roast them first to release the oils and add more crunch. Store nuts in a zip-lock bag or airtight container in the refrigerator or freezer. The lower the temperature you store the nuts, the longer they will keep.
Happy Holidays!
Do you follow us? Find us on Linkedin, Facebook, Twitter and Instagram.