Peach Plate: Charm Meets Grandeur
Rosemary & Thyme in Americus evokes nostalgia with affordable fine dining.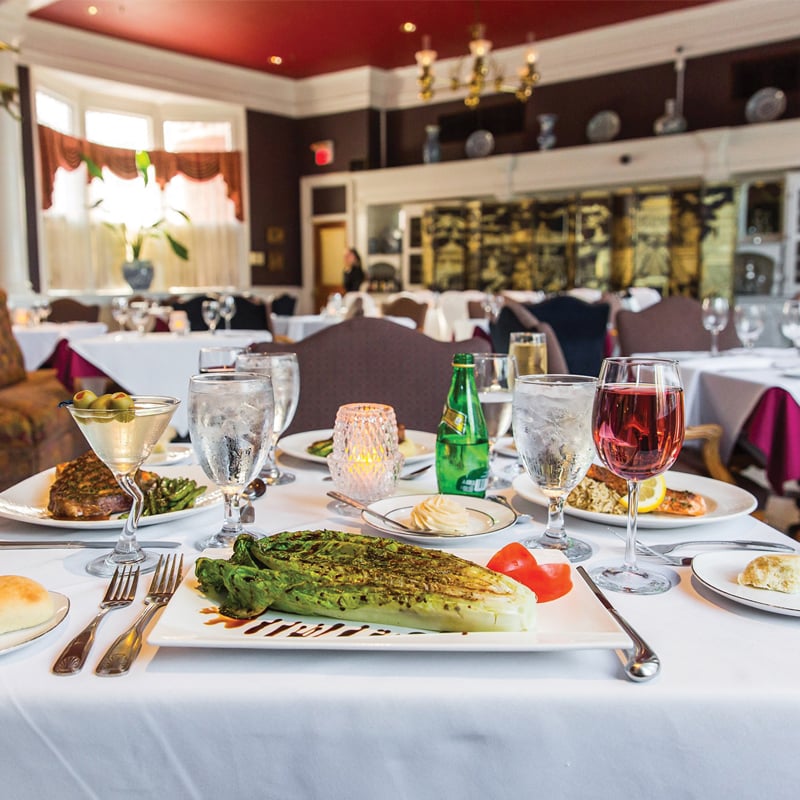 Overlooking the colorful downtown, swaying in my rocking chair, sipping a blueberry sour cocktail, I feel I could be in any Southern small town. But this is no ordinary place, building or porch. It is the same spot where global heads of state and accomplished billionaires have wined and dined. U.S. House Speaker Nancy Pelosi was recently spotted having dinner during her stay, and former President Jimmy Carter and Rosalynn are regulars.
The historic Best Western Plus Windsor Hotel is an iconic structure dominating an entire block in Americus. The 130-year-old hotel (opened in 1892) has changed hands many times and undergone millions of dollars in renovations to be restored to its original grandeur that guests can enjoy today.
On the second floor is the hotel's main dining room, Rosemary & Thyme. What used to be a ballroom (older patrons recall spending fun afternoons here) is an affordable fine dining restaurant that opened in 2012. It is a must-stop for visitors and where locals make reservations for special occasions.
With the original tile floors, Victorian period furnishings, large windows and white tablecloths, Rosemary & Thyme recalls the bygone era of old dining rooms. You may feel a bit underdressed walking into this opulent hall, but there's really no dress code (truly).
The menu is inspired by its Southern roots, favoring classics such as meat and sides. Due to labor shortages and reduced demand because of the pandemic, the menu was revised to include fewer specials that are offered at both the restaurant and Floyd's Pub next door.
The pimento cheese fritters are by far the most popular shareable appetizer, and for good reason. Large deep-fried cheesy hush puppies with pepper jelly make for a sweet and spicy welcome to Middle Georgia. For lighter fare, the grilled romaine heart salad is simply drizzled with balsamic glaze, truffle oil and cherry tomatoes.
The ribeye is grilled tender and juicy, topped with a buttery melt of salt, pepper, rosemary, thyme and garlic. Accompanied by homemade garlic mashed potatoes and locally sourced seasonal julienned vegetables, this is the best quality steak dinner you can get for the price. The herb chicken pasta is also decent. It has a generous portion of blackened moist chicken breast strips on fettuccini, tossed in a creamy garlic mushroom sauce.
The cilantro grouper is a random flavor on this mostly traditional American menu. The filet is spiced with layers of cilantro, ginger, garlic, coriander, cumin, lemon, pepper and red chili, and plated with basmati rice pilaf and roasted Brussels sprouts. The Windsor's owner, Sharad Patel (of Indian-Gujarati heritage), created this special recipe during the COVID-19 lockdown. To attract more diners, the restaurant started offering country-themed to-go menus, and the cilantro grouper remained so frequently requested that it won a permanent spot on the menu.
For dessert, the Southern skillet cookie is one of those classic nostalgic dishes that will bring out the kid in you. Served hot in a cast iron skillet, the chocolate chip center stays gooey while the cold vanilla-bean gelato slowly melts over it. My personal favorite is the delicate strawberry shortcake cheesecake with three layers of buttery pound cake, strawberry mousse and creamy cheesecake.
The wine list is extensive, covering many geographical regions (though it has also been shortened), to include affordable and good-quality New Zealand sauvignon blanc, French rosé, and a Hungarian red blend. If you are in the mood to splurge, you can also order a 2006 vintage Dom Perignon or a 20-year-old tawny port.
Make sure to grab a cocktail before or after dinner at the hotel's Floyd's Pub (named after a Black bellman who worked here). It's where locals hang out on the porch, listen to live music and participate in murder-mystery dinner theaters.
As the poshest venue in town, the hotel's private dining areas are frequently booked for conferences, galas and weddings. It is not uncommon to have Secret Service agents around the property, though you may not know it. There may be an unpretentious political leader, an affluent sheikh or a celebrity artist seated right next to you, but everyone receives the same friendly Southern hospitality.
---
Rosemary & Thyme Restaurant
125 W. Lamar Street
Americus, GA 31709
229.924.1555
Website: windsor-americus.com/dining/
Hours: Monday – Saturday 5 p.m. – 9 p.m.
Parking: Free
Dress code: Smart casual