Spooky sips and bites
Foods and drink that conjure the spirit of Halloween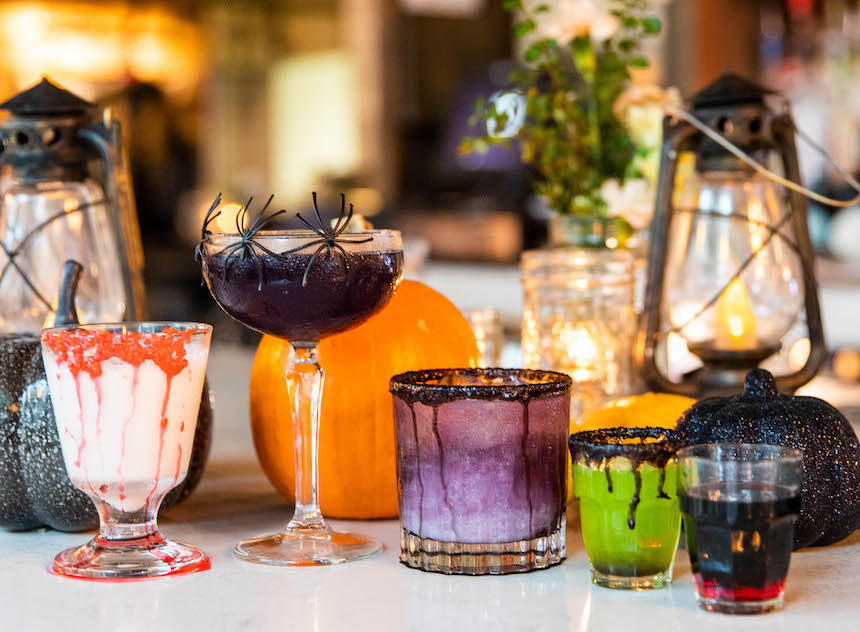 Tis' the season! With pumpkins, turkeys and candy on our minds, the last quarter of the year is all about celebrations over food. Restaurants and bars across the state are getting creative with food and drink items to get customers into the celebratory spirit. Whether you're tickled by edible ghost candies, mummified meatballs or eyeballs in your drinks (don't worry, these are made with green olives), trick or treat yourself with these Halloween-themed specials.
Witches Brew
Located in the heart of downtown Macon, Just Tap'd craft brewery and gastropub is the perfect place to taste a poison apple sangria or pumpkin flavored beer, paired with baked twisted dough knots with garlic, asiago and marinara, or a devilish fire pizza (that's what it's called) flaming with Calabrian chilis. For the faint of heart, there are 60 craft beers and 40 wines on tap. Check out their calendar for Halloween trivia night, costume contests and live music events.
Atlanta's Hampton + Hudson, an Inman Park community bar and restaurant, is looking to a fun Halloween movie favorite for inspiration this year. The phrases and characters of Beetlejuice are reflected in creative cocktails such as The Ghost with the Most, made with Tito's and Six, Twenty Carolina Cream and a dusting of pop rocks on the rim; The Betelguese, a blend of Ketel peach vodka, campari and grapefruit; and the Maitland (the last name of the main characters of the film), with Empress gin, soda, lime and a touch of glitter. The cocktails are rounded out with two shooters – the Lydia Deetz, the character played by Winona Ryder, and It's Showtime, which is one of Beetlejuice's iconic sayings. On October 30th, there will be a Beetlejuice Halloween Party with brunch, beer and cocktail specials, live music and a costume contest, where you can try these scary characters in their liquid forms.
Mystery Dinner
Put on your wedding attire or a flapper dress for this dinner party! The Iberian Pig in Decatur is serving a spooky paella with squid ink, bay scallops and red shrimp, as well as a whole roasted pig in its own skin and juices (salsa cerdo), accompanied by a fiery red chili sauce (mojo rojo), Oct. 31. The restaurant's Fifth Annual Murder Mystery Dinner features the Death of a Gangster themed interactive show, where diners solve a murder mystery through multiple courses. Each ticket includes dinner and entertainment.
Frighteningly Sweet
Pumpkin or chocolate? Savannah Candy Co. solves this predicament by tossing kettle popped corn with Southern-style caramel, glazed pecans, pumpkin-flavored candy and three kinds of melted chocolate (white, milk and dark). Embodying all the colors of Halloween, the addictive Drizzled Chocolate Pumpkin Popcorn comes in an 8-ounce tin and can be shipped to your favorite ghosts and goblins anywhere.
Don't let your sweet tooth haunt you. St. Simons Sweets on St. Simons Island has a wide assortment of hand-crafted ghoulish baked goods, truffles and crispies to satisfy young and old trick-a-treaters. This month, the company is featuring marshmallow desserts in the shapes of bats, mummies and monsters dipped in chocolate and icing. Get the Jack-O-Lantern Mallow, a giant marshmallow dipped in orange chocolate with a chocolate stem, or the little green Frankenstein Graham Sandwich, a graham cracker dipped in green chocolate with black chocolate hair and mouth and candy eyes. Now's that a spooky yet scrumptious treat that's worth sharing!
Do you follow us? Find us on Linkedin, Facebook, Twitter and Instagram.