The Way Forward
Hartsfield-Jackson Atlanta International Airport is finding its footing through the pandemic.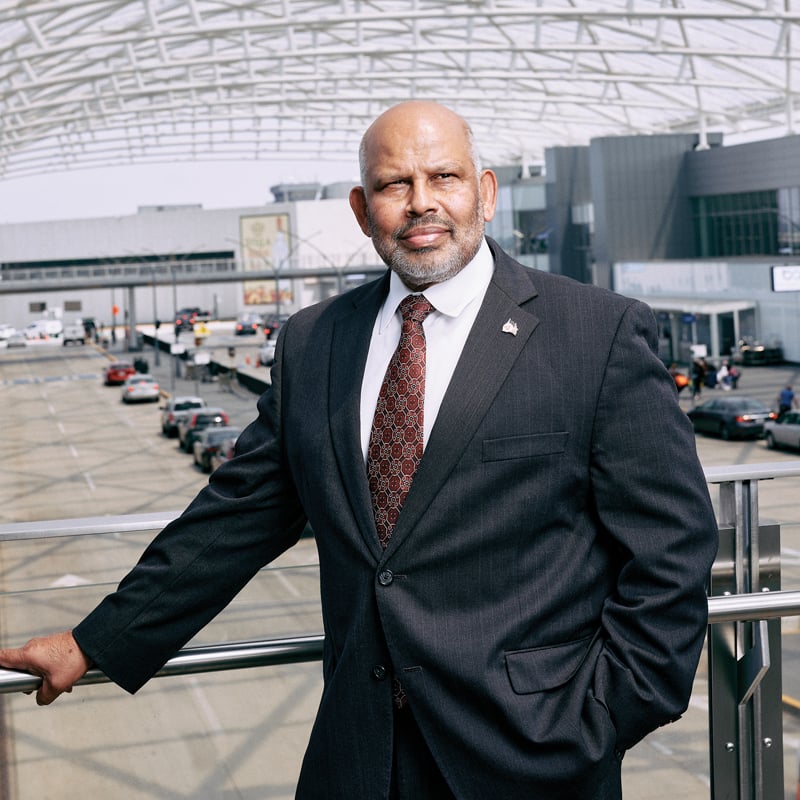 Without a doubt, 2020 went down as one of the most volatile economic periods in airline industry history. But for leaders at Hartsfield-Jackson Atlanta International Airport (ATL), the focus in 2021 has been about regaining momentum as passengers – some tentatively, others enthusiastically – return to the air.
Balram Bheodari, the airport's new general manager, says anticipation began building with the vaccination rollout in January and February.
"It started giving people confidence," he says. "Millions of people were at home all over the country and had a pent-up need to get out of the house."
Memorial Day 2021, the first holiday weekend after most Georgians had the opportunity to be fully vaccinated, was the true test. And it was clear from the security lines snaking through the atrium that travelers were ready to fly.
"Travel is growing in waves," says Bheodari. "Our daily averages, pre-pandemic, were 310,000 passengers per day and [by June 2021] daily averages were around 200,000-plus passengers. It's rebounding very quickly domestically and we've seen an uptick in international travel in the past couple of months."
International Concourse E opened for inbound passenger screening on weekends beginning July 1.
"This is a good sign for us," he says. "We went from just 1,000 international arrival passengers to averaging 7,000 to 8,000 international passengers a day, mostly from specific geographic locations, South America and the Caribbean, some European locations."
Though travel in general remains uncertain as the delta variant continues to spread and international travel isn't expected to come back as quickly due to restrictions on U.S. travelers by some countries and the uneven availability of the COVID-19 vaccine in many parts of the world, the signs are clear: Air travel is rebounding.
"We hired hundreds of new officers in preparation for a busy summer travel season," says Robert Spinden, federal security director for the Transportation Security Administration (TSA) in Georgia. "We're very excited that our industry has begun to return."
TSA security procedures that limited touching during ID and baggage checks have reverted back to normal, but acrylic barriers remain. Although precise figures aren't released, Spinden confirmed that the number of enrollments in TSA PreCheck, the agency's expedited security program, steadily increased since November 2020.
---
Caring and Corporate Citizenship
"I always thought the return [to travel] was going to come faster than we thought but even I am surprised at how quickly it's returned," says Ed Bastian, CEO of Atlanta-based Delta Air Lines. But that quick return gave rise to unintended consequences.
Delta was overwhelmed with calls from travelers asking questions about travel vouchers or restrictions. The volume of reservation calls surpassed 2019 levels. Delta ended up hiring 1,300 reservation agents and plans to have them trained and ready to serve customers by this fall. And in July, Delta announced plans to hire more than 1,000 pilots before next summer.
As the leader of Hartsfield-Jackson's largest airline partner, Bastian made bold moves throughout 2020 to keep the company financially sound and its customers and employees safe. This included asking employees throughout the company to voluntarily take time off without pay to safeguard jobs and cash.
"One of the goals I set at the start of the pandemic was to try to protect jobs and avoid layoffs; most people thought I was crazy," he says. "We had over 40,000 people throughout the company [voluntarily] take large parts of last year off without pay to protect each other. As a result, we were able to get through the pandemic without having to furlough or let go of a single employee. It was an incredible act of volunteerism that I've never seen before."
Delta saw about 18,000 voluntary early retirements or buyouts in 2020, but Bastian quickly points out that no one involuntarily lost work. He also raised the core values of health and wellness to the executive level, hiring a chief health officer, Dr. Henry Ting. Ting, a cardiologist, previously worked at the Mayo Clinic.
"One of the key lessons we learned this year was about resilience and health and wellness and not to take any of that for granted," says Bastian, "If anything, we need to lean more aggressively into that."
He called actions the airline takes to ensure health safety – adding high-quality air filtration systems, procedures for wiping down planes, boarding planes from back to front, and leaving the middle seat blocked (which ended in mid-May) – the flip side of the flight safety coin. In addition, Delta is requiring new employees to be vaccinated while existing employees are strongly encouraged to get their jabs.
Delta also retired more than 200 planes in 2020, with plans to retire even more.
"Every plane you're on is younger, more fuel efficient and has a cleaner feel to it," Bastian says. "We changed our Wi-Fi provider. We're moving to the cloud, our technology stack, through Amazon. We made so many changes that we hesitated doing when we were moving at full speed."
These changes landed Bastian a spot in the top 10 on Glassdoor's Employees' Choice Awards for the Top CEOs of 2021 and helped Delta earn the top spot in the J.D. Power 2021 North American Airline Satisfaction Study for the first time since 1995. According the survey, Delta's flight crews outperformed its closest competitor by 11 points and the airline was the top performer in four out of eight categories evaluated in the survey.
"We're coming out of this as a different, modernized and more resilient airline, which customers are adapting to," Bastian says. "Customers loved how we took care of each other and took care of them."
Delta modeled corporate citizenship, too, by partnering with public health officials, opening the largest mass vaccination site in the state that offered shots at drive thru lanes or inside Delta's Flight Museum. It also converted part of Concourse C to vaccinate not just Delta employees but other airport employees as well. Up to 5,000 people a day were vaccinated at the three sites, more than 100,000 people in all.
"That's something we'll never forget," Bastian says. "As the largest employer in this state, we have a responsibility to be great stewards and citizens."
---
"Normal Moving Forward"
Taking care of the people working in the airport means making sure their businesses remain viable. Jai Ferrell is the assistant general manager whose duties include oversight of concessions, advertising and marketing.
Forget "back to normal," Ferrell says. She's calling it "normal moving forward."
To assist concessionaires, the airport authority approved rent-oriented accommodations starting in March 2020, which were extended until June 31, 2021. A new rent-relief package was put in place effective July 1, 2021. Under the new plan, concessionaires pay a percentage of their revenue (half of what they'd typically pay, and no base fee) and a reduced marketing fee, which is a percentage of their sales that's used to market the airport. Fees for storage or parking were either suspended or reduced to ease the financial burden on concessionaires faced with the pressure of rebuilding and restaffing their businesses in a tight labor market.
"We're supporting our concessionaires with job fairs, expediting our badging process and working with AeroATL [the Airport Employee Ride Options program] to help with mass transit to provide as many incentives as possible," Ferrell says. "Concessionaires are offering incentives, too – signing bonuses, additional benefits – because they want their people back too."
And look for those touchless processes hurriedly put in place because of COVID-19 to remain.
"We were moving down this [touchless] path for quite some time," Ferrell says. "It was expedited because of COVID. We have deployed digital directories that look like oversized cellphones. … You can scan your boarding pass, navigate to the restroom, find out how to get to your gate or a restaurant. But we still have our guest services agents for people who want to be told where to go. It's critical to keep a hybrid for now."
---
Cargo Saves the Day
According to U.S. Census Bureau data, Americans spent $791.7 billion during 2020 on e-commerce, up 32.4% from the previous year. E-commerce company Amazon went from landing one flight a day at Hartsfield-Jackson to four. (It's since dropped back to three flights per day.) All that shopping – and shipping – helped the airport's bottom line.
"Atlanta cargo volumes declined year-on-year in 2020 by 6.27% according to ATL's calculations," says Elliott Paige, director of air service development for the airport. "Now, that's not bad, because globally cargo went down 10.6%."
Paige says the airport's decline wasn't so much a lack of demand as a lack of capacity. Planes carrying passengers often have cargo in their holds, so fewer passenger flights automatically meant fewer planes carrying cargo. However, some airlines chose to turn those empty seats into cargo carriers.
"Instead of passengers in seats, they had boxes," says Paige. "Not Delta, but United really jumped into it and put cargo into their overhead compartments, on seats, then put a big net over it to make sure it didn't move. They did it in addition to carrying cargo underneath. They did this to survive, to keep revenue flowing."
Weeks-long delays at West Coast ports due to mandatory ship quarantines also boosted air cargo at Hartsfield-Jackson.
"Some manufacturers decided to ship items typically shipped on boats by plane," says Paige. "That really pushed cargo over the top for us. In December [2020], January, February and March we saw record numbers of cargo coming in. In some cases, higher than in 2019."
In April, a new air cargo partner, CMA CGM Air Cargo, began operating between Atlanta and Liege, Belgium. And as demand for air cargo continues to rise, the airport wants to increase capacity by building what Paige is calling his "dream project," a high-tech air cargo terminal capable of unloading a plane in 30 minutes or less.
In January, the airport put out a request for proposal (RFP) to find a development partner. The proposals (which came in at the beginning of June) are currently being evaluated. It will be a greenfield project on 52 acres in the south cargo area of airport property. Paige hopes a development partner will be announced by year's end.
---
Continual Improvement Plan
Bheodari says a construction crane at an airport is a sign of a vitality. In that case, Hartsfield-Jackson is the picture of health, as work continues on a number of projects including those from the $6 billion, 20-year expansion plan unveiled in 2016.
"We have a number of projects going on," he says. "The Concourse T-North five-gate expansion project is scheduled to be completed in December 2022. We have a [60-acre] south de-icing facility that is under construction, on schedule and on budget."
Thanks to lower travel volumes in 2020, the airport, TSA and Delta partnered in converting the domestic terminal south security checkpoint to first-in-the-nation computed tomography-automated screening lane (CT-ASL) systems. The new technology scans items with 3-D imagery allowing passengers to keep electronics and approved liquids in their carry-on bags, so people move through the checkpoints more efficiently. They added security bins made of innovative antimicrobial material minimizing bacterial growth and further improved efficiency with an automated bin return system.
The new West Parking Deck, providing an additional 5,000 parking spaces, opened fully this summer. Portions of the lot had opened earlier because of increased demand. The lot is completely automated with license plate and Peach Pass readers.
Bheodari says the $300 million Plane Train turnaround extension project to speed up passenger transport is "going well and on schedule."
Other projects underway include adding more elevators and escalators to Concourse T because of the expanded south security checkpoints from four lanes to nine and planning to widen Concourse D, Bheodari says.
"We're redoing and reprioritizing our capital plan," as part of a general review and redefine, he says. "We're looking at somewhere in the neighborhood of $500 million to $700 million worth of construction projects over the next few years."
---
The World's Busiest Again?
The drop in passenger traffic in 2020 meant Atlanta lost its perennial title as the world's busiest airport, a designation it held for 22 consecutive years.
"2020 was an anomaly," Bheodari says. "I have no doubt we will retake that title. It's the least of my concerns but still a goal of ours."
However, for the 17th consecutive year, Hartsfield-Jackson was named the world's most efficient airport by the Air Transport Research Society (ATRS), a worldwide research network head- quartered at the University of Maryland. The report compares airport performances worldwide, focusing on productivity, operations, management efficiency, cost competitiveness and comparison of airport charges.
"It's an important benchmark in the industry, especially for airlines, wanting to come and do business with us, looking at our financial strength and the cost of operating here," Bheodari says.
But the accolades, while great, aren't the backbone of the airport's success. Bheodari attributes that to communication and collaboration.
"We sat in a big room, looked each other in the eyes and worked this [recovery] plan together," says Bheodari. "Anyone trying to work in a silo would have set themselves up for failure. We were transparent, unified. We did that before the pandemic – this enterprise is so important to everyone – we did it during the pandemic, and now in the recovery, we're still doing it. That strong communication is responsible for managing success."