Reaching for Heaven
Casi Cielo introduces Oaxacan flavors to Sandy Springs.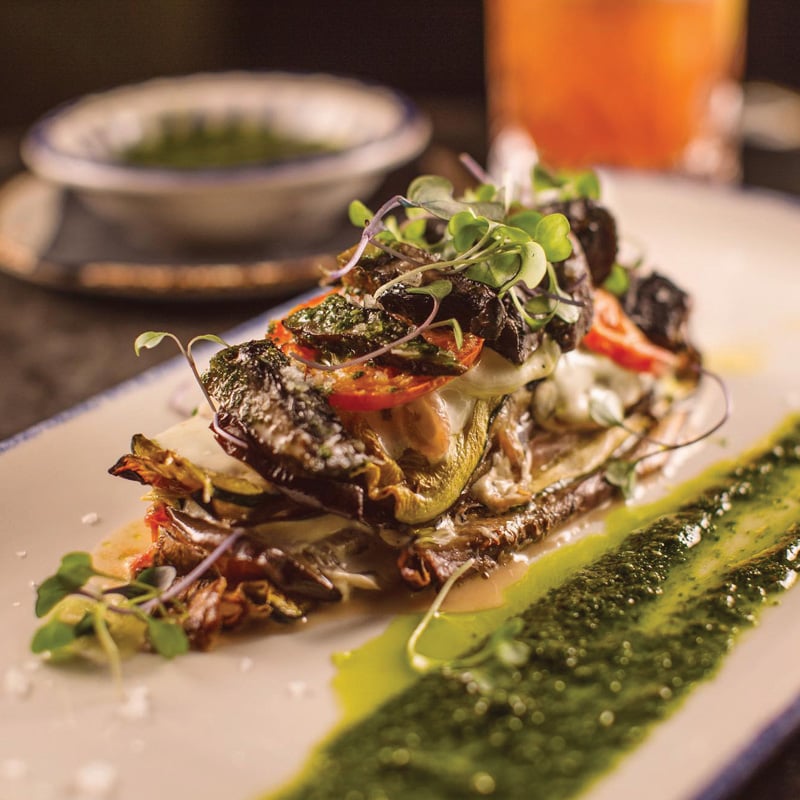 Located at Modera Sandy Springs mixed-use development on Roswell Road, Casi Cielo transports diners to the southern state of Mexico. The Oaxacan-inspired restaurant by Juan Fernando Henao (of La Parrilla restaurants), anchored by Executive Chef Juan Ruiz (from Colombia), offers unique dishes that are hard to find anywhere else in Georgia.
Two vibrant murals outside the restaurant's façade created by California-based Mexican artist Jet Martinez provide subtle hints to the fun and cultural experience that await diners. Inside, the décor is minimalistic, with earth tones of amber and Cantera stone. The celestial-themed ceiling is an ode to the restaurant's name – Casi Cielo means "almost heaven" in Spanish.
Oaxaca, a province of Mexico located on the Pacific Southwestern coast, is best known for its smoky meats, rich mole sauces, fiery chilies and mezcal (tequila's sister spirit). Nearly 85% of the world's mezcal is produced in Oaxaca, and the bar at Casi Cielo offers 80 types. You can order a mezcal flight to taste different varieties produced by small-batch distillers – aka mezcalerias – or try it mixed in a handcrafted cocktail. Beverage manager Jonathan McKenney plays the role of sommelier, offering mezcal recommendations based on flavor preferences (spice, earth, wood, flowers) and sharing stories of the producers. The Old Fashioned, a smokier yet balanced twist on the classic drink, and La Llorona, with a hint of jalapeno and serrano peppers, complement the complex flavors of the dishes.
The menu is largely based on flavors and dishes found in Oaxaca (think cocktails rimmed with powdered grasshopper salt and spices, Mexican truffle quesadillas), refined by Spanish and Colombian cooking techniques. Unlike most Tex-Mex restaurants, some of the dishes may be completely unfamiliar here. But the staff are friendly and offer quick insights into the kitchen, explaining the complexities of the menu to new diners.
Start with fundido de queso, a hot melted cheese dip, along with tortilla chips and fresh salsa made in house by smoking and grinding three kinds of chilies on a stone metate (a traditional mealing stone). Croquetas de platano, Spanish-style panko-crusted fried croquettes of sweet plantains and Manchego cheese, pair well with fruity guajillo chili red mole sauce. For a ceviche-style appetizer, try the aquachile de pescado, fresh slices of halibut marinated in citrusy Ponzu sauce, topped with bonito flakes and corn husk ashes for an added crunch.
If you never acquired a taste for duck, now may be the time to give a chance to mixteco poblano. The slow-cooked duck meat is not at all gamey, but instead full of flavors of Modelo beer, evaporated milk, oranges, garlic and spices. The texture is soft like butter. The shredded carnitas-style dark and white meat is mixed with prawn and cheese, stuffed inside a poblano pepper, and garnished with a rich poblano cream sauce as well as crispy chicharrón.
A healthier option is salmón prehispánico, moist salmon fillet seasoned with four kinds of chilies and steamed in plantain leaves. It is served with a side of creamy mashed potatoes.
Vegetarians will love milhojas de verduras, a vegetable Napoleon with layers of grilled eggplant, squash, tomato, onions, mushrooms and melted Oaxaca cheese, served with cilantro and jalapeño pesto sauce. Most entrees come with a side of rice and beans. The white rice is cooked homestyle, with olive oil, chicken stock, corn, cilantro and a little bit of butter.
The weekend brunch menu offers more unique flavors, such as the Mexican take on chicken and waffles. The oaxffle de milpa is a moist and sweet corn flour waffle, served with crispy fried shredded duck and agave nectar. One of the most popular breakfast items in Mexico City – enchiladas Suizas (Swiss style enchiladas) – is baked with shredded chipotle chicken, blue corn masa tortillas, herbed green salsa and melted Manchego cheese.
Desserts are sweet, rich and heavy, but if you feel adventurous, try the alebrije, Oaxacan-style cheesecake with chamoy, a tart pickled fruit sauce made with a combination of tamarind, hibiscus, agave and sundried peppers.
Though the approach is new for Atlanta, Casi Cielo does a great job of paying tribute to the food and people of Mexico, taking you to "almost heaven"
---
Casi Cielo
6125 Roswell Rd.
Atlanta, GA 30328
404.549.9411
Hours:
Tuesday-Thursday, 4 p.m.-10 p.m.
Friday, 4 p.m.-11 p.m.
Saturday, 11 a.m.-11 p.m.
Sunday, 11 a.m.-4 p.m.
Monday, Closed
Parking: Valet or self
Dress code: Smart casual