Inviting garden and rooftop dining
Georgia's lovely outdoor spots for sipping and tasting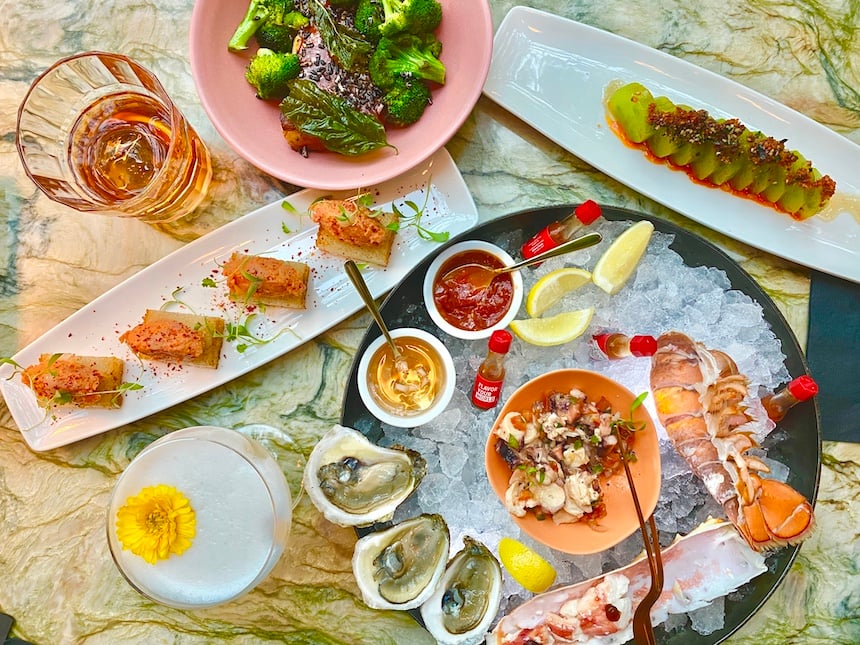 As we mask up again, you don't need to give up eating out and meeting friends entirely. Fortunately, restaurants across Georgia have set up relaxing al fresco dining, where you can enjoy the late summer breeze and beautiful views in a safe environment. Graze and sip at some of these delightful and tasty rooftops and gardens across the state.
Rooftop, Drayton Hotel, Savannah
The Rooftop is just what its name implies – a bar and restaurant located at the top of the boutique Drayton Hotel offering some of the best panoramic views of City Hall and the Savannah River. Book a table for weekend brunch that might include monkfish roll on toasted brioche, or grab late afternoon cocktails to watch the sun set over the historic district. Two Tears in a Bucket may sound sad, but it is a cool citrusy summer drink made with vodka, blue curacao, bergamot, lime and foam.
Located on the roof of an office building in downtown Augusta, Edgar's Above Broad (EAB) is the perfect spot to breakout with colleagues for a breakfast or lunch meeting. The restaurant has a patio area with a putting green, an oversized outdoor chess/checker board, bocce ball and a beer station fashioned out of an Airstream trailer. The locally-inspired tapas menu features roasted sea scallops with poblano cheese grits, sauteed jumbo shrimp with succotash and pickled okra, as well as a wide selection of espresso, tea, beer and liquor.
EAB is part of Edgar's Hospitality Group, which offers experiential learning sites for culinary and hospitality students at Helms College, a postsecondary school sponsored by Goodwill Industries of Middle Georgia that offers programs in hospitality, health services and industrial trades in Macon and Augusta.
The rooftop bar located at Hyatt Place is the highest spot in downtown Athens and one of the most fun places to hang out in the college town. You can see Sanford Stadium, Piedmont hills and other local landmarks while sharing a plate of fried okra with smoky bacon and pepper jam or crawfish toast on French
baguette. Hybar also allows you to build-your-own happy hour in a bucket with a choice of five different craft beers or spirits.
Drawbar, Bellyard Hotel, Atlanta
Located inside the new Bellyard Hotel in West Midtown, Drawbar has a modern expansive bar, as well as terraces with colorful flower murals and sweeping views of the Atlanta skyline. The menu pays homage to the city's deep culinary roots, offering creatively named Instagram-worthy cocktails such as Bless Your Heart (honeysuckle vodka, blackberry-basil shrub) and When Life Gives You Lemons (gin, lavender honey syrup, lemonade). Don't miss the miso-glazed salmon with shiitake mushrooms and crispy hot shrimp with fried pickles.
Garden Room, St. Regis, Atlanta
Designed by The Johnson Studio, the greenhouse-like enclosure with twinkling lights and floral-themed art, makes you feel like you stepped into an enchanted garden. Only at The Garden Room at the St. Regis Hotel can you try edible marigolds in a refreshing I Love Lyche cocktail or enjoy a floating rubber duckling and edible glitter in the vodka-based Send Noods. The whimsical drinks and ambiance make it the perfect place to go for happy hour, that turns into delectable dinner, and after 9 p.m., a clubby scene with live music. The Fruits of the Sea with New England oysters, king crab and Maine lobster, and black truffle pillows with wild mushrooms are both delicious plates to share.
Overlooking Chastain Park and surrounded by a vegetable garden, the new Chastain has a cozy dining room, as well as an open-air patio where you can sip on wine, local beer and pre-batched cocktails. The neighborhood spot makes everything from scratch, including breakfast danishes and croissants, lunch po'boys and fresh pasta for dinner (menu changes daily). Four-legged family members are also welcome to lounge by the outdoor firepit.
Enjoy the last days and nights of summer at one of these welcoming outdoor spots.
All photos: Sucheta Rawal
Do you follow us? Find us on Linkedin, Facebook, Twitter and Instagram.