Georgia Trend Daily – Aug. 13, 2021
Aug. 13, 2021 Georgia.org
Staff reports that Governor Brian P. Kemp announced that global material handling and logistics company Vanderlande Industries Inc. ("Vanderlande") will invest $59 million in expanding their North American headquarters in Cobb County. This expansion will create 500 new jobs in Marietta, bringing the company's total employment to more than 1,250 people in Georgia.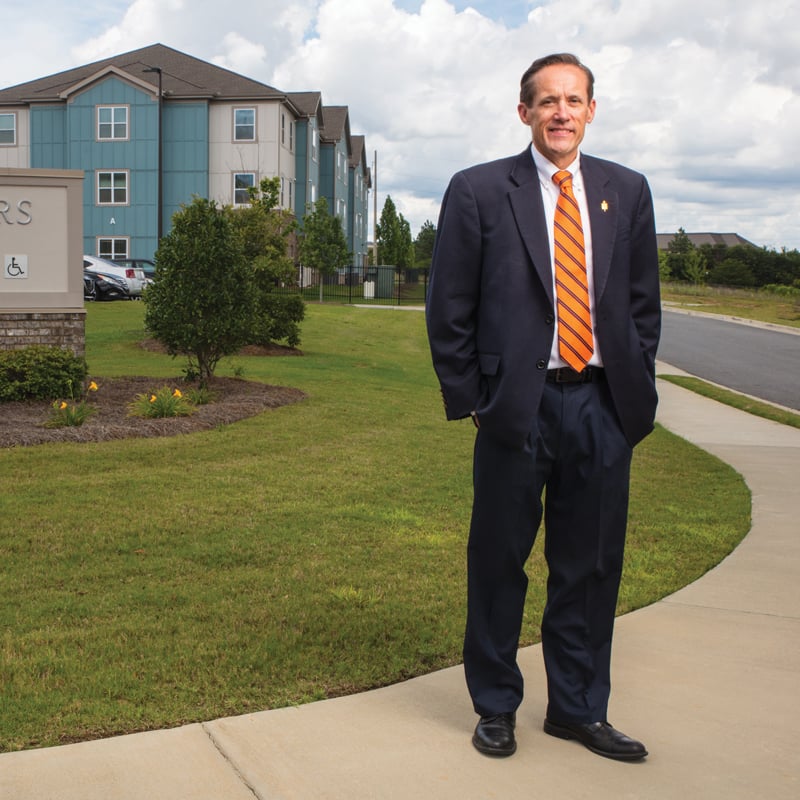 Aug. 13, 2021 Georgia Trend – Exclusive!
Kenna Simmons reports, consider two amounts: $994 and $19.11. The first is the fair-market rent for a two-bedroom apartment in Georgia. The second is the hourly wage a household would need to earn to afford that rent and utilities without exceeding 30% of income on housing.
Aug. 13, 2021 Atlanta Journal-Constitution
Tamar Hallerman reports that Metro Atlanta received encouraging news this week after a judge struck down an out-of-state legal challenge to how much water Georgia gets to keep from the Chattahoochee River. In a ruling issued Wednesday, U.S. District Court Judge Thomas Thrash dismissed claims from the state of Alabama and multiple environmental groups that the U.S. Army Corps of Engineers' plan is holding back too much water in Georgia reservoirs along the upper Apalachicola-Chattahoochee-Flint (ACF) river basin.
Aug. 13, 2021 Georgia Recorder
Ross Williams reports that Georgia's population is more diverse and more concentrated around cities than ever before, according to data released by the U.S. Census Bureau Thursday. More Georgians 18 and older told census takers in 2020 that they identify as more than one race – 5.9%, compared with 1.5% in 2010.
Aug. 13, 2021 Clayton News-Daily
Staff reports that Board of Regents Chairman Sachin Shailendra and University System of Georgia Acting Chancellor Teresa MacCartney have announced Cathy Cox, dean of the Mercer University School of Law, as the sole finalist for president of Georgia College & State University. Cox became dean of Mercer University School of Law in 2017 after serving 10 years as president of Young Harris College and eight years as Georgia's Secretary of State.
Aug. 13, 2021 Brunswick News
Lauren McDonald reports that Shawn Gillen, city manager of Tybee Island, Gillen was among dozens of speakers who gave presentations Thursday on the first day of the Georgia Climate Conference, hosted on Jekyll Island by the Coastal Resources Division of the state's Department of Natural Resources. The event attracted around 350 attendees representing all levels of government, nonprofits, advocacy groups, scientists, concerned citizens and more.
Aug. 13, 2021 Saporta Report
David Pendered reports that Atlanta has postponed until after city elections the likely date of a vote by the Atlanta City Council on three proposals intended to promote construction of affordable dwellings in existing residential neighborhoods and eliminate some on-site parking requirements.
Aug. 13, 2021 Gwinnett Daily Post
Curtis Yeomans reports that Gwinnett County added more than 150,000 residents during the last decade, putting its growth during the 2010's at just under 20%, according to 2020 Census data released Thursday. The Census data, which will be used to determine everything from funding allocations to congressional and legislative seat allocations for the county, shows Gwinnett had a population of 957,062 residents last year.
Aug. 13, 2021 Georgia Health News
Andy Miller reports that tens of thousands of Georgia teachers and state employees are getting good news on their health insurance costs for next year. Members of the State Health Benefit Plan will have the same monthly premiums, co-pays and deductibles in 2022 as they have now, the Department of Community Health (DCH) announced at an agency board meeting Thursday.
Aug. 13, 2021 Walton Tribune
David Clemons reports that Rick Jeffares is asking voters to send him back to Atlanta, saying his experience will help south Walton County and other parts of a sprawling state Senate district. Jeffares, 57, represented Senate District 17 from 2011-17 as a Republican living in Henry County.
Aug. 13, 2021 Capitol Beat News
Dave Williams reports that the General Assembly is taking another look at legislation that would raise the mandatory school attendance age in Georgia from 16 to 17. A state Senate study committee created to take up a bill introduced this year by Sen. Lester Jackson, D-Savannah, held its first hearing Thursday and heard endorsements of the measure from both the Georgia Association of Educators (GAE) and the Georgia School Boards Association.
Aug. 13, 2021 Atlanta Journal-Constitution
Patricia Murphy, Greg Bluestein and Tia Mitchell report that Georgia is on the verge of becoming a majority-minority state. And the transformation is being fueled by an unprecedented increase of residents of color in metro Atlanta.