Marijuana as Medicine?
By 2022, Georgia dispensaries of low-THC oil will offer some patients a boost in health – but not a high.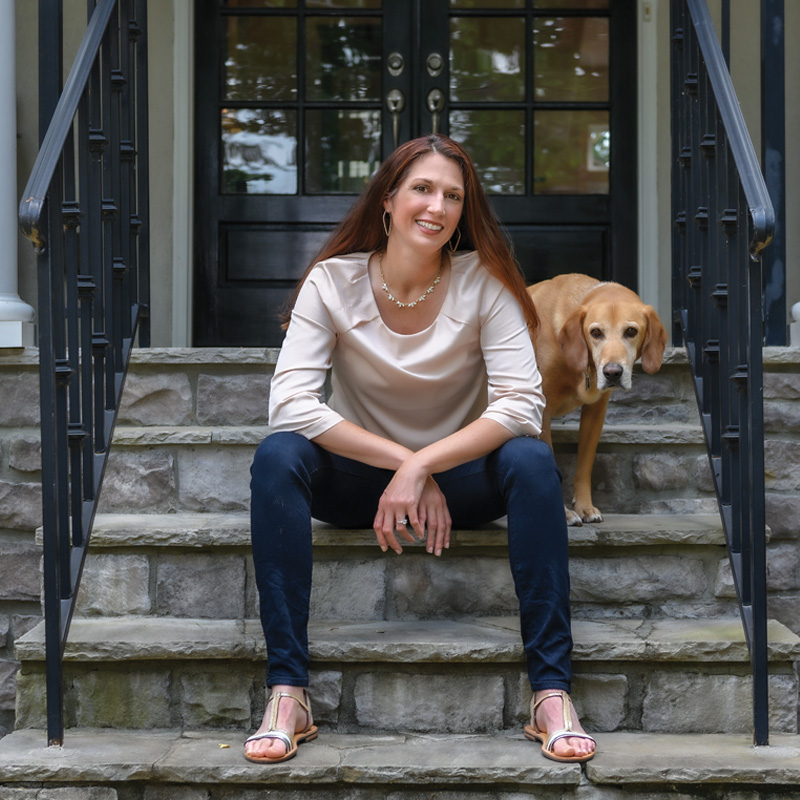 Kristine Werner grew up in the era of "Just say no." She remembers signing a pledge in elementary school, at the height of the 1980s anti-drug campaign: "I will always say no. I will never try drugs." She meant it. A student-athlete who went to Berry College near Rome on a tennis scholarship, her only glimpse of drug use came from watching movies.
She never imagined that one day a component of marijuana would become an elixir she needs to sleep soundly and function in daily life. "My outlook on the plant and its healing properties has changed," says Werner, 43, who lives in Flowery Branch and was diagnosed with multiple sclerosis (MS) in 2012. "I've realized, especially with illness and mental health, things aren't black and white."
That personal reflection sums up a broader transition in the state of Georgia. Growing, possessing and selling marijuana is still illegal here. But in a series of bills starting in 2014, the legislature approved a legal path to medical cannabis for patients with certain qualifying medical conditions, including intractable pain, cancer, seizure disorders and the neurodegenerative disorder MS. (Cannabis sativa is the plant from which marijuana products are derived.)
Earlier this summer, a state commission granted licenses to six companies to provide 5% THC oil to patients who have been certified by a physician as having one of 17 qualifying disorders. THC (delta-9-tetrahydrocannabinol) is one of the active chemicals in cannabis, called cannabinoids. Its therapeutic effect is distinct from the other well-known component, CBD or cannabidiol, which can also be derived from hemp. CBD, which can be purchased over the counter in products ranging from gummies to bath bombs to oils, is legal but not regulated by the U.S. Food and Drug Administration (FDA). It is marketed most often to address insomnia and anxiety. While some CBD products can contain very small amounts of THC, CBD is not psychoactive – meaning it doesn't affect the mind. It can, however, impart a feeling of relaxation and calm. In large concentrations, THC is the component that causes the "high" people feel when using marijuana.
Werner is not getting high. She seeks to calm the symptoms of MS that persist despite medications to reduce inflammation and slow disease progression: intense muscle cramps, jolts of pain, fatigue and anxiety.
She got her first vial of THC oil from a legal medical cannabis outlet in California. As she held it one evening at bedtime, she felt uncertain – but hopeful. It had no smell as she squeezed the stopper to draw the tube only a quarter full. She squirted the liquid under her tongue, holding it there. If it had a taste at all, it was of an earthy version of olive oil.
She continued to use the oil, and it took a while for her to even notice an effect. But gradually she realized she was sleeping better, and she didn't need as much of her prescription drugs for nerve pain and cramps. Not a miracle – but a relief.
"It's important for people to realize – they immediately think about someone smoking something or rolling a joint. And that's not what this is at all," says Werner. "This is the very deliberate growing and manufacturing process to extract medicinal oil for people who have specific illnesses."
---
Georgia Remains Restrictive
It would be shocking for Georgia to flip overnight from a bastion of conservative values to a stoner's paradise. And that is most definitely not what lies ahead under the new medical cannabis program.
In fact, the initial law that gave some patients the legal right to possess low-THC oil didn't even refer to "marijuana," a word that in Georgia statutes relates to criminal offenses. When the legislature needed to add some provisions to enable low-THC oil dispensaries, it clarified: "The General Assembly finds that this Act does not in any way diminish this state's strong public policy and laws against illegal drug use, nor should it be deemed in any manner to advocate, authorize, promote, or legally or socially accept the use of marijuana for children or adults for any nonmedical use."
Thirty-six states, four U.S. territories and the District of Columbia have comprehensive medical marijuana laws that allow a variety of products, including smoking or vaping and edibles, when it's for a medical purpose, according to the National Conference of State Legislatures. Georgia is one of another 12 states with laws that provide restricted access to low-THC oil or CBD oil that contains only a very small amount of THC.
"In most states that have a medical marijuana program, their laws allow a patient who is registered with the state to possess and grow their own marijuana," says Andrew Turnage, executive director of the Georgia Access to Medical Cannabis Commission. In contrast, Georgia's laws tightly restrict growing to six licensed companies with secure greenhouses of no more than 100,000 square feet. The law prohibits them from using "marijuana" or its slang names in advertising.
They may each open five dispensaries of low-THC oil to sell to patients who have been certified by a physician as having one of the 17 medical conditions. As of mid-May, 19,098 patients were on the medical cannabis registry maintained by the Georgia Department of Public Health. About half of them have either intractable pain or cancer. The companies, selected out of about 70 applicants, are expected to begin dispensing oil and related products (such as transdermal patches, capsules or lotions) in 2022.
"We're all very focused on the patients. That is our goalpost," says Turnage. "The goal is to eliminate the struggles they've had in gaining access to low-THC oil."
Opponents to even this restricted derivative of cannabis expressed fear that the medical cannabis program could lead to addiction or be the first step toward legalization for recreational use. Conversely, the Marijuana Policy Project, which advocates nationally for cannabis legalization, criticizes Georgia's approach as weak and ineffective for patients. Georgia's law "leaves out most of the products patients can benefit from and leaves them with fluids with a limit of 5% of THC," says Karen O'Keefe, director of state policies for the Marijuana Policy Project.
Federally, marijuana remains a Schedule I drug, on par with heroin and LSD – drugs deemed to have "no currently accepted medical use and a high potential for abuse."
The Schedule I designation stymied U.S. medical research on cannabinoids, but there are findings at some U.S. institutions and globally. An expert panel convened by the National Academies of Sciences, Engineering and Medicine found "conclusive or substantial evidence" that cannabis could effectively treat chronic pain in adults, reduce chemotherapy-induced nausea and vomiting, and improve MS spasticity symptoms as reported by MS patients.
The report noted lower levels of evidence that cannabis could help with other problems, such as sleep disorders, anxiety and post-traumatic stress disorder. It also was associated with some potential harms, such as an increased risk of motor vehicle crashes and respiratory symptoms from smoking cannabis. There's a statistical association between heavy cannabis use and some psychotic disorders, the report said.
O'Keefe notes that the U.S. public overwhelming supports the legalization of marijuana. In a Pew Research Center poll conducted in April 2021, 91% of U.S. adults said marijuana should be legal at least for medical use – and 60% supported both recreational and medical use. "There's almost no other issue that has that level of support," she says.
---
Low-THC: Haleigh's Hope
Georgia's journey to medical cannabis was inspired by a girl with a severe seizure disorder, who had failed to get relief from more than a dozen medications and various procedures and treatments. In desperation, her parents took her to Colorado, where cannabis oil calmed her relentless seizures.
Haleigh's Hope Act passed in 2015, defining a narrow group of qualifying medical conditions and setting penalties for possessing more than 20 ounces of the oil. It was spearheaded by then-Rep. Allen Peake of Macon and Rep. Micah Gravley of Douglasville, both Republicans, and it passed overwhelmingly. Yet Haleigh's Hope Act failed to provide a way for parents or patients to obtain the low-THC oil – without breaking federal law by transporting it over state lines.
Nora Bushfield, 78, a lawyer from Decatur whose now-adult child also has a lifelong seizure disorder, co-founded an advocacy organization called CompassionateGA to lobby for a clear path to medical cannabis. She and other parents were dogged in their efforts to make medical marijuana not just legal, but accessible. "If you watch your child have seizures, you will do anything to try to stop them. That's just a parent's duty, I think," says Bushfield.
In search of some relief for her daughter, Jolie, Bushfield sought conventional and alternative treatments like a faith healer. Jolie even had a medical procedure that separated the two hemispheres of her brain. Meanwhile, the seizures progressively damaged Jolie's brain and the strong anticonvulsive medicines left her in a stupor. "We tried everything we could to stop the seizures. The seizures were the enemy," says Bushfield, who is now on the advisory board for a medical cannabis company, Windflower Georgia in Athens.
She heard reports from other parents that marijuana could help, and trying it seemed innocuous. Then it became a miracle. After a lifetime of daily seizures – as many as 100 a day – Jolie, now 41, found stillness.
In 2019, after lobbying from CompassionateGA and other advocates, Georgia's Hope Act created a Georgia Access to Medical Cannabis Commission with the authority to license companies to grow marijuana and to manufacture and dispense low-THC oil. In May 2021, Gov. Brian Kemp signed a bill that clarified the number of dispensaries and other requirements.
As the political conversations unfolded, the Medical Association of Georgia became a voice for physicians and patients through its Medical Cannabis Task Force. For example, physicians supported testing to ensure the quality and content of the product and they advocated for the inclusion of disease states that are most likely to respond to low-THC. They also pressed for vertical integration, so that the companies that grow and produce the low-THC oil also dispense it – maintaining responsibility for the product from seed to sale.
"We wanted to approach it in a very thoughtful way," says task force chair Kelly DeGraffenreid, a family physician with a pharmacy background. She is physician program director for access and care experience for Kaiser Permanente in Georgia.
---
Seeking the Right Dose
When patients come to Dr. Travis Bailey's pain management practice at Valdosta Orthopedic Associates, they are suffering. Some have cancer pain that hasn't responded to other medicines. Some have numbness or pain from nerve damage. In addition to prescribing medications, he performs surgery or procedures, such as steroid injections or spinal cord stimulation, to provide relief.
As an interventional pain physician, he needs options. "Some people unfortunately have terrible side effects from medications," he says. "This allows us to have another tool to help people."
The FDA hasn't approved any cannabis-containing drugs for pain. Epidiolex contains CBD – not THC – and it is prescribed to treat seizures. Three approved drugs contain a synthetic version of THC to relieve nausea and vomiting caused by chemotherapy.
Beyond those medications, physicians cannot actually prescribe medical marijuana. In Georgia, they can certify that a patient has a qualifying condition, which enables the person to register and gain a card to legally purchase the low-THC oil. Before granting the certification, Bailey carefully screens his patients to make sure they are likely to benefit from low-THC oil and are unlikely to have an addiction disorder.
"We see what has happened with the opioid epidemic. That's the last thing we want to happen with the medical cannabis," says Bailey, who is a member of the medical association's task force.
He advises patients to start with a drop and increase the dose gradually until they feel relief. "At the end of the day, patient safety is what we're most concerned about," he says.
There's some research showing that chronic pain patients reduce their dosage of opioids if they use medical cannabis, perhaps lowering the risk of opioid addiction. But the research is far from definitive. The American Society of Addiction Medicine advises against using cannabis as a treatment for opioid use disorder.
Medical cannabis lies in a netherworld between regulated medicine and recreational drugs, lacking the framework of prescription doses and yet often still highly restricted. The Medical Association of Georgia plans to create monographs for physicians that summarize the available data for specific uses. Patients should check in with their doctors about three months after starting to use low-THC oil and then should discuss their progress with a physician at least annually, DeGraffenreid says.
Jordan Tishler, an emergency physician in Boston who became a cannabis specialist, doesn't think much of programs like Georgia's, which measure THC as a percentage of oil. That's a concentration, not a dose. It also doesn't take into account how patients with different conditions could best absorb the THC, he says.
"I think the bigger issue is, are we going to provide for medical patients to get care or not? If we're going to do it, we should do it properly," says Tishler, president and founder of the Association of Cannabis Specialists.
Conversely, in permissive states, Tishler worries that patients may go to a dispensary and get advice from "a kid who has all the training of a Starbucks barista." Patients should seek guidance from a physician who is knowledgeable about medical cannabis, he says.
---
Uncertain Demand
Georgia's system of dispensaries is emerging in the midst of rapid change nationally. Momentum is growing to legalize marijuana at the federal level. States are liberalizing their laws. For example, Florida's medical cannabis program allows smokable and edible products.
Once dispensaries open, it's not clear how strong the demand will be for low-THC oil. Georgia law provides for two additional company licenses (and additional dispensaries) once the patient registry hits 25,000 patients and for every 10,000 additional patients thereafter.
It's also unknown how expensive the low-THC oil will be. A report on medical cannabis pricing in Minnesota found that a 30-day supply cost $362 in 2016, but had dropped to $316 in 2019. The cost is not covered by insurance.
Matt Karnes analyzes the marijuana industry through his New York-based firm GreenWave Advisors. He estimates that about 780,000 Georgians would qualify for a low-THC card based on the qualifying medical conditions, although only a small portion of them will likely apply. "The medical market will never reach its full potential or come close to its full potential," he says.
But he predicts that if Congress votes to legalize marijuana in federal law and to promote increased research into medical uses of cannabis, pharmaceutical companies will become involved.
Bushfield is hopeful about the expansion of medical cannabis. Although Jolie cannot recapture what she lost from years of seizures – she is non-verbal and functions at the level of an 11-month-old – with THC, she is much more alert and interactive. "It's just like she was in a deep sleep for 40 years and all of a sudden she's been given a new type of life. She is present. Jolie is present in everything that she does now," Bushfield says.
Bushfield envisions a future in which medical cannabis provides relief to many other families. "I think this really is a miracle medicine. They're going to find more and more and more diagnoses that are going to be responsive to cannabis or THC," she says. "We want to make everything that's happened for Jolie become a reality for other patients in Georgia."
---
How to Access Medical Cannabis
Patients must have one of these 17 medical conditions:
• Cancer (end-stage or wasting illness, recalcitrant nausea or vomiting)
• Amyotrophic lateral sclerosis (ALS)
• Seizure disorders (related to diagnosis of epilepsy or trauma-related head injuries)
• Multiple sclerosis (MS)
• Crohn's disease
• Mitochondrial disease
• Parkinson's disease
• Sickle cell disease
• Tourette's syndrome
• Autism spectrum disorder (for patients 18 years of age or older or younger patients diagnosed with severe autism)
• Epidermolysis bullosa
• Alzheimer's disease
• AIDS
• Peripheral neuropathy
• Hospice care (inpatient or outpatient)
• Intractable pain
• Post-traumatic stress disorder (PTSD) resulting from direct exposure to or witnessing of a trauma for a patient who is at least 18 years of age.
In most cases, the law requires the medical condition to be severe or end-stage (such as end-stage cancer or AIDS)
A doctor must certify that you qualify.
Any physician can certify patients for low-THC oil, but there must be a doctor-patient relationship and the physician must be treating the patient for the qualifying condition. The doctor and patient each sign a waiver and certification form. With the waiver, patients acknowledge that THC-containing products are not FDA-approved, don't have proven clinical benefits and could potentially cause harm. Patients pay $25 for a low-THC registry card.
You can buy low-THC oil and products only at a licensed dispensary.
State law requires the licensed companies to open dispensary outlets throughout the state, ensuring that products are available outside of Metro Atlanta. The cost won't be covered by insurance because it isn't an FDA-approved medicine. Possessing marijuana plants or plant material or smokable or edible forms of cannabis remains illegal.
Source: Georgia Department of Public Health, Georgia Access to Medical Cannabis Commission