Federal Opportunity Zone in Brunswick draws national investors, drives city's growth
With local incentives through state and federal programs, Brunswick, Georgia becomes globally connected and community-centered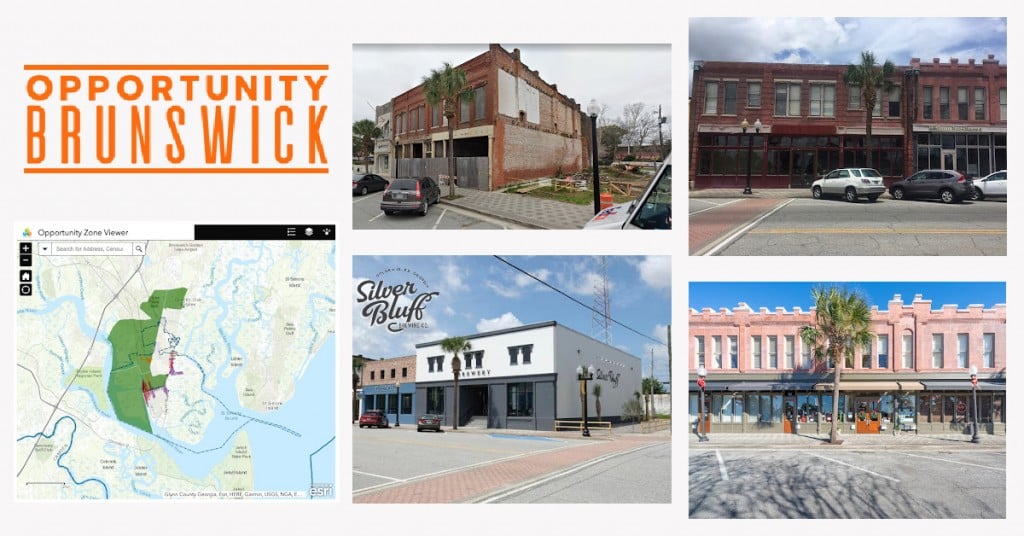 Brunswick GA is growing, and people are excited about the change. With the institution of the Federal Opportunity Zone and other incentives, the city of 16k people has seen a reduction of blight in certain areas with $70 million in direct investments over the last three years.
"It's exciting, after the rigorous planning over the last handful of years, to live and work in Brunswick and to see it come to life again," says Travis Stegall, Economic and Community Development Director for the City of Brunswick.
The city has been committed to plans developed by CNU (Congress for New Urbanism)*, the UGA's Carl Vinson Institute of Government (Renaissance Strategic Planning & Visioning) and its original Blueprint Brunswick by creating Opportunity Brunswick, the city's development initiative. City leaders are continually in the process of working to further promote economic growth, enjoying growth in the areas of micro-manufacturers, retail, and processing. The primary goal is to encourage economic development and to assist businesses seeking to relocate to Brunswick to obtain financing, workforce solutions, and technical assistance and in the end, build community.
One way Brunswick is looking to stay on track to success is with a recently delineated Federal Opportunity Zone, a community and economic development tool that drives long-term private investment into low-income communities throughout the country. The program offers potential investors financial incentives in the form of reduced tax obligations to make relocation and development more in Brunswick attractive. "We're looking forward to attracting even more businesses to Brunswick. In the end, we're rebuilding the City of Brunswick for business success and quality of life of its people," said Stegall.
Tax Incentives
Brunswick's Federal Opportunity Zone offers potential investors tax incentives for relocating to or investing in Brunswick. Companies new to the City of Brunswick will benefit from the Jobs Tax Credit, whereas existing industries have access to the Investment Tax Credit, Research and Development Tax Credit, Port Tax Credit, and Retraining Tax Credit.
New and expanding companies will both benefit by taking advantage of the sales and use tax exemptions, Georgia Department of Labor programs, and custom training from Quick Start. Companies like Port City Partners.
"The most positive part of Port City Partners working directly with the city and with these federal programs is knowing that you are making an impact in an area that might have been overlooked otherwise… it has a truly meaningful impact for this city. Being a part of the first project of this kind in the region put a lot of weight on our shoulders, but it made us continually look forward," property owner, investor, and developer Brad Piazza.

Silver Bluff Brewing Company — A Brunswick Success Story
Silver Bluff Brewing Company in the city of Brunswick, in part because of the city's commitment to revitalization plans in the years to come. Strategically selected proximity – just one block to Brunswick's Federal Opportunity Zone – Silver Bluff Brewing Company is now a city favorite.
In 2020, the Silver Bluff Brewing Company was celebrating its success in providing healthy delicious food and beverages to the Golden Isles area. Along with Silver Bluff Brewing Company, the Brunswick dining and entertainment community is thriving. "Silver Bluff is just one of our success stories," says Stegall, "we're hoping to see many more like it."
Reimagining Brunswick and the Norwich Street Corridor
Strategically, a projected $90 million more is slated for development over the next three years. The Norwich Street corridor remains the core of Brunswick's commercial district and a top priority in the city's growth plan. This corridor will be the most eclectic corridor in our community with art, food, and work/live places in the heart of Opportunity Zone.

"Streetscape standards are currently being proposed to the commission, and we are incorporating them into the Norwich Street CNU study for a more holistic masterplan," says Stegall. These standards will establish a distinct character for the aging corridor.
Brunswick is looking toward a bright future, with new and thriving businesses, a surge of renewed investment, and an active commercial center.
*CNU's mission is to champion walkable urbanism. They provide resources, education, and technical assistance to create socially just, economically robust, environmentally resilient, and people-centered places.