Treat Yourself: Georgia's delicious ice cream shops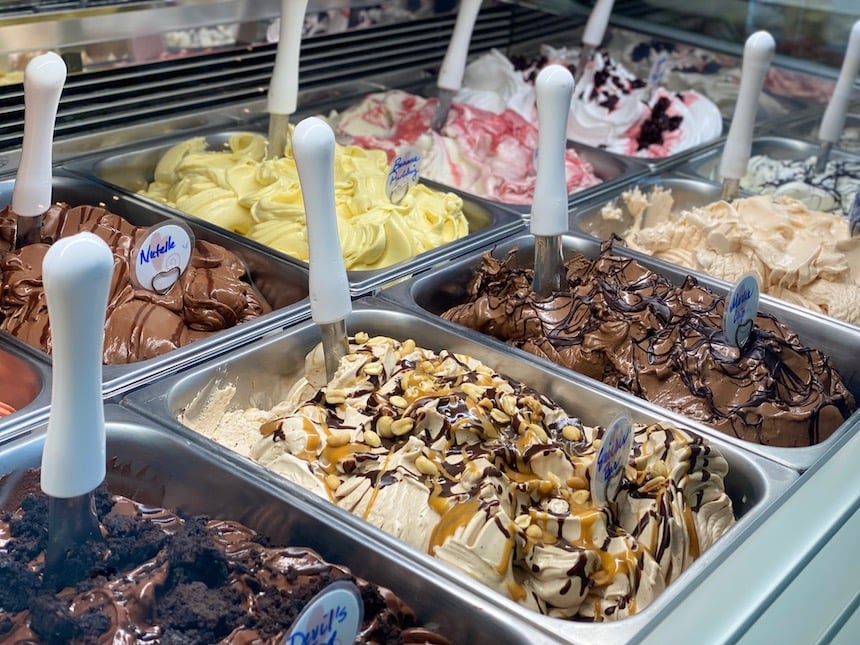 Though the past year has unfolded as a rocky road for most food businesses, frozen desserts have continued to be a low-churn industry. Think about it – no one is in a bad mood after eating a cup of banana pudding ice cream!
"Making gelato makes me happy," says Atlanta-native Meridith Ford who had a knockout opening of Cremalosa, just before the shutdown. "I get a big kick out of doing this!"
Ford pivoted to selling pints to-go and half-off bottles of wine for picnickers who wished to enjoy her outdoor patio. Now that you can walk into a chilled ice cream parlor again, here are some of the best places around the state to treat yourself.
Cremalosa, Decatur
Named tops in Georgia on Food & Wine magazine's 2021 "The Best Ice Cream in Every State" list, Cremalosa serves artisanal gelato, sorbetto, frozen cocktails, boozy shakes and wine. Inspired by her southern upbringing, Ford adds fresh-baked pie crusts, fruit preserves and nostalgic candies to create her own flavors. The blueberry and peach shortcake, made with fior di latte gelato, blueberry preserves, peach preserves and shortcake, is simply decadent. For an after-work pick-me-up, order a blended margarita with berry sorbetto, tequila, triple sec and margarita mix.
Flavors change every day using local and seasonal ingredients. Look for an entire case of Harry Potter themed flavors around Halloween.
Double Scoop Ice Cream, Stonecrest
Co-owners Evonne Bazemore and Janay Boucan have a sweet backstory. They both served as a scoopers and cashiers at the ice cream shop's current location (formerly a Bruster's Ice Cream) when they were teenagers. Double Scoop's menu offers classic flavors like chocolate, strawberry and vanilla, along with more fun flavors like deep-dish apple pie, cotton candy explosion and yellow cake batter. They also have vegan and nondairy options.
Das Ice Cream Cafe, Helen
Das Ice Cream Cafe is a must stop when visiting Alpine Helen, in North Georgia. Das serves more than forty flavors including the regulars, plus specialty flavors such as alpine berry made with blackberries, blueberries and raspberries; and Chattahoochee mud with chocolate, walnuts, and dark, white and milk chocolate chips. Diners over age 21 will enjoy the honey bourbon vanilla, Helen mud slide and Christmas special peppermint Schnapps, along with other alcohol-infused flavors. Dairy-free options are also available.
Leopold's Ice Cream, Savannah
Founded in 1919 by three brothers – George, Peter and Basil Leopold – from Greece, the iconic, historic downtown Savannah ice cream parlor is best known for its handcrafted Tutti Frutti, butter pecan and real vanilla ice cream. All of the ice cream is still made using the original secret recipes and techniques of the three brothers.
Seasonal premium flavors, such as Japanese cherry blossom, pumpkin spice and eggnog round out the ice cream options. But the housemade creations don't stop with dessert. Today the shop serves chef-prepared sandwiches, salads and soups.
Stratton Leopold, the youngest son of Peter, owns Leopold's. Stratton, a Hollywood producer, has decorated the space with movie props and posters.
Morelli's, Atlanta
Serving the greater Atlanta community since 2008, Morelli's has four locations around Atlanta. Since opening, Morelli's has been named among the best ice cream shops in the country by Bon Appétit.
Morelli's pays homage to its southern roots by mixing chunks of real Krispy Kreme doughnuts into Krispy Kreamier and swirling roasted Georgia pecans into rich chocolate sea turtle. Morelli's also has globally inspired flavors such as sweet and savory cream cheese guava, smooth flan caramello and East Indian kulfi.
La Mejor de Michoacan, Gainesville
Mexican ice cream typically has less fat and air, making it creamier than traditional American ice cream. At this Gainesville shop, you can find unique Latin flavors such as tamarind, mamey and guava. The ice creams, popsicles, chamoyada sherbets and agua frescas are made with natural fruits. Other dessert options include flan, chocolate dipped bananas, duro (pork skins) and tres leches cake.
Right now, it's July in Georgia. The perfect time to get out to your favorite ice cream parlor or try somewhere new. It's a great way to beat both the heat and the humidity while supporting some delicious local businesses.
Do you follow us? Find us on Linkedin, Facebook, Twitter and Instagram.