Georgia Trend Daily – July 14, 2021
July 14, 2021 Capitol Beat News
Dave Williams reports that Federal and Georgia transportation planners are looking to run a high-speed rail line connecting Atlanta and Charlotte, N.C., via Athens. The Federal Railroad Administration (FRA) and Georgia Department of Transportation, working with state transportation departments in North Carolina and South Carolina, have identified the 274-mile route as the "preferred corridor" for the Charlotte-to-Atlanta portion of a high-speed rail line that would continue northeast to Washington, D.C.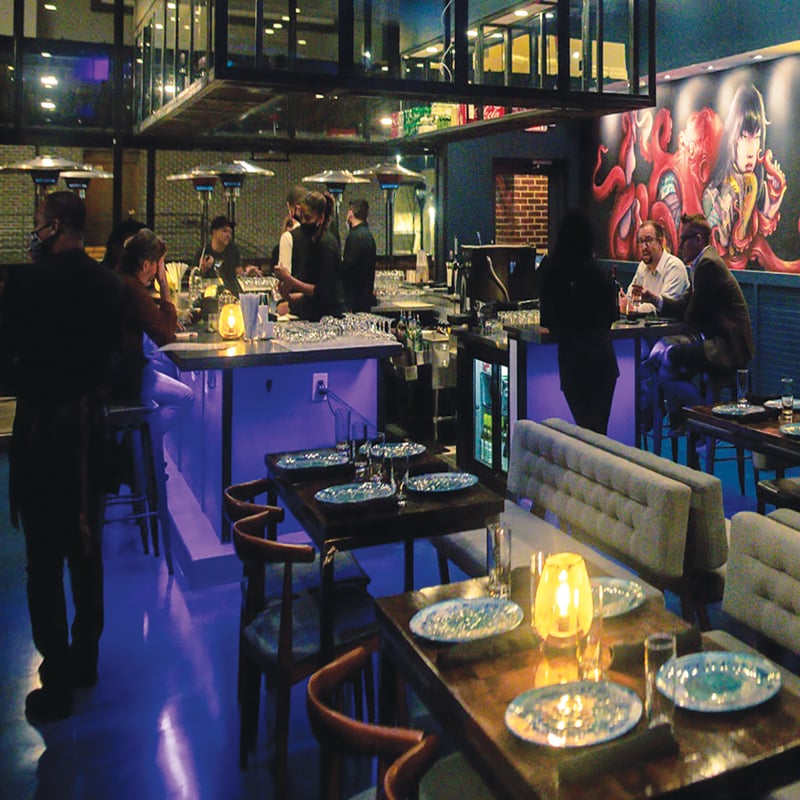 July 14, 2021 Georgia Trend – Exclusive!
Sucheta Rawal reports on a corner of Memorial Dr. in Atlanta is an obscure sign that simply says "GD." From the street, you can see a bustling patio with casual tables and live pop and jazz music (on the weekend). An indoor-outdoor bar opens the small space to a cozy dining room with wood tables and low seats that may remind you of sitting at a fish shack by the beach.
July 14, 2021 Atlanta Journal-Constitution
Kelly Yamanouchi reports that Delta Air Lines is adding dozens of used jets to its fleet to replace older and less efficient planes. Atlanta-based Delta is buying 29 used Boeing 737-900ER jets from funds managed by private investment firm Castlelake LP.
July 14, 2021 GlobalAtlanta.com
Trevor Williams reports that Her Royal Highness Princess Astrid, daughter of former Belgian King Albert II and sister of the current king, Philippe, will headline a weeklong economic mission to the United States in October that will kick off in Atlanta, bringing at least 169 companies and 369 delegates to the city. The mission is set to be the first undertaken by the Belgium's foreign trade agency since the COVID-19 pandemic shut down global travel in early 2020.
July 14, 2021 Gainesville Times
Conner Evans reports that the desk clerk who checks you in at your hotel may also be the person who ends up cleaning your room. With fewer workers in the tourism and hospitality industries, those who stick around or join anew are often forced to pick up the slack inherent to skeleton staffs — hotel managers by day become housekeepers by night.
July 14, 2021 Rome News-Tribune
Doug Walker reports that the Northwest Georgia Regional Commission has been asked to complete a Development of Regional Interest report for a proposed e-commerce and manufacturing park in Gordon County. Calhoun Zoning Administrator Joey Moore submitted the preliminary documents on behalf of the Hardie Real Estate Group out of Atlanta.
July 14, 2021 GPB
Stephen Fowler reports that across the country, the once-a-decade mapmaking process known as redistricting is about to get underway. In Georgia, when state lawmakers held their first virtual town hall seeking public feedback on the process, several commenters stood out amidst the sea of Zoom squares.
July 14, 2021 Georgia Recorder
Jill Nolin reports that Cobb County voters overwhelmingly backed Republican Devan Seabaugh in a runoff Tuesday that was seen as a prelude to next year's high-stakes elections. The race to replace Marietta Republican state Rep. Bert Reeves was one of two state House contests settled Tuesday, making the pair of special elections the first held since Georgia's controversial election law fully took effect.
July 14, 2021 The Center Square
Nyamekye Daniel reports that a group of mental health advocates is calling on Georgia Gov. Brian Kemp and lawmakers to address behavioral health and substance abuse disorders by spending federal relief money and enacting policy changes. The coalition of mental health and substance recovery organizations urged lawmakers to use the state's American Rescue Plan Act (ARPA) funding and policy to support Georgians with disorders.
July 14, 2021 Atlanta Journal-Constitution
Patricia Murphy, Greg Bluestein and Tia Mitchell report that Ames Barnett, a wealthy businessman and former small-town mayor, is moving closer to a Republican primary challenge against Gov. Brian Kemp. But his record has enough to rile up partisans from both sides of the aisle.