Peach Plate: Gone Fishing
Girl Diver brings modern Asian seafood to the Atlanta Beltline.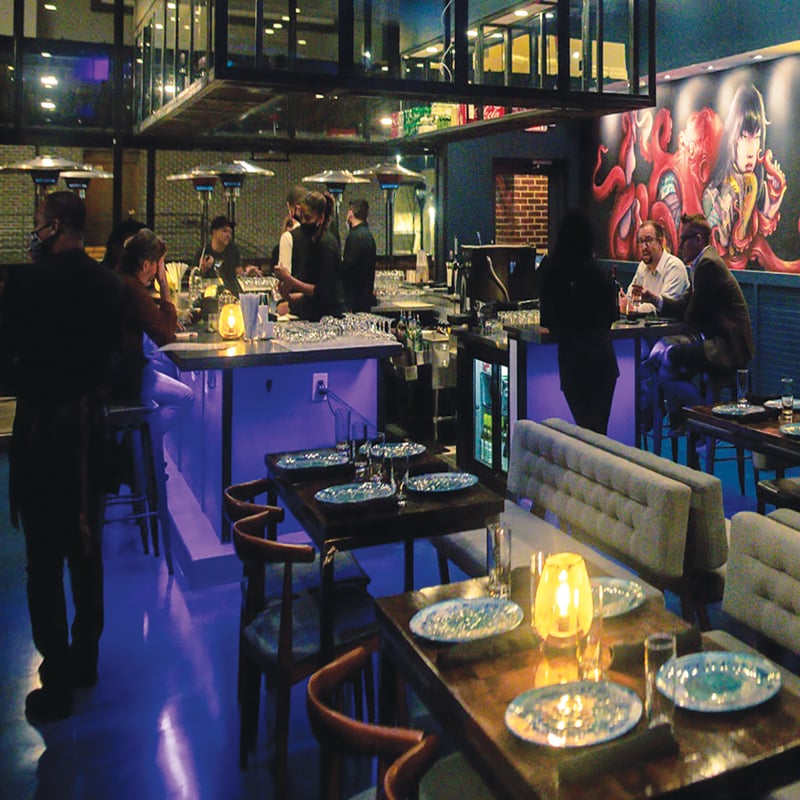 On a corner of Memorial Dr. in Atlanta is an obscure sign that simply says "GD." From the street, you can see a bustling patio with casual tables and live pop and jazz music (on the weekend). An indoor-outdoor bar opens the small space to a cozy dining room with wood tables and low seats that may remind you of sitting at a fish shack by the beach.
Inside, instead of sand, there are 3-D blue-bead floors made to look like the ocean. A nautical themed décor against dark red curtains looks off balance with a basketball game on television, but somehow works. If you imagine yourself at a beach in Asia, that is.
A large mural of an Asian girl with an octopus provides the central backdrop. The painting is a modern take on Dream of the Fisherman's Wife by Japanese artist Katsushika Hokusai. The name of the restaurant – Girl Diver – pays tribute to the women who collected pearls, sea cucumbers, sea urchins and abalone from the bottom of the ocean.
Opened in December 2020, the restaurant is an exciting concept by Richard Tang (Char Korean Bar and Grill) and Chef Karl Gorline (Watershed). The colorful and unpretentious spot has an approachable seafood-forward menu, with a good mix of Chinese, Thai, Japanese and Vietnamese twists.
A seasonally selected dim sum platter serves as a generous appetizer, perfect for sharing. Twelve pieces of pillowy soft pork shumai, Japanese glass noodles wrapped in fried nori, and steamed shrimp and beef dumplings tease the tastebuds when dipped in chili oil, soy sauce and fish sauce. There's an informally presented Girl Diver lobster bun appetizer – a take on the classic Connecticut-style warm lobster roll with shredded lobster meat, pickled green chilies and fiery XO sauce – served on a buttery brioche bun with crisp waffle fries.
Cornmeal crusted tempura shrimp, served with a sweet Sriracha sauce, lacks texture. The Thai-style pad prik king with diced chicken pieces offers a good balance of sweet Thai basil, pungent garlic and citrusy Kaffir lime flavors. Order rice or bread as accompaniment, as the curries are served freestanding.
For more straightforward palates, there's the Thai chili crab cake – one breaded crab cake with fresh lemon aioli and mild chili sauce, presented more elegantly than the other dishes.
If you crave a basic seafood boil, order crawfish, mussels, jumbo shrimp and Alaskan king crab by the pound. There are also snow crab clusters and lobster tails, boiled simply with Old Bay seasoning and served with a variety of sauces. For a small fee, the restaurant will take the shells off so you can enjoy mess-free dining, though the dining tables pull apart to reveal a bin for disposing of shells. Seafood party platters with corn on the cob, potatoes and sausages, ranging from $150-$450, are better for sharing a celebratory meal with a crowd. Lastly, don't fall for the $9,999 PhD platter on the menu. It's only meant to serve as a joke.
Choices on the lunch menu are similar, with the addition of handheld selections (sandwiches). The hot chicken katsu banh mi satisfies the taste buds with its potato-breaded fried chicken breast drenched in sweet yuzu and spicy chili sauce, layered with boiled egg, lettuce and pickles, served on a crisp baguette.
Dessert options are limited to three that don't vary. There's a luscious dense flourless chocolate torte with nasturtium flowers reminiscent of Japanese cherry blossoms; a key lime baked Atlanta – essentially a traditional key lime pie with torched meringue; and a sweet coconut cream pie served with chocolate sauce and toasted almonds.
There's a small but decent wine, beer and sake list, though the unusual cocktails are a bigger attraction. Named after movie characters – Hannibal Lecter, Ferris Bueller, Wilson, Xena – they are pleasant concoctions of spirits and aromatics (lime, nutmeg, hibiscus) served in GD monogrammed glassware. The bar makes its own dehydrated coffee-flavored orange slices and dry rose petals that add unique flavoring to specialty cocktails.
Diners fishing for a feel-good neighborhood place can spend a lot of money and eat decent seafood at Girl Diver while watching the game or listening to live music.
---
Girl Diver
955 Memorial Drive SE, Ste. 510
Atlanta 30316
404.525.2424
Hours: Lunch & dinner
Monday-Thursday, 12 p.m.-10 p.m.
Friday and Saturday, 11 a.m.-12 a.m. Sunday, 11 a.m.-10 p.m.
Parking: Free at Madison Yards shopping center
Dress code: Smart casual