Glynn County | Brunswick: On the Upswing
Tourism, manufacturing and education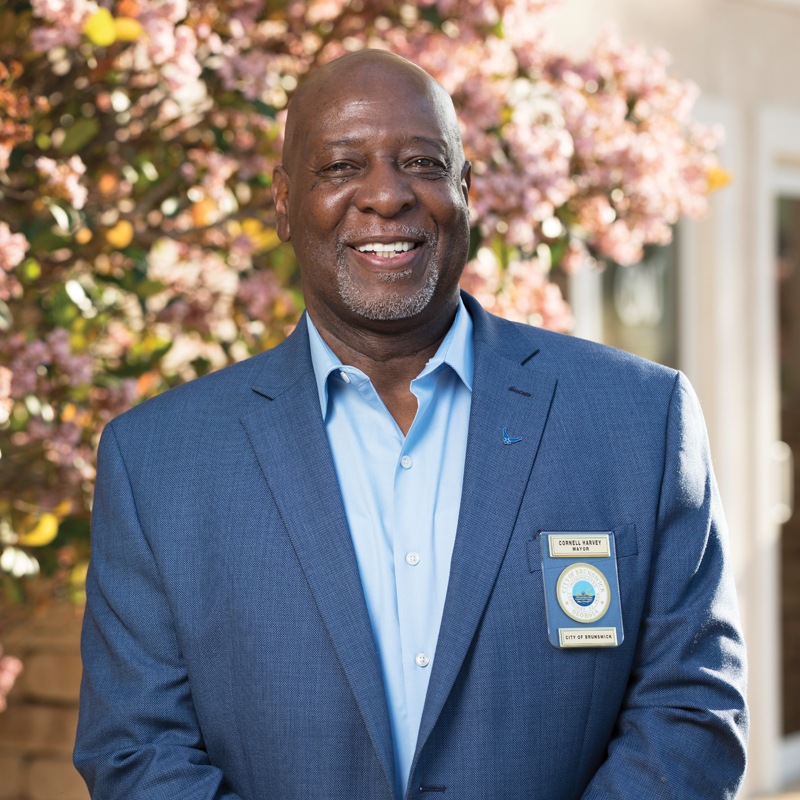 Georgia's Golden Isles boast many tourist attractions: the sun, the sand, the sea and the wildlife. No need for such man-made "attractions" like a roller coaster, but you'll forgive residents and business owners in Brunswick and Glynn County if they feel like they've been on an extended up-and-down ride for the past year. Consider:
1. Baby Boomers, first to score their COVID-19 vaccines, led the charge as tourism began its comeback – but business and convention travelers and the "pass-through" guests who are the bread-and-butter of the I-95 exit motels have been much slower to return.
2. The Georgia Ports Authority's Colonel's Island vehicle facility at the Port of Brunswick was becalmed when the pandemic shut factories and stifled demand, but surged back in fall to finish the year having handled more than 565,400 vehicles, making it the second busiest roll-on/roll-off (Ro/Ro) port in the country.
3. Glynn County voters balked at a $68.5 million SPLOST package of infrastructure projects – a defeat local officials quietly attribute to shifting political tides and controversy over some projects. Or was it just wary consumers, battered by the pandemic's economic fallout, electing to keep their pennies in their pockets for the moment?
This uneven good-news/bad-news scenario is indicative of Glynn County's economic diversity, where tourism plays a leading role but shares the stage with the industrial might of a major port and well-entrenched manufacturers. Consider, for example, the case made by Ralph Staffins, president and CEO of the Brunswick-Golden Isles Chamber of Commerce.
"We switched gears. We went from just servicing our members to servicing any business in Glynn County," Staffins says. "We did virtual town halls, video tutorials on how to navigate the various federal aids, we built Facebook pages for restaurants, small businesses and the like. One of the things I was most proud of is our team worked with a gift card company to help local restaurants be able to sell gift cards from their websites."
Staffins says that with the pandemic, local businesses no longer had the luxury of time to gradually adopt the internet-savvy practices they always were going to need eventually. The chamber helped bridge that suddenly critical gap, offering strategic business classes centered on the online marketplace and partnering with local digital marketing company Idea Lab to develop a website where small businesses could learn for free about beginning or expanding their e-commerce activities.
Meanwhile, against that crisis background, some business as usual went on and a couple of major long-range projects came to fruition.
The Brunswick-Golden Isles Chamber Foundation, a 501(c)3 organization, debuted in 2021 with three major goals: leadership development, workforce development, and diversity and inclusion. Its first project was funding 10 scholarships to the chamber's leadership course.
"Our goal is to ensure we have diversity and equality in all our leadership and workforce development programs. We want to make sure our programs look like our community," Staffins says.
A second major chamber project launched this year when Brunswick became home to a new regional office for the Georgia Chamber of Commerce. Cosby Johnson, the state chamber's vice president of government affairs, will be based in Brunswick when the General Assembly is not in session. This makes Brunswick the second chamber, after Tifton, to host a regional office of the state organization – a program designed to extend the reach and services of the state chamber, headquartered in Atlanta, more thoroughly.
---
Rising Travel Tide
Hotel/motel taxes, collected by legal short-term rentals as well as by hotels and motels, are among the most concrete indicators of tourism health. These "bed tax" collections don't reflect day-trippers or attempt to capture the economic impact of spending at restaurants or attractions, but they clearly show whether the human tide is coming in or going out. By fall of 2020, things were looking up: Revenue was down 7.11% in July year over year but showed a modest increase in August (2.52%) and solid gains in September, October and December (23.06%, 10.31% and 23.45%, respectively). Such gains in historically slow months don't make up for a shredded high season but they do reflect a still-functioning industry. The outlook for 2021, based on advance bookings as of April, shows a pace that could set records, according to Scott McQuade, president and CEO of the Golden Isles Convention and Visitors Bureau.
"We've seen a COVID boom from tourism, in some ways. We are even quite surprised by the performance of the industry," McQuade says, adding he certainly didn't expect that when he watched occupancy fall from 90% to 10% in a matter of days in the pandemic's initial spring.
The pandemic tourist – and, presumably, the immediate post-pandemic tourist – differs from the previous normal, he says.
"There's a few things we're seeing with national travel research: open spaces, beaches and national parks sit high on the list, and things like cruises and other crowded places sit lower," McQuade says. "And for our regional, drive-in traffic, where it used to be a three- to five-hour driving radius, we're now seeing five to 10 hours. Those are some of the things playing into the numbers we're seeing."
The picture is not equally rosy within the different segments of the Golden Isles tourism industry, he points out. The once-steady I-95 stream of Florida-bound Canadians, cruise passengers and Disney guests still has not fully returned, leaving the hotels clustered at Glynn County's exits to grapple with extended occupancy declines. Convention business and even such staples as the lodging spillover from the Federal Law Enforcement Training Center (FLETC) are also slow in returning.
"The last holdout is the group travel – we've not seen the return of our tour buses," McQuade says.
But a smaller specialized segment did begin a comeback in 2021. By mid-April, five movies and two television shows brought the film industry back to the Golden Isles.
Sea Palms Resort, a golf, meetings and resort complex covering about 150 marsh-front acres on St. Simons Island, is entering the final year of a major infrastructure redevelopment and remodel, according to Will Carter, managing partner at Sea Palms. The golf course has been redone, complete with a short game area dubbed The Miracle. The guest accommodations, spread out over six buildings, should be finished by this month, provided furniture delays don't materialize. The resort's main restaurant, Sago, has been refreshed, and 10,000 square feet of meeting space is now ready for use.
"I became aware of Sea Palms when I bought Sea Gate Inn back in 2017 and fell in love with the island," says Don Wenner, founder and CEO of St. Augustine, Fla.'s DLP Real Estate Capital, part of the group behind the restoration. "At that time, I didn't have the bandwidth or the interest to try to tackle this project, as interesting as it was. So I passed on the opportunity, but the opportunity came back to me with all the energy and fire. … Will could have sold me anything. He had the plan and the energy to do it."
"Every one of our rooms [at Sea Palms] faces directly east to 12,000 acres of marshland and the river beyond. We've expanded the size of the windows to give you a much more expansive view," Carter says.
Still to come in this combination country club/golf resort/conference site/wedding venue will be the addition of office space for lease and, ultimately, permanent residential.
Meanwhile, the city of Brunswick won't be joining Glynn County's inventory of convention spaces. Voters pulled the plug on the long-planned Oglethorpe Conference Center downtown this March. Brunswick Mayor Cornell Harvey had championed the project but he says private investors have already expressed an interest in the site for apartment development.
Instead, he points to another project in the works – Greater Works Ministries' construction of a Faith Complex that includes a banquet/ballroom, fitness complex with a basketball court and an outdoor track, lecture hall and classrooms.
"My downtown has come back and come back like gangbusters. We've paved streets in the inner city that have been lingering for literally years, and we've put in sidewalks and we're working on our parks," Harvey says.
---
The Other Side of Glynn
Turn, now, 180 degrees from tourism to Glynn County's other face – a brawny industrial presence as represented by diverse manufacturers and, in particular, the Georgia Ports Authority's (GPA) Port of Brunswick.
"In calendar year 2020, we racked up 588,000 units via Ro/Ro, including heavy machinery as well as cars. That's a decrease of about 25,000 units or about 4% to the year prior, but when you factor in the COVID situation, we are quite pleased," says Griff Lynch, executive director for the GPA.
And that pace is improving. In February, the port moved 9,518 more units than it did in February 2020, an increase of 23%.
Meanwhile, the plan for the port is to continue to build ahead of demand, according to William McKnight, chair of the GPA, allowing for quick acceptance of any new auto manufacturers, for example. "If someone decided right now that they wanted to come to Brunswick, within six months we could have them ready," he says.
The preliminary process of potentially widening the bends in the channel has begun. If the federal project materializes, it will be relatively small, by port standards, with a projected price tag under $20 million, Lynch says.
The economic cloud that was 2020 didn't hit all of Brunswick's industries equally, according to Ryan Moore, president and CEO of the Golden Isles Development Authority.
"Some of our manufacturers did well during the pandemic, like in frozen foods with more people staying home to cook and chemical manufacturers who make ingredients for hand sanitizers," he says.
At the authority's North Glynn Commerce Park, groundbreaking could take place as early as this summer on a flexible general warehouse being built as a spec project.
---
Innovative Programs
Much of the past year has been spent studying the authority's workforce development programs, and the group was pleased with the result, Moore says. Among the more innovative is This Girl Can, a partnership designed to introduce high school girls to careers where women are historically underrepresented.
In partnership with the Golden Isles College and Career Academy, the program gives girls a taste of non-traditional jobs, explains Vanessa Wagner, the authority's director of business development and strategic planning.
"Each cohort involves six families – a female student with a significant other family member, like her mother," says Wagner. "It's been important to have the families involved because these types of career decisions are often not made alone – they're discussed around the dinner table."
The first session introduced welding, with participants making metal wind chimes. In others, participants changed their own oil and learned to change tires or explored coding and building a remote-control robot.
At the College of Coastal Georgia, President Michelle Johnston says market needs and student demand were behind the newest academic programs at the 3,500-enrollment college: data science and cyber defense.
There's also a strong focus on student services, she says, including a robust new mental health initiative that gives students access to counselors and other resources, as well as increased advising efforts to get students to choose majors early.
Nor has the college shied away from difficult discussions. "[Glynn County] was the location where Ahmaud Arbery was killed, and that's led a lot of conversations on diversity and inclusion. That includes us, so I set up the president's Commission on Diversity and Inclusion to give us some guidance," Johnston says.
The group of faculty, students and staff members will continue to meet at least through next year, she says, and has already produced interim recommendations on diversity training and hiring processes.
It's been a year of change, but Glynn County folks are meeting those changes head-on, with a commitment to making life better for all residents and visitors.
---
Local Flavor
Spirits Soar
Brunswick's Historic Ritz Theatre has had some new players on the boards for the past few years, and they can't wait to return this summer and bring audiences a fresh glimpse of a theater classic.
They are part of the Golden Isles Penguin Project, a program that originated in Illinois and has since been replicated in select locations nationally. It gives disabled children and young adults a chance to participate in the arts through musical theater. The young artists take the stage in the cast of a junior version of a Broadway musical. Accompanying each performer is a volunteer known as a mentor, a non-disabled person who supports the artist on stage and sings and dances along with the rest of the cast.
"We tell our kids that their goals are to make friends and have fun and do a really good show," says Heather Heath, executive director of Golden Isles Arts and Humanities, the nonprofit group behind the project. "It's also for us to help the community be aware of the amazing potential of all of these young people. It's giving our artists a chance to be in the spotlight."
Productions to date have included Annie, Peter Pan and Shrek the Musical Jr., and coming this month will be Bye Bye Birdie.
"The best stories are the ones that are offstage. Like, we have a young man with [Down syndrome]. He is 20 and his mom brought him and she told us he was non-verbal but he did like to move around. Later, she said she was looking at the pictures of the show with him and pointed to a picture of him and asked 'Who's that?' and he said his name – the first time he ever said his name," Heath says.
She credits Allyson Jackson, the mother of a Penguin performer, with discovering the program and championing it to the arts group. "My son was never a discipline issue – he was invisible. If you have special needs children and they are well behaved, they become invisible. You're in the back row, you're on the bench – they can say you are included but you really are not," Jackson says.
The opposite happens in a Penguin production, she says. "What it does to their confidence! It is everything rolled up – body posture, speech, social graces, all these things they are learning in a very comfortable, very safe environment. It is the most amazing community these kids have built," Jackson says.
Oh, and why the penguin in Penguin Project? Well, penguins cannot fly – but as the organization's tag line says, their spirits can soar.