Virtual team events for work and fun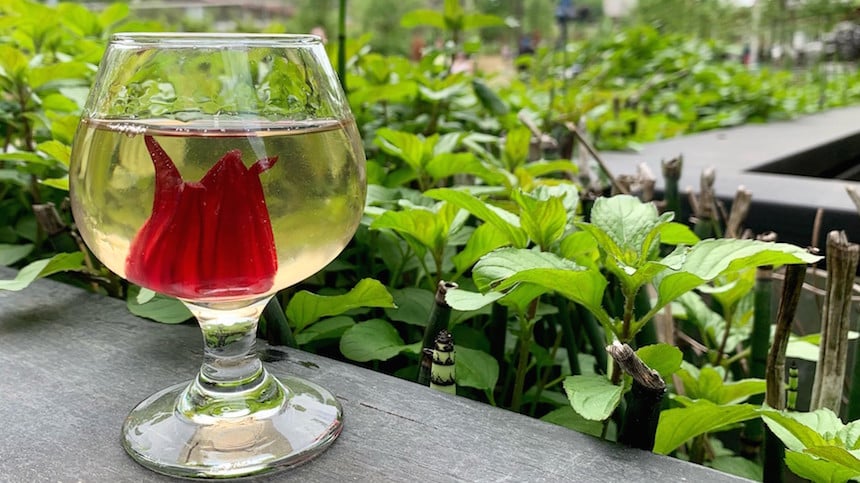 More than a year into the pandemic, we have somewhat gotten accustomed to working and socializing virtually. While nothing can replace the warmth of a face-to-face interaction, many people are still getting comfortable meeting in a group setting. During this transition period, it is important to stay emotionally connected with your coworkers and clients, appreciate them for sticking by your side and enjoy a fun team-building activity together.
Georgia's culinary professionals offer groups a chance to come together socially and create memorable experiences over food and drink, in a convenient virtual setting. Try your hand at cooking, wine tasting or mixing cocktails alongside the pros. Add a creative dimension to your Zoom events by changing your background and screen name (think how everyone will react when Bobby Flay and Paula Deen sign in).
Here are a few suggestions from teachers, chefs and mixologists from across Georgia.
Cook Together
Peer into your co-workers' kitchens during a gourmet virtual cooking class with Alisa Barry from Atlanta's Bella Cucina Artful Food. Barry shifted her in-person events to online classes that she says have attracted a broader array of teams from across the United States.
You can learn how to make pumpkin ravioli with walnut sage cream sauce; pastas from scratch using 00 flour, finely ground flour considered the gold standard for pasta and pizza dough; and perfect the art of putting together a colorful and well-balanced antipasti. Students receive a kit that contains a cheese board, Bella Cucina's handmade pesto and sauces, assorted cheeses, as well as live or recorded instructions. Barry also customizes the entertaining virtual cook-along and demonstration lessons based on the clients needs and interests.
Savor Summer
Atlanta Chef Kevin Gillespie (Red Beard Restaurants – Gunshow, Revival, Ole Reliable, Cold Beer) hosts several grilling and cocktail-making classes via Zoom. He shares his tips on grilling kebabs for Father's day cookouts and mastering the art of cooking with chile peppers, making three of his favorite dishes – crispy green beans with salsa brava, charred okra with tomato-coconut chutney and Hatch (New Mexican) green chili stew.
In an upcoming cocktail making class, Gillespie will share personal stories while mixing the perfect summer cocktails. You will need to pick up the cocktail kit (included with registration) that has all necessary ingredients, plus recipe notes and tips to refer to during and after the class. Share a few laughs while you make rum- and absinthe-based airline hurricanes, margarita temporada with cilantro tequila and primavera with mezcal criollo – all from the comforts of your kitchen or home office.
Raise a Toast
While team events and celebratory dinners at breweries or wineries continue to evolve, you can bond with your coworkers over a virtual wine tasting with Chateau Elan's award-winning wine makers. One of the wine experts guides attendees through each vintage, explaining the flavor notes, talking about low-impact farming practices and offering pairing recommendations. You can create a personalized tasting menu by selecting from over 20 Chateau Elan wines and ship them to your guests via Vinoshipper. The best part is, you don't need to drive back home!
Sip a Cup
Former dotcom executive and military veteran Wayne Ashford turned to educating communities about healthy living by introducing them to tea. Ashford offers virtual tea tasting classes from his Savannah-based shop, Ashford Tea Company. In addition to talking about different varieties of tea and their origins, Ashford advises busy leaders on how to have a healthy mind, body and spirit. He shares examples from his personal life while encouraging others to challenge themselves to "live life to a tea."
As life begins to resemble what it was like before the pandemic, virtual food-related classes offer a bridge to a better time. Meanwhile, you and your teammates can have fun with Georgia chefs in anticipation of sharing new skills in person.
Do you follow us? Find us on Linkedin, Facebook, Twitter and Instagram.