Georgia Trend Daily – May 7, 2021
May 7, 2021 GlobalAtlanta.com
Trevor Williams reports that Hermeus, an Atlanta aerospace startup looking to disrupt global air travel by building jets that can travel at five times the speed of sound, has found a local home for its future manufacturing operations. The 110,000-square-foot facility sits at 3960 DeKalb Technology Parkway, just south of the intersection of interstates 285 and 85, a tangle of roads and overpasses known as Spaghetti Junction.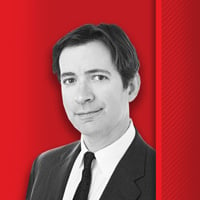 May 7, 2021 Georgia Trend – Exclusive!
Ben Young writes, there's been a lot of talk about voting fraud recently. In all my years of reporting I don't think I've ever covered a case. In doing some research on it, I found that the conservative Heritage Foundation think tank tracks cases of voting fraud by state, and listed 20 documented cases in Georgia from 1997 to 2018.
May 7, 2021 Atlanta Journal-Constitution
Tamar Hallerman reports that Blue Bird engineered its first-generation electric bus in 1994 with an eye toward the Atlanta Olympics. The model, which utilized lead acid batteries, was designed to ferry athletes and spectators to athletic events.
May 7, 2021 Saporta Report
Maria Saporta reports that in honor of its 135th birthday, the Coca-Cola Foundation announced Thursday morning $35 million in new grants – including a $20 million fund to stop the spread of Covide-19. The remaining $15 million will support local environmental and community organizations in the United States and Canada.
May 7, 2021 Emory University
Staff reports that the United States Department of Agriculture (USDA) has awarded $4.8 million to the Working Farms Fund to boost support for next-generation farmers in Georgia and create a more resilient food system across metro Atlanta. The Working Farms Fund, an initiative supported by a first-of-its-kind partnership between The Conservation Fund and Emory University, acquires and permanently protects farmland, helping farmers who would not have the means to purchase the land at full market price.
May 7, 2021 Savannah Morning News
Barbara Augsdorfer reports that Savannah State University has promoted interim president Kimberly Ballard-Washington to the permanent position, the University System of Georgia announced Thursday. Ballard-Washington is the sole finalist for the position she inherited after taking over for president Cheryl Dozier upon her retirement in 2019.
May 7, 2021 Valdosta Daily Times, CNHI
Riley Bunch reports that while Atlanta's suburbs made headlines for delivering Georgia for President Joe Biden, rural voters helped narrow crucial GOP margins statewide and Democrats are hoping they'll do it again. The 2020 election in Georgia made major impacts at the federal level with U.S. Sens. Jon Ossoff and Rev. Raphael Warnock securing the upper chamber for the Democrats.
May 7, 2021 WABE 90.1
Martha Dalton reports that a new analysis of Georgia's public Pre-Kindergarten program shows several providers would benefit from more state funding. The Georgia Budget and Policy Institute (GBPI) surveyed 38% of the state's Pre-K directors.
May 7, 2021 Capitol Beat News
Beau Evans reports that Gov. Brian Kemp signed legislation Thursday allowing student athletes at Georgia colleges, universities and technical colleges to receive compensation for the use of their name, image and likeness. The bill, sponsored by state Rep. Chuck Martin, R-Alpharetta, came as schools and the NCAA reckon with a growing push to permit certain kinds of financial benefits for college athletes who are often the focus of lucrative advertising campaigns and video games.
May 7, 2021 Newnan Times-Herald
Staff reports that Rep. Drew Ferguson, R-West Point, introduced the Connect America Now Act in the U.S. House of Representatives on Tuesday. The bill is intended to expand broadband internet into rural areas.
May 7, 2021 Atlanta Journal-Constitution
Patricia Murphy, Greg Bluestein and Tia Mitchell report, in the span of two years, Atlanta Mayor Keisha Lance Bottoms has gone from one of President Joe Biden's most prominent surrogates — important enough to get vetted as a potential VP pick — to abandoning what once was considered a shoo-in re-election bid. How did Bottoms go from turning down a Cabinet post to turning down a chance at a second term?