Peach Plate: Entertaining Safely
Catering, personal chefs and private rooms.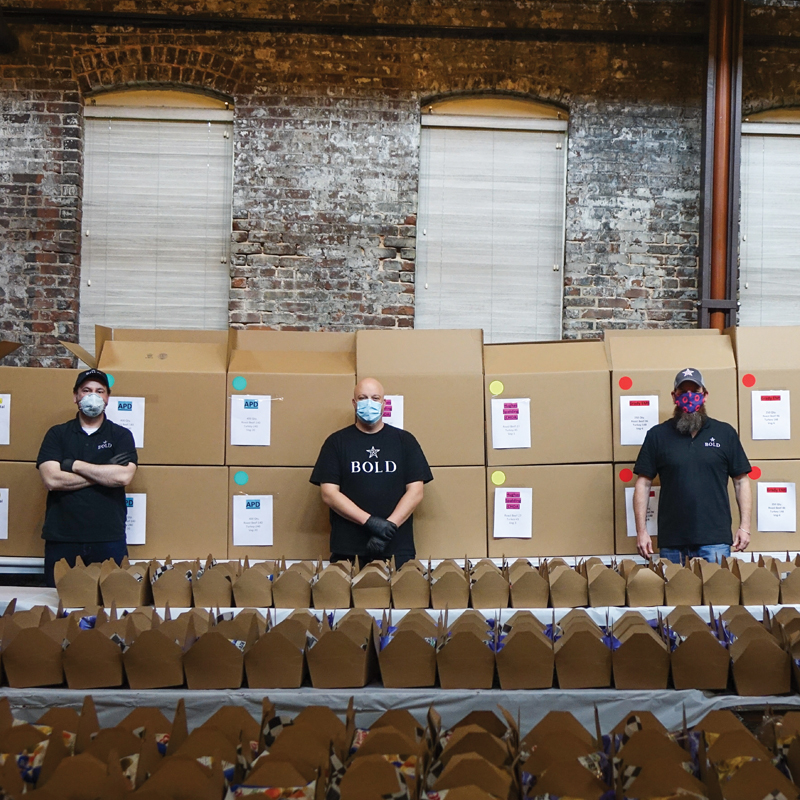 Holiday parties, office luncheons and company-wide events – these staples of business life all but disappeared in the past year. Some of us are still not comfortable dining out in a group setting and continue to eat lunch at our home offices. Others elect to meet at spacious restaurants or open-air patios. As we resume some sort of normalcy, restaurants, caterers and private chefs have adapted to satisfy all comfort levels.
For example, Bold Catering & Design now has a dedicated team member who is responsible for staying up to date on all COVID-related guidelines, whether they come from the state, local governments or the Centers for Disease Control and Prevention.
"Instead of buffet tables, we now have tasting plates handed out by uniformed, gloved and masked attendants," says Bold's Atlanta-based Executive Chef Robert Mitchell, who has been catering corporate events, weddings and themed parties for over 20 years.
The presentation may be different, but the food is still to ahh for: Envision a Southern spread with buttery mashed potatoes layered in a mason jar along with slow-braised pork rind short ribs and infused with applewood smoke. "When you open the jar, you can see the smoke and get the sweet aroma," he says.
Although there are safety guidelines in place, that doesn't mean creativity has been banished. At a Steampunk-themed holiday party, for example, Bold brought out a story-and-a-half tall installation. Servers slid pre-packed boxes of appetizers and desserts from the top to guests waiting at the bottom. Boxed Vietnamese chicken rice paper rolls, bacon-wrapped dates stuffed with Manchego cheese and simple shrimp cocktail make it easy to grab handheld hors d'oeuvre without crowding around tables. Bite-size whoopie pies, French macarons and nostalgic Twinkies are individually wrapped in disposable cellophane bags and handed out.
Chef Darrell "DAS" Smith did the ubiquitous "pivot" during COVID-19 to keep things going. Formerly a personal chef to entertainment mogul Sean "Diddy" Combs, DAS has cooked for many celebrities, including Michelle Obama. His company The Caring Culinary Group LLC serves New American cuisine with a West Coast flair around Atlanta and Los Angeles, and has found itself catering breakfasts and lunches for a TV film crew of 50 for 10 weeks. Where he might once have created a seasonal buffet for a group that large, this time he and his team put on a different show. "We precook off site and bring individually portioned and pre-labeled food to the event that can be grabbed to go," says DAS. Some of his most sought-after dishes include potato crusted halibut, prosciutto macaroni and cheese and brown sugar marinated skirt steak with Georgia peach chutney.
Smaller gatherings – or even one-on-ones over dinner – are also possible though they, too, look a little different. Macon's Dovetail restaurant offers a closed-off 24-person English-Southern inspired wine cellar room. "We can further space out clients to their comfort level, seat them in booths and plexiglass-partitioned tables," says Kevin Bryant, manager of Dovetail. Single-use menus at the restaurant offer farm-to-table crafted Southern cuisine using locally sourced ingredients and a selection of over 70 distinctive whiskeys as well as an extensive wine list. Sharable appetizers such as deviled eggs with charred poblano relish, artisanal cheese plates with bacon marmalade and pork belly bites with honey adobo glaze and pickled Vidalia onions are now served individually to allow for social distancing.
The old mansion at La Scala Ristorante in Savannah lends itself to private dining spaces across eight rooms and two courtyards. From an intimate wine cellar to an intricate chapel to outdoor spaces with firepits and bistro tables, there's enough room to entertain a client privately or to break out teams into different rooms.
For business events, safety precautions are written in the contract, says La Scala's Chef de Cuisine Stephen McLain. "Like everywhere else, we ask guests to follow municipality guidelines. You may be excited to move around with your plate of wild Georgia sauteed shrimp and crispy breaded calamari, but don't just get up and visit other tables." He offers a wide selection of homemade pasta and seafood. The fettuccini ai Frutti di mare with octopus, clams, shrimp and scallops in black squid ink sauce is McLain's signature dish.
More than a year into our "new normal," it is possible to enjoy a great meal in a safe environment, whether that means a catered event, private chefs or private rooms at restaurants, or a gathering of two at the appropriate distance, as long as everyone takes the proper precautions.