Georgia Trend Daily – April 21, 2021
April 21, 2021 GlobalAtlanta.com
Trevor Williams reports that when A.M. Abbassi traveled to an artificial intelligence conference in Vancouver, it was far from clear that the journey would lead him ultimately Atlanta. But the founder of Montreal-based Shaddari and its waiting room app, Sentinel 24, has clearly always been ready to pivot, starting with his university education.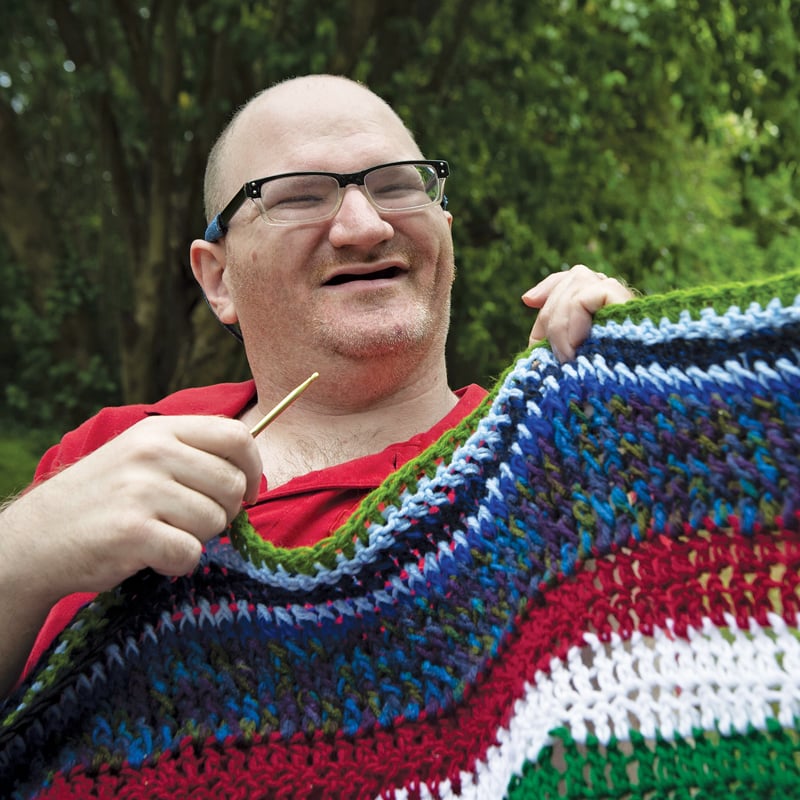 April 21, 2021 Georgia Trend – Exclusive!
Candice Dyer reports, as a child, Brandon Cantrell was diagnosed with brain cancer that caused frequent seizures and hospitalizations. He eventually discovered that arts and crafts – especially the meditative, repetitive hand motions of crochet – steadied his mind.
April 21, 2021 Atlanta Journal-Constitution
Matt Kempner reports that the vast majority of Chick-fil-A's more than 2,000 dining rooms remain closed, as they have for most of the pandemic. And yet sales and profits have soared over the last year at the Atlanta-based chain.
April 21, 2021 Middle Georgia CEO
Staff reports that Synovus Financial Corp. (NYSE: SNV) today reported financial results for the quarter ended March 31, 2021. "Our results in the first quarter of 2021 reflect strong financial performance as we continue to position the company for long-term growth," said Kessel Stelling, Synovus Chairman and CEO.
April 21, 2021 Atlanta Business Chronicle
Erin Schilling reports that Microsoft Corp. just bought a massive swath of land near Hartsfield-Jackson airport as it begins turning Atlanta into its new East Coast hub. The technology giant paid $18.7 million for a 125-acre site where it will expand its Atlanta data center network, according to Fulton County property deeds.
April 21, 2021 Gainesville Times
Jeff Gill reports that heavy machinery turned dirt on the 80-acre site even as Makita and Flowery Branch officials on Tuesday, April 20, celebrated the coming 600,000-square-foot plant off Falcon Parkway/Ga. 13. The California-based, high-end power tool maker is planning to move distribution, customer service, factory service and training operations to the plant from its Buford location, Blackwell said.
April 21, 2021 Rome News-Tribune
Doug Walker reports that Ball Corp. has agreed to purchase approximately 109 acres at the intersection of Ga. 53 and 140 for a mammoth regional distribution center. Ball's investment in the new facility is expected to be $51.8 million and create 70 new jobs over three years.
April 21, 2021 Brunswick News
Gordon Jackson reports that tourism in the Golden Isles continues to outpace most of the nation in a trend that is expected to continue as the community recovers from the COVID-19 pandemic. Scott McQuade, president and CEO of the Golden Isles Convention & Visitors Bureau, said another encouraging sign is that motels on or near Interstate 95 are also seeing an increase in visitors that will continue as the Federal Law Enforcement Training Center continues to increase class sizes.
April 21, 2021 The Center Square
Nyamekye Daniel reports that a Georgia nonprofit is among a group of organizations calling on state lawmakers to prioritize improving internet access with federal relief money. The Georgia Center for Opportunity (GCO) joined a coalition of 13 other organizations across the country urging state leaders to use American Rescue Plan funding to increase internet bandwidth in rural and underserved areas of the states.
April 21, 2021 Athens Banner-Herald
Stephanie Allen reports that Athens-Clarke County will receive $2.5 million in affordable housing assistance from the federal American Rescue Plan. Those funds are provided through the plan to help with housing for homeless or near-homeless populations.
April 21, 2021 Georgia Recorder
Jill Nolin reports that about four in 10 people nationally are breathing unhealthy air in spite of progress made in curbing pollution, including slight gains here in Georgia, according to a new report. The annual "State of the Air" report, released Wednesday by the American Lung Association, captures a three-year period before the COVID-19 pandemic cleared Atlanta's roadways of a major contributor to the city's air pollution.
April 21, 2021 WABE 90.1
Emma Hurt reports that the partisan debate over Georgia's voting law spilled into Congress on Tuesday when the Senate Judiciary Committee held a four-hour hearing focused largely on the state's new law. The U.S. House already passed a sweeping voting reform package, which the Senate is now considering, known as the "For the People Act."
April 21, 2021 Atlanta Journal-Constitution
Greg Bluestein reports that a Democratic state lawmaker and military veteran is joining the race for lieutenant governor in the latest sign of heated competition up and down Georgia's 2022 ballot. State Rep. Derrick Jackson said he'll focus his campaign on his more than two decades of service in the U.S. Navy and his three terms representing a Fayette-based district in the Legislature.