Cooking Up Care
Women in Georgia's culinary world look after each other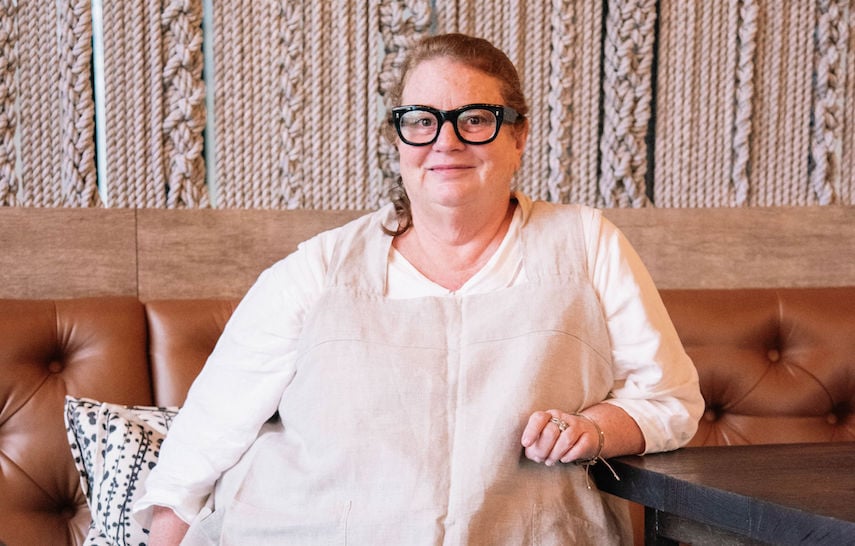 This Women's History Month, meet four Georgia women in the battered restaurant and culinary sector who are helping their colleagues weather the pandemic and all its effects. From growing, cooking and serving food, to paving a path for emerging culinary entrepreneurs, these women have led during truly difficult times. Though they flourish independently across the state, they are connected by food, camaraderie and a commitment to lift each other up as they work to nourish bodies and souls.
Kay Heritage, owner of Big Bon Bodega, Savannah
At contemporary bakery, Big Bon Bodega in Savannah, Kay Heritage (aka Mama Kay) and her team bake Montreal-style bagels, Korean-inspired bagel sandwiches, homemade cookies and Neapolitan pizzas. Her fresh-from-the-woodfired-oven baked goods are usually sold out by noon, and her pizza food truck sells as many as 120 pies an hour. But her success didn't come easy.
As a female Korean-American immigrant, Heritage lacked self-confidence and access to small business resources. "I joined the U.S. Army, traveled abroad, worked in catering kitchens, trained with chefs and taught myself everything about running a culinary business. That took about 30 years," she says.
To help others get to their goals faster, Heritage designed a course curriculum for her employees at Big Bon Bodega. She gives her staff weekly lessons in baking, budgeting, sourcing food, communication, leadership and life skills, along with fair wages. "I put them through a vigorous training course. When they succeed, I do too," she says. Her mission is to coach those who have a passion for food and business but may not have the means to go to school.
Anne Quatrano, owner of Bacchanalia, Star Provisions, Floataway Café and W.H. Stiles Fish Camp, Atlanta; and Rosa Thurnher, El Ponce, Atlanta
Atlanta restaurant icon Anne Quatrano's career dates back 30 years. Since beginning, she has worked at restaurants around the U.S., helped open establishments in New York and Atlanta and borrowed money from her mother to fund her first business. "I always felt like women can do anything [as well as] men can do, if not better," she says. "But what drives me is to see the success of people who have gone on to do greater things."
The James Beard Award winner has most recently been involved in helping women weather the pandemic through Let's Talk Womxn, a national community of more than 200 women in the food and beverage industry offering collaborative action and support across 12 cities. "We offer assistance, commemorate victories, share resources, and promote each other. At least five women have come to work for me through Let's Talk," says Quatrano.
Rosa Thurnher, co-owner of Mexican restaurant El Ponce in Atlanta, has also been involved with the Atlanta chapter of Let's Talk. She says connecting with other women has been a lifeline during the pandemic. "It was great to have a space to talk to someone else who was going through similar circumstances, not just as female business owners, but as spouses and mothers," says Thurner. The group meets via Zoom once a month to discuss personal and professional issues, changing restaurant policies and ways to help those who have had loss of income.
"I followed some of these women on Instagram for years, and now they are on a call with me," Thurner says. She was able to bounce ideas around with the more experienced Quatrano, for example, when adding a retail store, Tiendita, to her establishment.
Like everyone in the Let's Talk group, Thurnher initiates creative ideas and cohosts events to promote take-out and drive business to Atlanta restaurants. Some of the members sell fresh pastries, salads, granolas, sauces and dressing at the Freedom Farmers Market at The Carter Center every third Saturday.
Charlotte Swancy, owner of Riverview Farms, Ranger
Charlotte Swancy and her husband run Riverview Farms, a 600-acre family farm in Ranger, in Northwest Georgia, where they produce pork, grassfed beef, organic row crops and farm-ground grits, cornmeal and polenta.
When COVID-19 shut down the restaurant industry, Riverview Farms lost 80% of its business overnight. It was a huge blow, but one that the tenacious and determined Swancy dealt with by pivoting from restaurant to home deliveries. "It is worrisome to not have the income we once did, to not be able to pay employees. But we don't have a choice. We keep evolving each day and do the best we can," she says.
Swancy stayed in touch with her network of women through Les Dames d'Escoffier, an international professional organization for women in the food, beverage and hospitality industries. The group's members share their struggles through Zoom cocktail hours and offer help in whatever ways they can. Swancy personally loaned money to others even when she didn't have much herself, donated meat to families that couldn't afford food and fronted produce to caterers and private chefs who had lost much of their business. "I love to feed the community, whether they are eating at a restaurant or at home. I like that I am part of their meal each day, and that's what keeps me going," she says.
Do you follow us? Find us on Linkedin, Facebook, Twitter and Instagram.