Power Lunch at Home
Georgia's chefs offer tips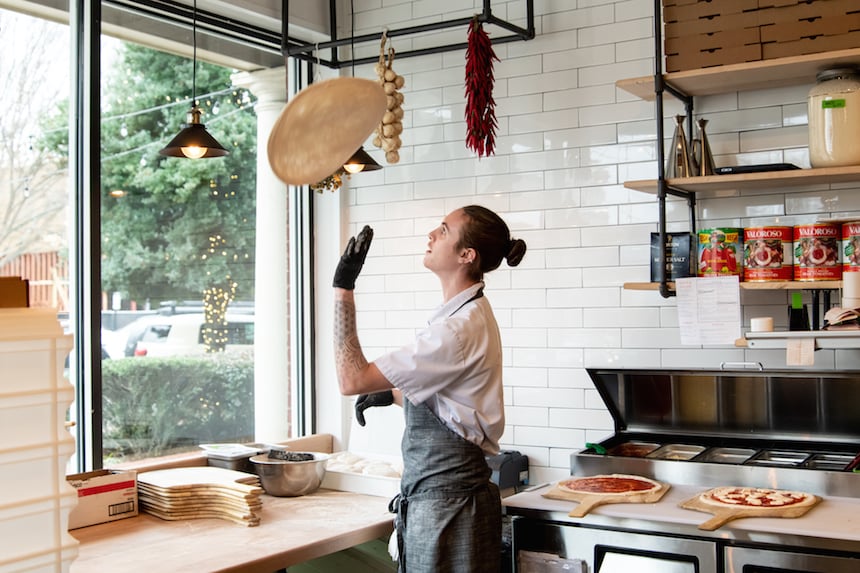 Lunch hour is no longer a brief escape from the office that we once looked forward to. Instead of catching up with colleagues at a delectable restaurant, now we juggle between video calls, checking in on the kids, taking the dog out and grabbing a quick nibble. But a power lunch is doable without having to go out to a restaurant or gulping down a "power" smoothie. Here are some ways you can fuel your weekday work meals safely to stay productive and alert during a pandemic – and beyond.
Keep It Light
Productivity often decreases after lunch. We may feel sluggish and lose focus and momentum. A good way to combat afternoon fatigue is by having an energy-boosting mid-day meal. A well-balanced lunch should incorporate lean proteins, fresh or steamed vegetables and high-fiber carbohydrates that support immunity and cognitive ability and provide energy.
"A great lunch could be a simple combination of fiber (greens, grains), potassium (sweet potatoes, beets), iron (meat, poultry, fish) and healthy fats (feta cheese, avocado). A drizzle of E.V.O.O. [extra-virgin olive oil] or olive oil-based vinaigrette can go a long way," says Chef Julio Delgado, owner and founder of Concept 2 Table Hospitality Group, and winner of Food Network's Cutthroat Kitchen cooking show.
He suggests replicating the chopped salad that he offers at his Alpharetta restaurant, Minnie Olivia Pizzeria, by keeping a few simple ingredients on hand and mixing them for variation. These include mozzarella, tomatoes, salami, pepperoni, pickled peppers, crispy chickpeas and wild oregano vinaigrette.
Fancy It Up
"As far as making lunch feel a little fancier, advance planning is key," advises Jessica Rothacker, co-owner of Heirloom restaurant in Athens, and named one of the Georgia Grown executive chefs for 2020 and 2021. "Buy the nice bread, the fancy cheese, and don't skimp on quality condiments such as pesto, tapenade or spicy mayo," she adds.
If you are constantly on Zoom meetings and have just enough time to graze, make ahead a cheese and charcuterie board with nuts, fruits and pickles, incorporating a variety of textures that you can snack on through the day. That way you won't find yourself reaching out for salty snacks and candy bars.
Make Better Choices
Even when ordering-in a Blue-Plate special, modify your meal choices to incorporate more nutrition. Chef Jiyeon Lee, co-owner of Atlanta's Heirloom Market BBQ and a 2020 nominee for Best Chef Southeast by the James Beard Foundation, recommends choosing a leaner side of brisket when having meat. Swapping heavier sides like French fries or mac and cheese with more nourishing options such as cucumber radish salad, collard greens or kimchi slaw helps cut down on calories. Display the meat and three combination on a microwave-safe plate for an easy restaurant-style lunch that is also easy to reheat.
Chef Lee strongly recommends placing delivery orders during non-peak hours (before noon or after 1 p.m.) for fresher and faster service.
Break The Monotony
Chances are you will resort to eating the same foods for lunch every day, either because you don't have time to think, plan and prep, or because it's simply quick and easy to do. But our bodies need a variety of nutrients and a well-balanced lunch can increase metabolism and prevent you from packing on additional pounds.
"If planning ahead or being creative is not your thing, subscribe to a meal delivery service for lunch," says Chef Devika Patridge, who caters through the online subscription meal platform HUNGRY. Patridge offers her clients a variety of grilled meats, raw salads and vegan options. Her "Atlanta's Lunch" special features appealing dishes such as vegan jackfruit krab cakes, rosemary grilled chicken and lemon roasted tilapia.
Don't forget to take a break and enjoy every bite.
Sucheta Rawal, a new columnist for Georgia Trend, is an award-winning food and travel writer who experiences the world through her palate. She is author of the Beato Goes To series of children's books and founder of the Atlanta-based nonprofit, Go Eat Give. Follow her at twitter.com/SuchetaRawal
Look for her "Peach Plate" posts on the Latest Trends blog every month and for her bi-monthly print columns in the magazine beginning in May.
Do you follow us? Find us on Linkedin, Facebook, Twitter and Instagram.