Visionary Cities Across Georgia
Honoring those who help their communities thrive even in trying times.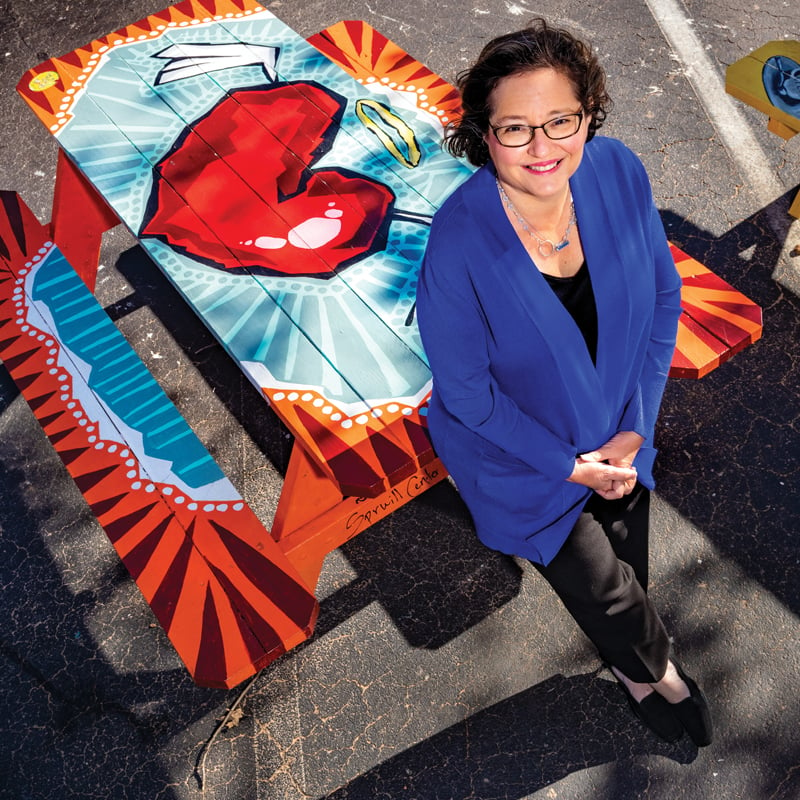 2020 seemed to be an endless parade of bad news – from the pandemic to the economy to politics. But rough as the year was, many people were working around the state to help make lives in their communities better during the year. To honor that work, the Georgia Municipal Association (GMA) and Georgia Trend have teamed up to recognize nine cities with the second annual Visionary City Awards for projects that create positive community change through civic engagement and collaboration.
"If ever there was a time for unity and togetherness, it is now, and these nine cities have illustrated this unity through their visionary projects," says GMA Executive Director Larry Hanson. "It's our privilege to honor the elected officials, city staff and community leaders who made these initiatives possible. These cities exemplify what it means to be forward thinking for their residents and generations to come. They serve as inspiring examples of civility, collaboration and what it means to create communities of positive change across Georgia."
These cities are grouped by population – Large (more than 25,000), Medium (5,000 to 24,999) and Small (fewer than 4,999) – with projects that address COVID-specific issues as well as broader community needs, including literacy, small business support, rural broadband, mental health and affordable housing.
The goal of each of these projects? To foster healthy working relationships and make the communities places where people truly love to live and work.
---
Large Cities
Creative Solutions
By Betty Darby
Brookhaven
When the lines for the city of Brookhaven were drawn less than a decade ago, they encompassed one of the most culturally diverse areas in the entire state – the famously international patchwork along Buford Highway. Brookhaven's stretch of the corridor is predominantly Spanish speaking and is home to roughly a quarter of the city's population. The city's challenge was that a large proportion of its citizens were distrustful of government and had low expectations, but simultaneously needed services badly, as evidenced by the high rate of pedestrian deaths along Buford Highway and a poverty rate exceeding 11%.
Brookhaven's police department first tried to bridge the language and cultural divide with a Spanish-speaking Citizens Police Academy, but no one signed up. Determined, Sgt. Carlos Nino camped out at school bus stops and set up pop-up meetings. He eventually filled every seat in the first year and four years later the academy now has more than 80 graduates. And the city learned a valuable lesson – traditional methods aren't adequate here.
Taking a new approach, city officials added a Latino outreach position, used social media in Spanish and began delivering Spanish translations of city reports by hand to neighborhoods. They partnered with the area's nonprofits to align with trusted faces. They tackled pedestrian safety with buy-in for the Peachtree Creek Greenway, a multi-use trail, where a model mile opened in 2019 and where a public safety center, complete with community center, is expected to open this year.
"How can you be a good government and ignore 25% of your population? It's not one project, it's an entire approach," says Mayor John Ernst of the outreach efforts. "A lot of these problems cannot be solved with a magic bullet. They call for an all-encompassing approach."
---
Dunwoody
The COVID-19 crisis has demanded a nimble and creative response from local governments. In Dunwoody, they've even managed to add artistic flair to that response.
Early in the crisis, it became evident that small businesses in general and restaurants in particular would be hard pressed to survive. Helping Dunwoody restaurants stay in business became a priority. The city responded by adapting existing ordinances so restaurants could expand their outdoor seating. But instead of stopping there, the Picnic Table Project was born, and what started as a rescue mission became a public art installation as well.
Utilitarian picnic tables were the blank canvas. After the city approached The Home Depot's corporate office to request a discount on the wooden tables, the company instead donated more than two dozen of them. Tables were assigned to restaurant locations and nonprofit groups were invited to add artwork with a Dunwoody theme. People can now sit and wait for to-go orders or dine outside in a safer environment.
"As a whole, the tables tell the story of Dunwoody," says Mayor Lynn Deutsch. "It certainly has helped the businesses. A year ago, you would never have convinced me I'd be willing to eat outside on a 90-degree day! And it has provided a little bit of light in a difficult time."
Dunwoody incorporated the project into its October Arts and Culture Month and created a self-guided tour of the tables on the city's app, complete with a map. The public was invited to share photos. Those who did were awarded special T-shirts featuring designs from all of the Picnic Table Project entries. T-shirts are no longer available, but table locations remain on the app.
The project was so well received that organizers say the next step may be adding more tables, this time at schools, for art classes to paint.
---
Statesboro
Statesboro sits in the midst of South Georgia farmland, with the dominant feature being Georgia Southern University. That economic powerhouse drives much of what happens in the city, with projects like the Blue Mile aimed at developing the stretch between the campus and downtown. The development that goes with a growing Georgia Southern enrollment is welcome, but local officials are aware that the boom doesn't extend to all quarters of the city.
"Our economy is a living, breathing thing and it's going to grow in the direction that is being nurtured," says Mayor Jonathan McCollar. And improving and increasing the affordable housing stock in Statesboro is what the city has chosen to nurture.
It is not a solo mission. The city has paired with the Georgia Initiative for Community Housing, nonprofit groups and private developers. Additional players include the Downtown Statesboro Development Authority, Georgia Southern and the Bulloch County School System.
The city has even revived some housing agencies that had drifted into inactivity or lost focus. For example, the Statesboro Housing Authority was re-formed and has once again become an active part of the affordable housing struggle.
First up, the city revised its code enforcement ordinance to give officials a better grip on dealing promptly with chronically dilapidated housing stock. Developers are now incentivized to construct single-family housing, and work is underway to obtain funding for potential and current homeowners to make necessary repairs to existing properties. The city is also taking essential steps like revitalizing parks in targeted areas.
"We chose this initiative because it is a serious problem. With all of the growth we've had, some of our older neighborhoods were being left behind. Some of our long-time residents weren't benefiting," McCollar says.
Affordable housing is a persistent and near-universal challenge for municipal governments, he notes. "We've got great momentum moving forward."
---
Medium-sized Cities
Betwixt and Between
By Howard Pousner
Auburn
These days Auburn exists betwixt and between, in more ways than one. Located partly in Barrow and Gwinnett counties, between I-85 and GA-316, it has nurtured plans for a new City Center that simultaneously looks back to the area's agrarian roots and leaps forward to a future shaped by sophisticated New Urbanism design.
Leaders who have pursued decade-long planning for a new city hall and municipal center – which eventually will connect to private development projected to include 150 homes and up to 20,000 square feet of commercial space – believe that Auburn can be all of these things and more.
"The city has always said, 'We do not want to be Anywhere USA. We want to mindfully build our community to be inclusive, entrepreneur-friendly, and to reconnect citizens with each other as well as with nature,'" Auburn Community Development Director Jay Miller says.
With that vision, the city broke ground in October 2020 on the redbrick municipal complex, modeled after the main building of Perry Rainey Institute, a long-defunct Auburn college dating to 1892. That building was razed in 1958, but the history-embracing city had already renovated and converted a former Perry Rainey dormitory that sat next to the college's main building, which it uses for civic purposes. It is within walking distance to the municipal complex, projected for a spring 2022 opening.
Construction and related downtown improvements are being supported by a $12.5-million Urban Redevelopment Authority bond, to be repaid with Special Purpose Local Option Sales Tax (SPLOST) funds.
The reborn downtown is expected to seed a connected pedestrian-friendly, New Urbanism-inspired development that will feature a village green, hiking and biking trails, protected woods, a display garden and a sustainable farm.
Developer David Schmit of Schmit+Associates calls the designs "thoughtful and in the spirit of Auburn."
So how does one define Auburn's spirit?
"The essence of Auburn is its lifestyle," Miller says, "one that focuses on an idyllic, economically sustainable life."
---
Douglas
There is a stigma about mental illness and drug abuse in America that makes families and communities want to sweep it all under the rug. In the Southeast Georgia city of Douglas, civic leaders acknowledged these mounting problems and have addressed them in the open, without judgment.
The demand for behavioral health services in Coffee County has grown by 10% since 2016. Simultaneously, Mobile Crisis Services have experienced a 115% increase. Suicide is the second most likely cause of death for county residents ages 10 to 14 and 20 to 24. Drug abuse, from prescription opioids to crystal meth and heroin, is escalating as well.
Unsurprisingly, the mental health clinic, a leased facility that serves children, adolescents and adults on an outpatient basis, has been overwhelmed at times.
After Douglas partnered with the Coffee County Commission and Unison Behavioral Health in 2018, the city applied for a Georgia Department of Community Affairs Community Block Grant to build an adult mental illness and substance abuse treatment facility. Paid for by a $905,685 funding package led by the $750,000 block grant, the project is due to be completed by the end of 2021. Once it opens, the original facility will be renovated to serve only children and adolescents.
All citizens, including those without means to pay, will be eligible for care. A goal is to never turn anyone away due to a lack of space or staffing.
The ultimate vision of leaders, Douglas City Manager Charles Davis says, is to "empower" those with mental illness and substance issues "to improve the quality of their lives and become more productive citizens."
Davis is among many who believe. "We know that treatment works," he says. "We just have to make it available and address the stigma that discourages people from seeking help."
---
Griffin
Civil unrest and protests against police brutality rocked American cities and towns for weeks that bled into months following the death of George Floyd during an arrest in Minneapolis last May.
But Griffin, the Spalding County seat an hour south of Atlanta, maintained the peace. Instead of skirmishes overtaking streets, the city hosted a "Bridge the Gap" prayer walk on July 5 that drew a diverse crowd of several hundred who paused on the 6th Street Bridge for prayer and positive words from local pastors. The site held symbolism: The bridge divides the poorer northside, which has former mill-town housing, and the more affluent southside.
City leaders could not have imagined the country's crisis when they formed Griffin's Ministerial Alliance in May 2019, inviting 25 local pastors and ministers representing different denominations and backgrounds to an organizing breakfast. But the idea of harnessing pastor power to help make good on the city's motto "Growing, Together" nonetheless took vision.
"You don't find a lot of places where a municipality and a religious community work collectively together," says Brian Miller, Griffin's Citizen Engagement Specialist. But in the tense weeks after Floyd was killed, he says, "It was not a matter of 'What do we do? Who do we get together to address these things?' It was only a matter of mobilizing the Ministerial Alliance and asking, 'What are your ideas? How can we help?'"
In addition to the prayer walk, the alliance organized Unite, a night of worship downtown, in October. More unity gatherings are on hold until the pandemic is better controlled.
Meanwhile, the city formed citizen and city employee groups to work on diversity and inclusion. And the city orchestrated a Miller-designed mural at a downtown gateway that honors pioneering African-American aviator Janet Harmon Bragg, a Griffin native. It's another example of the city celebrating diversity and inclusion, along with its history.
---
Small Cities
Hyper-local Solutions
By Patty Rasmussen
Hahira
In mid-March 2020, just days into her new role as Main Street director for the city of Hahira, Jennifer Price was confronted with a crisis – the city was forced to shut down due to the state of emergency declared by Gov. Brian Kemp because of COVID-19.
Knowing that her options were limited, Price brainstormed with a board member about the types of programming Main Street could still offer during a pandemic. They hit on a literacy project after Price noticed how frequently she restocked the city's Little Free Libraries – every two to three days rather than once a week, pre-pandemic. They even built a second, larger, Little Free Library to put more books in circulation.
"I'm a library science major, and so is this board member," says Price. "When I told her how many books were circulating through the libraries, she took that and ran with it."
The board member discovered StoryWalk, a concept created in Montpelier, Vt., encouraging literacy and physical activity. One book is selected for the month. The pages are laminated and placed along a trail or, in keeping with part of Main Street Hahira's mission, downtown businesses' windows. Participants read the story and follow the directions to the next window, or page, in the story.
"Many pages include activities, critical thinking questions, and QR codes for songs and facts," Price says. "Once state restrictions began to loosen, and the number of attendees permitted at gatherings was increased, we included a 30-minute Saturday morning Storytime at The Depot in Hahira during the Farmers Market."
To draw in adults, they created The Great Hahira Read-In, a book club and social that included virtual meet-and-greets with authors, floral arranging classes, trivia and the one thing so many craved: companionship.
---
Tybee Island
The COVID-19 pandemic hit Tybee Island's business community just as it was gearing up for tourist season. But instead of greeting smiling crowds, most of the island's 230 businesses (99% locally owned) had to shut their doors and hope they could weather this storm that was unlike any hurricane they'd ever faced.
It was time to step up, says Michelle Owens, director of Tybee Island's Main Street.
"We turned our façade grant into an emergency grant [up to $500] that businesses could use for short-term expenses they needed to cover for making changes – creating take-out windows, signage for social distancing or wearing masks," she says. "We looked at everything the city could do to mitigate the financial impact on businesses without even knowing what the impact might be on the city's coffers."
The city gave $15,000 in Business Recovery Grants and deferred payments and waived late fees for city utilities, hotel-motel taxes, business license renewals, liquor tax returns and building leases. They also allowed businesses to claim two paid city parking spaces in front of their buildings to allow for the new shopping norm: curbside or takeout orders.
The community rallied and supported local businesses – losing only three, which were immediately replaced by new ones.
"In total, seven new businesses opened, and we had one new business expansion during the pandemic," Owens says. "And we've had record crowds."
An important takeaway for the next crisis: Even local businesses need to be online.
"It was crystal clear to us that while we are hyper-local, when things close down, we can't get to them," says Owens. "We need to focus on helping our businesses be able to continue during a long-term shutdown. We have people that visit Tybee emailing, saying they want to support their favorite business with no way to do it. As a Main Street, that's something we're going to focus on."
---
Woodbury
One of the many things that COVID-19 exposed was the dire need for connection – physical, emotional and technological. Nowhere has that been more apparent than in rural parts of Georgia.
"COVID has been an interesting dilemma in some respects," says Steve Ledbetter, mayor of Woodbury, a small city in the middle of a triangle formed by Atlanta, Macon and Columbus. "It put businesses across the nation in a position where you don't have a choice but to think about remote working anymore. That's set our community into high speed for delivering high-speed internet for our local area. None of the big boys would come play in our sandbox, so we had to do it ourselves."
The process began pre-pandemic. Ledbetter says they knew affordable, reliable broadband connection would promote the city's overall economic viability. After discovering a service provider that would increase internet speed to the city municipal complex, leaders worked with the Georgia Department of Economic Development and Georgia Centers of Innovation to test a wireless internet service.
"It's a wireless mesh system," Ledbetter says. "It's set up so that we project the internet stream from City Hall to antennas on our water towers and from the water tower antennas to proprietary antennas on individual houses or businesses. The devices are small, the size of your two hands together."
The subscriber pays for the equipment upfront and a monthly service fee. The original funding came out of the city's general fund, but broadband was an investment that's already reaping benefits.
"A manufacturing business expanded here because they didn't want to invest any more in the Atlanta area," says Ledbetter. "They purchased an old building and completely renovated it. One reason they chose Woodbury is because we have high-speed internet."