Culture Change at Georgia Corporations
The state's business leaders are committed to increasing diversity and inclusion.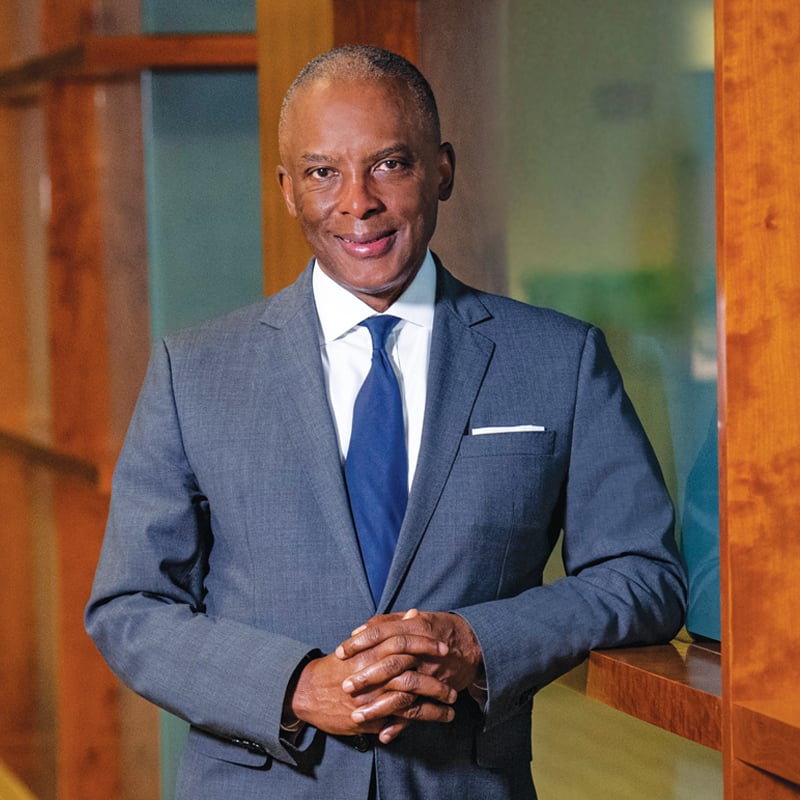 Atlanta was never really too busy to hate. Just ask the Black families whose attempts to move into the white neighborhood of Cascade Heights in 1962 were barred by physical barriers – "Atlanta's Berlin Wall." Or consider the deliberate use of I-20 to segregate black and white neighborhoods in an attempt to "protect" downtown for whites. But unlike some other Southern cities, Atlanta did have pragmatic business leaders who – whatever their personal feelings – ultimately favored the benefits of economic development over segregation and overt racism (though there was plenty of both).
As Atlanta goes, so goes the state, and it's still true today that when business leaders – now just as often national or multinational companies with locations way outside the metro area – want things to change, they start to change.
Many Georgia companies were already committed to promoting diversity, equity and inclusion (some refer to it as DEI or D&I) as good business practices. "The end goal is that diversity and inclusion is about increased performance," says Jo Anne Hill, Piedmont Healthcare's first executive director of diversity and inclusion. Hill joined Piedmont in 2019 after 29 years at Aflac, where she was director of diversity and employee engagement and says, "You see it at Aflac. We saw it in the profit margins. You see it in board representation. These companies do much better when they have a culture around DEI."
"Engaged employees are better performers," says Vivian Greentree, senior vice president and head of Global Corporate Citizenship at Atlanta FinTech company Fiserv. "The source of that is being on a team where they feel like everyone has an equitable opportunity to join, belong, contribute, progress, and there's trust there."
But the killings of George Floyd, Breonna Taylor and Rayshard Brooks in 2020 made these efforts more urgent. Suddenly a lot of C-level executives as well as employees at a lot of companies were having a lot of uncomfortable conversations. And in that discomfort lies the way forward.
"Don't be afraid. Don't be reluctant to have the difficult conversations," says Chris Womack, who will become Georgia Power's CEO and board chair in April after 33 years at Southern Co., and will be Georgia Power's first Black CEO. "This country has had a struggle with race for almost 400 years. So talking about race can be very difficult. A lot of times we shy away from it." But using this period as an opportunity to have uncomfortable conversations, he says, is how we learn. "That's how we get better," Womack says.
Georgia Power isn't new to DEI – "It is a part of what we measure as operational performance," says Sloane Drake, senior vice president, human resources at Georgia Power and Southern Co. "You can't be a good employee, you can't be a good leader, if you don't fundamentally understand and support diversity, equity and inclusion." But the company has gotten even more intentional about its efforts now, creating small group sessions where employees can talk about race and inclusion with colleagues they trust in a place where it feels safe to ask questions.
Womack says it was therapeutic, both from a psychology standpoint and an organizational one, to allow people to talk and for the company to just listen rather than responding with an answer. Drake agrees, saying the level and candor in the discussions is something new. "People are sharing their experiences and helping to educate people who didn't have those experiences in a way I've just never seen before, which has been really helpful," she says. It's caused Georgia Power to take a good look at its DEI efforts and ask what more it can do, like increasing and adjusting training to include areas that were raised in the discussion groups and taking a hard look at recruiting to remove as much bias as possible from the process.
---
Why Inclusion Matters
Being intentional about DEI – making it a part of the fabric of the organization, not just a one-day training or a checklist – is crucial, says Sarah Birdsong, an Atlanta-based psychotherapist and D&I consultant and coach who often works with tech companies. "We know from studies that we hire people like us. We think they are more qualified, unconsciously. We think they are a better culture fit, unconsciously. If they went to the same school, look like they could be a member of our family, seem relatable, seem easy to work with. … So when you have companies that traditionally are run by a certain identity group – predominantly white, male, heterosexual, able-bodied – it ends up perpetuating itself. So we have to be thinking about it."
Being active listeners – like Womack suggests – and accepting feedback is at the heart of the process, says Birdsong. "I cannot put myself in someone else's shoes and live their life experience," she says. You'll make mistakes, she says, but if there's enough trust that someone can tell you how they're being sidelined or silenced or overlooked by what's being done, everyone can move forward. "The more we can be open to feedback, the more we can be somebody who is safe to give feedback to," says Birdsong.
And that's where the "I" comes in. Diversity is necessary, but by itself it's not enough: It matters who is being listened to, whose ideas are being credited, who is being promoted, says Birdsong. Diversity and inclusion are not just about race, just as an individual's identity is not solely defined by being a member of one group. Gender, caste, sex, race, class, sexuality, religion, disability – some or all combine to make up who we are and shape how we experience our work and personal lives.
In fact, at Cox Enterprises Tiffanie McDonald, assistant vice president for diversity, equity and inclusion, refers to it as I&D. "We lead with inclusion because we know that's important … making sure we're creating that culture and environment where diverse talent wants to be," she says. Cox Enterprises regularly ranks well for D&I, including recognition in 2020 by Forbes as a best employer for diversity and the Human Rights Campaign as a best place to work for LGBTQ equality.
Cox also responded to the social justice protests over the summer by holding listening forums across the company and accepting feedback about how the company could "improve, get better and help to foster and drive real change," says McDonald. It formed the Actions Speak task force of more than 30 leaders from across all business lines who are tasked with developing strategies to make the company more diverse, from increasing diversity at the top to establishing programs to help minority-owned business suppliers grow.
Many of the companies mentioned in this article make employee resource groups (ERGs) a big part of their DEI efforts – they ask them for feedback or to provide recommendations on community organizations to partner with. At IBM, which has long had a sizeable presence in Atlanta, each ERG has an executive council with a senior vice president sponsor. "You have to have senior executive sponsorship," says Kitty Reed, vice president of enterprise operations and senior state executive for Georgia at IBM. The Monroe native is deeply involved in D&I at the company and in the community. "You have to have influencers from within the community and allies outside of the community. And then you have to be maniacal about communicating the progress."
---
Buy-in at the Top
Hill, who is fond of saying that "we want to make D&I part of our DNA," says that people get caught up in what they see and tend to stop there. She agrees with Reed that any efforts to change that tendency have to involve both the C-suite and a company's employees. Hill recalls the story Aflac CEO and Chair Dan Amos tells of walking into a staff meeting, realizing everyone looked like him and thinking, "I already know what a 60-year-old white man thinks." Hill believes D&I is achievable when the top of the organization buys into it. "Dan Amos was bought in," she says. "It's the same at Piedmont," where President and CEO Kevin Brown and the leadership team have made D&I one of three strategic initiatives for 2021.
Four pillars make up that initiative: increasing minority representation and leadership, with a goal that 93% of director-level and above positions will have a diverse slate of interviewees; offering D&I training; setting up a diversity council, led by employees, that anyone can join; and examining the impact of COVID-19 on underrepresented communities. That last effort may begin with COVID but Hill thinks it will have broader implications for health equity overall.
That's important because Hill stresses that companies – especially ones like Piedmont – can't be separate from the communities they serve. As part of its reaction to the protests this summer, Hill says it was important to have conversations around systemic racism. The organization developed a toolkit and used it to facilitate sessions where employees could talk and listen. "People needed to talk," she says.
Metrics like the 93% goal are important, Hill says. "You move what you measure. Where are you on retention? Where are you on recruitment? … It's on our scorecard so people can see where we are as an organization."
Hill remembers coming to Piedmont and noting that there was one person of color on the leadership team. The organization is more diverse, but it wasn't showing up at the top. "It was a topic," she says. "People would talk about it in new employee orientation." And people whom the organization was trying to recruit noticed, too, when they didn't see others who looked like them. At Hill's request, Piedmont asked other employees outside the leadership team to be part of the interview process to better represent the organization's culture. "We now have three ethnically diverse people on our Piedmont leadership team, and that happened in the first six months," says Hill.
Cox Enterprises trained all of its senior leadership in an immersive, 20-hour learning lab on diversity and inclusion. "We had candid conversations around inclusion topics like unconscious bias and inclusion habits, what that looks like and how that shows up every day in how you lead, operate and engage your team," says McDonald.
Georgia Power asks its employees to be leaders both at work and in their communities, all around the state. Womack ticks off programs like Leadership Georgia and Leadership Atlanta and says, "Let's be a part of those efforts … let's figure out how to talk about issues of diversity." The company's "inclusion connectors" are employees in regional offices and plants throughout Georgia who volunteered to work on DEI issues; they're trained and have access to resources that help them have those kinds of conversations in their work clusters and teams.
Womack's new title as CEO is meaningful as well as historic. He's worked his way to the top, and Drake notes that "just the ability to have someone with his experience to come in and follow [current CEO] Paul Bowers is exciting in itself, regardless of race." But she adds that he will also bring a different perspective to that role than anyone's had before.
Womack says he's gotten messages and letters from people expressing pride in his accomplishments and those have been meaningful to him. "When we see people that look like us … assuming certain roles, it gives us hope and optimism, and encouragement and motivation that I too could do that," he says. "I think it says to everybody in the company, you can achieve great things if you put the work in."
---
Beyond the Office Door
The effects of systemic racism coupled with the economic disruption from COVID had an outsize impact on minority-owned businesses. Companies are realizing that DEI extends beyond the office to their suppliers and business partners (and potential partners). While many have had supplier diversity programs, several are making efforts to go beyond that and provide access to capital, relationships and expertise.
Greentree calls it "structural inclusion." Fiserv's Forward Together Plan was developed after consulting with the company's ERGs, senior leaders, business areas and CEO. It includes commitments to increase diversity at all levels and increase employees' awareness and participation in D&I programs. But it also includes a program to invest $10 million to support Black- and minority-owned businesses, as well as community groups that focus on human rights, racial equity and social justice. In January, small businesses in the Atlanta metro could begin applying for $10,000 grants.
It's an investment of time, talent and treasure, Greentree says. "It's wealth building within the communities that we live, work, buy, shop and play in as well," she says. "We want to ensure it's not just the grant, but opening up networks and creating pathways for them, for access to capital, for access to coaching and mentoring. … There are things we can do to ensure equitable access to our resources and also our partners' resources."
IBM and Delta both developed anti- racist initiatives. IBM calls its racial justice initiative Emb(race) and focuses on four areas: economic opportunity, giving to HBCUs and committing to hiring 1,000 high-school interns; "good tech," which eschews facial recognition software development, for example, and encourages technology to address societal challenges; representation, including bolstering the number of women and minorities in leadership roles; and policy and justice. Seeing the hate crimes bill pass the state legislature in 2020 and knowing IBM had worked to make that policy happen was a proud and pivotal moment for her personally, says Reed.
Delta is frequently recognized for its D&I efforts, but CEO Ed Bastian sent a memo in August to Delta employees saying the company needed to do better. Among the initiatives are ensuring hiring slates and interview panels reflect greater diversity and that job qualifications are free of unnecessary barriers, according to Keyra Lynn Johnson, managing director and chief D&I officer. All employees are receiving new inclusion training, the company is seeking new diverse suppliers and has hosted "Let's Talk About" sessions with senior execs and leaders like Atlanta Mayor Keisha Lance Bottoms and Bernice King. A Diversity, Equity and Inclusion Council meets bi-weekly to measure progress.
Johnson notes that leaders in D&I say it's not enough to be "not racist" – allies must be actively anti-racist. "Similarly, we know simply 'caring' is not enough. A commitment to anti-racism work is what takes our allyship beyond a sense of feeling and turns it into meaningful actions that create systemic change," she says.
Cox, too, is taking a broad approach, "growing our investments in supplier diversity to not just support them but help them grow," says McDonald. "Think[ing] about how you help them develop, how you advocate for them, how you provide them the tools and resources to improve and get better, purchasing more with them." It's also partnering with community organizations that are fighting to improve human and civil rights. "We're in this journey for the long haul," McDonald says.
That's essential, says Womack. We want a quick fix to these issues, but it doesn't exist. "We are these wonderful human beings that keep growing and learning and getting better," he says. "The more engagement we have with people who are different than we are, the more we're going to learn. … That's how we make a better product [or] provide a better service. That's how we provide better results to all of our stakeholders, our shareholders, to our community, to our employees. That's how we keep getting better."