Georgia Rises as a Manufacturing Magnet
Georgia's unique combination of benefits is attracting more makers – and convincing those who are here to stay and expand.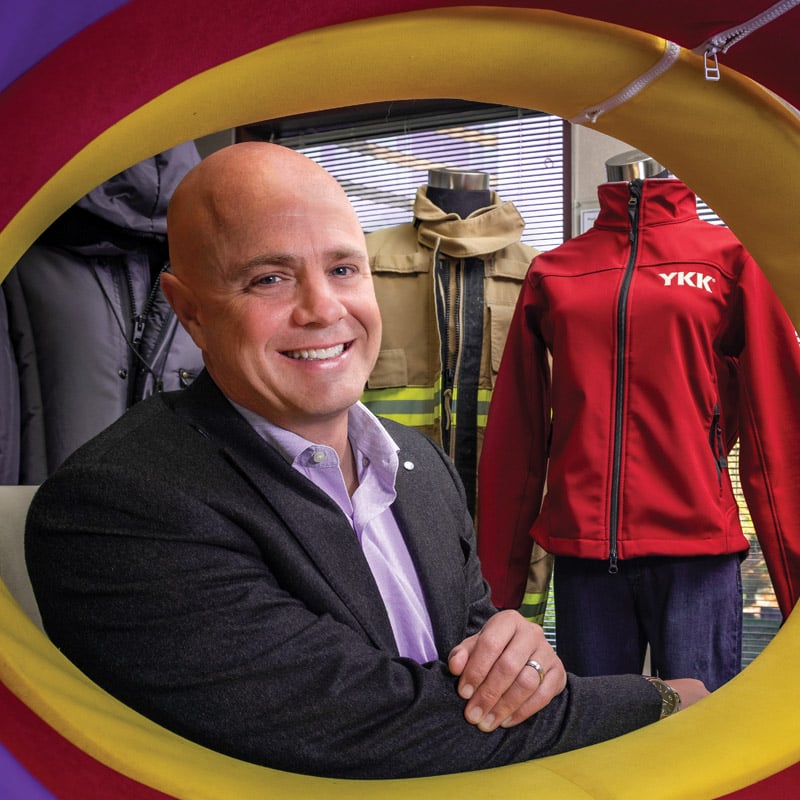 Manufacturing is hitting its stride in Georgia. Nearly every week announcements surface about new or expanding facilities, many of them big, recognizable names. In aerospace, Gulfstream Aerospace Corp, Lockheed Martin Aeronautics and Pratt & Whitney top a roster of about 800 companies. When it comes to floor coverings, Georgia has heavyweights Shaw Industries Group, Mohawk Industries and Milliken & Co. Automotive giants are here, too, including Kia Motors Manufacturing Georgia and Yamaha Motor Manufacturing Corp. Joining them are auto parts suppliers, including newcomers SK Innovation and GEDIA Automotive Group, which will make electric vehicle components.
Georgia is a national leader in the advanced manufacturing of machinery, electrical equipment and fabricated metal products, outpacing overall U.S. manufacturing in 10-year gross domestic product growth. The state has more than 9,400 manufacturing operations accounting for a $61.1 billion pre-pandemic output, according to the Georgia Department of Economic Development (GDEcD). Our manufacturing workforce had grown to 270,000 before COVID-19 hit the state.
Why has Georgia become such a makers' mecca when other parts of the country were losing manufacturing jobs long before COVID? The answer is a perfect storm of positive factors.
"Georgia is a fabulous place for manufacturers," says Jim Reed, president of YKK Corp. of America, which makes zippers, fasteners and architectural products at several locations throughout the state. "First of all, the people that we have available to us – our workforce – are great. On top of that you've got strong logistical capabilities [including] the highways, the port and the airport. Local governments, with whom we're very close, and state government are very friendly and pro-business. Those are a unique combination of benefits."
Gunnar Kleveland, president and CEO of Textron Specialized Vehicles, makers of E-Z-GO golf cars in Augusta, agrees and adds, "The state has been able to bring some big names here – IKEA, Caterpillar, even Starbucks here in Augusta. That pops when people see names like that coming to a state. But at the same time, you have companies like us that have been here for many years, performing well and saying that we will stay here in Georgia because it's a good place to do business. It all comes together as one good package."
For Hurst Boiler and Welding Co., which builds and manufactures steam and hot water boiler systems in Thomas County, tax incentives demonstrate the state's business-friendly climate. "There was the Georgia job tax credits and the Georgia port tax credit," says Jeff Hurst, vice president of marketing and son of the company's founder. "We try to ship as much as we can through the Georgia ports and retain the tax credits. That's one of the main incentives we've taken advantage of. And, we've found a good workforce in the three counties we mainly pull from, which are Thomas, Colquitt and Brooks counties."
"One can easily talk about taxes and infrastructure and the regulations, and all of these things are important," says Sara Irvani, CEO of Buford-based shoe manufacturer Okabashi. "But I think it's a culture, an ecosystem that makes all the difference and Georgia has an incredibly strong one."
To these attributes, Regina Maddox, executive director of state trade association Next Generation Manufacturing, adds, "When you hear Georgia's No. 1 for business for seven years in a row [now eight], that's not something you can dismiss when you're looking at a place to locate a company."
---
Talent and Training
Access to a skilled workforce is among manufacturers' top priorities and by all accounts the state is working hard to attract and train those workers. Through its 22 colleges and dual enrollment programs with high schools throughout the state, the Technical College System of Georgia (TCSG) offers 600 programs, many geared toward manufacturing skills, and a 99% job placement rate. TCSG's internationally acclaimed Quick Start delivers customized training free of charge to existing, expanding and new businesses that qualify. Each TCSG college partners with local companies to make sure workers are prepared with the training they need now and in the future.
"Our technical college system is really a point of pride," says GDEcD Deputy Commissioner of Global Commerce Scott McMurray. "Jobs for folks coming out of school represent hope for them. We love to see the schools get together in partnership with the manufacturers in those local communities." He says that often companies donate equipment to the technical colleges so students can train on what they would actually be using in a job.
"I've run factories internationally and around the U.S.," says Kleveland, "and the workforce that we have here and in Georgia is just phenomenal. We have a strong partnership with Augusta Technical College. It's important to have access to people that are local and want to stay local that can support us here."
He says Textron Specialized Vehicles, which employs more than 1,350 in Richmond County and builds around 100,000 golf cars every year, has benefited from Georgia Quick Start. But the program he's most excited about is RPM – Reaching Potential Through Manufacturing – with Richmond County Schools. Students considered most at risk of failing to earn a diploma are brought into the program to finish high school as they work on Textron products. More than 200 have graduated and 70 of those continue to work at the company. "Bringing them through the program and making them successful is just incredible," he says.
"You really have to show companies that you have the talent available for them to start, and that as they grow, [the talent pipeline] will grow with them," says McMurray.
---
Protecting the Planet
A number of Georgia's manufacturing businesses are focused on making their operations and products more sustainable and pursuing renewable energy solutions. These include the state's floor covering titans, which are meeting published sustainability goals; the growing presence of electric vehicle-component companies; and producers that serve alternative energy markets.
Since 1967, Hurst Boiler has been manufacturing boilers for the energy generation process. Global customers run the gamut from oil and gas power companies to businesses like distilleries that use wood, biomass, solid waste and hybrid fuel. Lumber mills in the southern part of the state and wood pellet producers are some of the companies that rely on Hurst Boiler's biomass unit to burn wood as an alternative to fossil fuels. Hurst says biomass is an "upbeat trend" the company is pursuing to help customers reduce carbon, emissions and operating and fuel costs.
In addition, Hurst Boiler builds systems that burn fuel such as agave waste generated by tequila distillers in Mexico. "Their electricity is intermittent," says Hurst, "so they use the agave waste [from] the distilled tequila to burn as their fuel in their boiler system. The boiler turns a turbine system to produce their electricity and they do their distilling with it. This way, they keep their electricity running all the time."
"You can be a good steward of the planet by the products you put out," says YKK's Reed. He says YKK has recently finalized a 2050 plan that calls for reducing carbon dioxide emissions by half in the next 10 years along with requiring the company's indirect supply chain to reduce CO2 emissions by 30%. By 2050, he says, YKK will be carbon neutral.
"The apparel industries [are] in this major shift toward the circular economy," he says. "That will allow us to rethink all of our products, what they're made of, what's their lifecycle. How do you use them? How can we make them recyclable, repairable and make them of different materials?"
Okabashi's three brands of comfort shoes have been sustainably made since the business began in 1984, says Irvani. The 100,000-square-foot facility employs 200 and produces just under 2 million pairs of shoes a year through a closed-loop manufacturing process. The shoes are made from recyclable material and customers can return their old shoes to the company for a 15% discount on their next purchase.
"We talk about Okabashi being sustainably made in the USA," she says, "and we have seen an incredible resurgence in the appreciation of U.S.-made products by our customers."
---
Coronavirus Consequences
The pandemic's global disruption has caused many companies to think about the advantages of U.S. manufacturing and supply chains. "We're finding more and more companies looking to bring manufacturing either back from overseas or to expand what they have here," says GDEcD's McMurray, "and to look more locally for suppliers that will reduce their risk of having long global supply chains."
After the COVID-related statewide shutdown last spring, McMurray says Georgia's manufacturers learned how to operate safely and have since ramped up production to pre-pandemic levels. As a result, he says the state had a great start to the fiscal year that began on July 1. Okabashi is one of the companies that was back to full production by the fall.
"The pandemic has highlighted the importance of local manufacturing," says Irvani. "We were able to respond in a matter of days and weeks when our partners were looking for products, not months. We also use a local supplier base ourselves and so our supplier base was able to be as agile as we were to really work in harmony. We were very grateful that we did not experience any major supply chain shift."
Some manufacturers like YKK, with customers that include the U.S. Department of Defense and Homeland Security as well as those in healthcare industries, were considered essential and remained open despite the ongoing pandemic. Providing zippers and fasteners for hazmat suits, trim for disposable protective gowns and components for suits that are airtight, watertight and chemical- and fire-resistant, YKK had to respond to high demand. Reed says the company's airtight, watertight zippers were also critical in maintaining the negative pressure needed for temporary isolation chambers used for COVID-19 patients. Responding to a national shortage of elastic last year, YKK was able to provide the stretchy stuff to companies that pivoted to making face masks.
In addition, YKK's rivets were used to repair about 1,400 N95 masks – which were in short supply nationwide – for the Lawrenceburg, Ky., Department of Health. After the repair, the health department was able to put them to use.
Beyond healthcare, the pandemic created an unexpected boon for many fitness and outdoor products, including those related to golf. Textron was surprised by the increased interest in golf cars and recreational vehicles. "The demand for golf did not subside, because people can be outside and [they can] socially distance," says Kleveland. "We struggled to keep up with that demand and it's been a good challenge. We went through the whole process from a shutdown to a slow startup to full capacity, and supply chain is still an issue."
Maddox says the pandemic spurred innovation among manufacturers. "We have all these great good-news stories about the additions of new lines of production and the pivoting that [manufacturers] have handled so well," she says. "Companies that innovated did really well and they'll continue to do so."
---
Pride in Production
Before the coronavirus upended businesses and life, GDEcD launched its Georgia Made initiative in February to recognize and support manufacturers across the state. It's a certification program for products that are at least 50% manufactured in Georgia, excluding food and agricultural items. Similar in concept to the state Department of Agriculture's Georgia Grown program, Georgia Made aims to convey quality and pride and provide resources to assist participating businesses. Those that complete GDEcD's certification process will be able to display the Georgia Made logo on their products.
"We know when we talk with international companies, a product having a made-in-the-USA label on it is a real symbol around the world of quality. And so we're trying to do the same thing here in Georgia," McMurray says. "Our manufacturers here produce world-class products and we would like for the Georgia Made logo to have that same level of recognition within the United States and around the world."
He says the program will also help participating companies connect with centers of innovation and educational institutions around the state. "If they've got an issue with how to produce a product or they're looking for a better way to build something, the cutting-edge research our educational institutions are involved in will give them a way to connect to that," he says.
GDEcD's international trade division is also on hand to help Georgia Made participants find export markets abroad, which is what the organization did for Hurst Boiler. "We'd like to think of it as a full-spectrum resource for these companies, bringing everything we have possible to the table to help them grow and succeed," McMurray adds.
Along with Hurst Boiler, YKK was one of the first companies to sign up for the Georgia Made program, which had about 20 participants at the end of 2020.
"I think it behooves all of us to promote Georgia as a manufacturing center," says Reed. "Detroit gained a lot as a brand when it became the center of the auto industry. Silicon Valley gained a lot as a brand as the center of technology. Georgia will benefit with the Georgia Made program as [we] continue to highlight what already exists, so more people will come. The more successful manufacturing is in Georgia, the better for the communities."