Above and Beyond: Aerospace Soars in Georgia
From planes and parts to drones, Georgia's aerospace industry is flying high.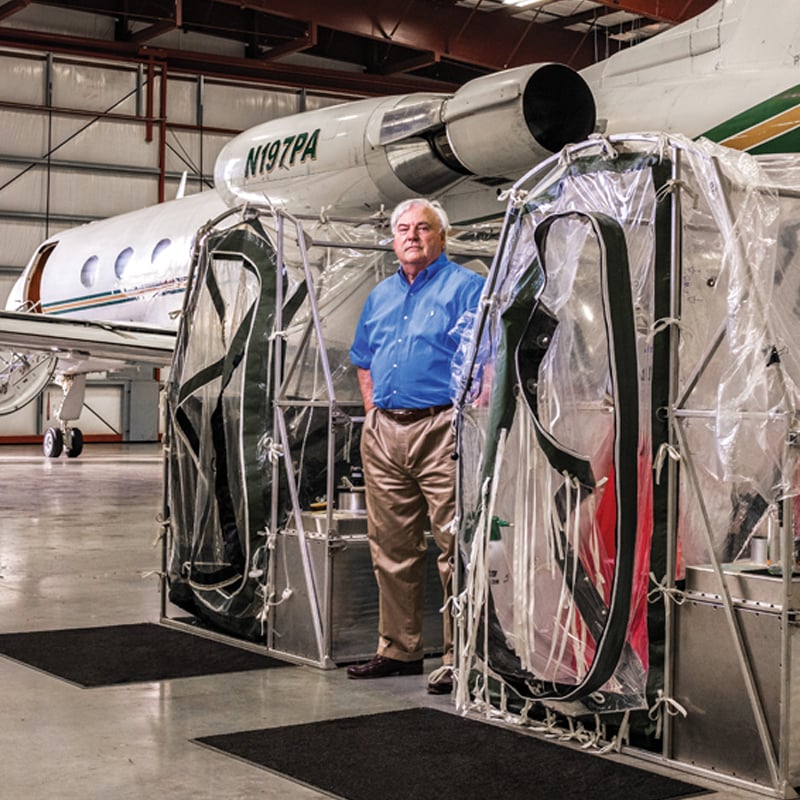 Aerospace products are the state's No. 1 export, yet the sector seems to fly under the radar of public perception.
"We're in the top-tier rankings all the time, in the top five nationally usually, [and] people are sometimes surprised by the depth and breadth of the aerospace industry here in Georgia," says Amy Kohler Hudnall, director of the Center of Innovation for Aerospace at the Georgia Department of Economic Development.
"People tend to see Delta and Gulfstream and Lockheed, those very large companies, and they don't consider all of the suppliers and the small companies that support aerospace in different directions," she says.
Though Georgia is home to some of the largest names in aerospace – Lockheed Martin alone was awarded a $15-billion contract with the U.S. Air Force in July for work to support the Air Force's C-130J program – it's also home to a robust, expansive aerospace industry that goes far beyond airplanes and airports.
In total, aerospace manufacturing contributes over $57 billion in economic impact to the state each year, or roughly 6% of the state's GDP. Among the companies contributing to the $336 million net revenue generated by aerospace are original equipment manufacturers (OEMs), systems assemblers, satellite researchers and manufacturers, precision machinists, interior specialists and even drone operators.
"The depth of our industry is really impressive, I think, with the different things that are involved in aviation," Hudnall says. "We say 'aerospace' because it covers everything."
---
Manufacturing Hub
Georgia's aerospace industry includes more than 800 companies employing more than 100,000 people across the state, mostly clustered around Metro Atlanta, Savannah and Macon.
The largest chunk – nearly 28% – of the state's aerospace companies are in manufacturing, which accounted for $10.8 billion in exports in 2019. This sector includes aviation giants like Gulfstream, Maule and Thrush, but also manufacturers that make gas turbine parts that power aircraft, lightweight composites that boost aircraft efficiency and precisely machined parts that hold everything together.
It's an almost mind-boggling assortment of companies, says David Horton. He worked on the C-130J aircraft at Marietta's Lockheed Martin in the late 1990s after retiring from the U.S. Air Force.
"Being a northerner moving to the South and really learning more about what the state of Georgia is all about, I was quite frankly surprised to see the absolute massive number of aerospace companies that are here in Georgia, from Lockheed Martin with its manufacturing to Gulfstream and so many other component manufacturers supporting manufacturing for OEMs," he says.
The state's well-established aerospace community and strong research capabilities, notably the Georgia Tech Research Institute (GTRI), made Georgia the ideal headquarters for NXT Communications Corp. (NXTCOMM), a wireless connectivity company Horton co-founded in 2017. He's now the company's CEO.
In June, NXTCOMM opened a 10,000- square-foot production facility in Ball Ground to assemble, calibrate and test its flat-panel satellite antenna. The team worked with GTRI to bring satellite
technology originally developed for military use to its AeroMax satellite, which it says will deliver more efficient, high-performance broadband connectivity to aviation, trucking and other mobile markets.
The company currently has 20 employees, with plans to add 50 more in the next 18 months as production ramps up. NXTCOMM will be looking for electronics technicians and engineers across disciplines – and doesn't foresee a problem finding qualified candidates.
"We're well equipped where we are, having Chattahoochee Technical College that does have a curriculum around electronics," Horton says. "That's a very important part of feeding the machine, if you will, with qualified employees that are knowledgeable around this new and emerging technology."
---
Bolstered by Education
Chattahoochee Tech is one link in a strong aerospace education pipeline in Georgia. Currently, more than a dozen high schools across the state offer career pathways
and classes in aerospace fields like flight operations, aviation maintenance and unmanned aircraft systems (UAS).
From there, students can enter one of the state's five technical colleges with aviation programs. Augusta Technical College, Central Georgia Technical College, Georgia Northwestern Technical College, Savannah Technical College and South Georgia Technical College offer a mix of certificates, diplomas and associate's degrees in aviation maintenance, aircraft assembly and aircraft structural maintenance. The university system's institutions also offer bachelor's programs in engineering and aerospace engineering, with Middle Georgia State University boosting its aviation programs with a four-year flight program.
Just like the companies that comprise the state's aerospace industry, the jobs in aerospace and aviation are more diverse than they might appear at first glance.
"It's a wide-ranging career. It's not just being a pilot. It's not just being an aircraft maintenance technician," explains Adon Clark, dean of Middle Georgia State University's School of Aviation. "There's air traffic controllers, there's managers that work in the aviation industry and there's logistics that go with it. It's not just a career for one type of student."
Consider Cartersville's Phoenix Air Group, for instance: Among its 300 employees are aircraft maintenance professionals, designers, pilots, engineers and project managers, as well as doctors, nurses and paramedics.
The company specializes in providing government agencies with advanced military training exercises and air ambulance services. Phoenix Air currently serves as the Department of State's primary airlift, providing air ambulance services to all U.S. embassies and consuls around the world.
"We're sort of the fire department for the U.S. government for medical problems," says Dent Thompson, Phoenix Air's senior vice president and chief operations officer.
The company also developed mobile biocontainment units in response to the SARS, bird flu and swine flu outbreaks in 2007 and 2008, when the Centers for Disease Control and Prevention realized a need for safe, contained transport of medical professionals who contract highly infectious diseases while treating global outbreaks.
After some delays, the biocontainment units were first used to transport patients who contracted Ebola virus in 2014 and 2015 from West African countries to treatment centers across Europe and the United States. They're now being used in ongoing transportation of COVID-19 patients worldwide.
"We were, and still today continue to be, the only company in the world that has the ability of transporting a patient with a Class A pathogen," Thompson says, referring to organisms that pose the highest risk for infectious disease.
By swapping out some key components, Phoenix Air's fleet of aircraft can double as mock adversaries during realistic military training scenarios. It's this cross-utilization – finding ways to make the same jets fit vastly different missions depending on what's inside them – that has helped the company grow into "the largest company you've never heard of," he says.
---
Drones and the Unmanned Market
In the state's unmanned aircraft systems (UAS) sector, which encompasses drones and other unmanned flight technologies, companies have taken a similar approach, finding the real value not in the vehicle itself but the technology that's added to it.
"What I've come to understand is that the drone actually doesn't matter, because all it is, is a flying platform. It's more about the sensors that you put underneath it, the software that you run that data through and the greater landscape of it," explains Matt Sloane, CEO of Decatur's Skyfire Consulting, a UAS consulting company serving public safety and critical infrastructure providers.
"The drone itself, it's either fixed-wing or rotor. It flies for 20 minutes or 40 minutes, and that's really about it. It has obstacle avoidance, maybe, so it doesn't hit stuff. That's as far as the technology is going to come. We'll get better on batteries, and we'll get different types of materials and stuff like that, but there really is no magic to the drone itself. It's more about the sensors that you put underneath it and what you can do with sensors."
And you can do a lot with those sensors. McDonough-based VersaTOL, for instance, is using drone and robotic technologies to inspect power plant chimney stacks for the Department of Energy (DOE), substituting a $500 drone for human inspectors in these precarious situations. Before, DOE might have had a person rappel inside a 200- to 300-foot stack to complete an inspection. Now a buzzing drone can handle the inspections instead, cutting down on the human risk involved.
Other VersaTOL programs send drones to inspect deep tunnels, where it would be prohibitively dangerous to send a person. The firm's largest current project is providing counter-UAS services to government defense customers, helping them strengthen their detection and defense strategies against drone threats.
Skyfire partners with fire departments, police departments and other public safety entities to use drones for a safer, improved first response. Rather than sending a fire truck or police officers to a developing scene, these departments can instead deploy a drone first to gather information about the type of response needed. That leads to a more efficient use of resources and safer experience for all involved.
Sloane cites the Drone as First Responder program in Chula Vista, Calif., that launched in October 2018, as proof of the technology's potential in this area.
"[The Chula Vista Police Department has] a drone on the rooftop of their public safety headquarters, and as soon as the 911 call goes out in certain categories, the drone goes, and the average response time is just over two minutes. That is way faster than any public safety response anywhere in the country," Sloane says.
"The drone can get there in two minutes and tell them exactly what's going on, and then they can have responders there appropriately. In several hundred cases, they've actually not had to dispatch an officer at all because the drone was able to clear the call. And then in a lot of cases, they were able to make arrests that they wouldn't have otherwise been able to because the drone saw something that they wouldn't have seen because they weren't there quickly enough."
As the uses for unmanned systems continue to evolve, more and more companies are developing their own unmanned capabilities — including Phoenix Air. Its Phoenix Air Unmanned branch, founded in 2015, is using drone technology to help utility company Xcel Energy complete annual inspections of its electrical towers and high-voltage lines.
Like inspecting power plant chimney stacks, this is dangerous work that poses a real threat to human life. Here, instead of helicopter pilots hovering at low altitudes over live power lines, a drone system can scan and send images to analysts on the ground.
They're all inventive uses for a readily available commercial product, but they require heavy modification and customization to fit these specific use cases.
"We develop robotic systems, in particular aircraft but also some other robotics systems, to solve challenging problems that require specialization of the solution or equipment that you simply can't buy off the shelf," says Eric Corban, VersaTOL's chief technology officer. "There are a lot of drone-type solutions now that are very capable that you can purchase off the shelf. In all of our applications, we're addressing problems that you simply can't address except by customizing the technology."
Partly for this reason, Skyfire has started developing its own purpose-built drones. Rather than customize existing drones for its first-responder clients, the company is making its own products designed with the specific features and technology its clients need.
One beta prototype is a small, rugged indoor SWAT drone for use in serving a warrant or making an arrest. It's a tough little machine, built to withstand bumping into walls without dropping out of the air, with thermal imaging technology and the ability to flip itself over if needed. Here again, the idea is to send a drone in first instead of a SWAT team, leading to safer conditions overall.
"Sending guys with guns in first is the way we've always done it," Sloane says. "But if there were an easier way to send a robot in first to get a lay of the land, that might be safer for everybody."
As technological advances continue to change how we've always done things, it's hard to know where the future of aerospace will lead – but it's likely Georgia will stay at the front of the pack, helping guide the way.