Georgia Trend Daily – Oct. 12, 2020
Oct. 12, 2020 Georgia.org
Staff reports, Governor Brian P. Kemp on Friday announced that La Regina Atlantica, a U.S. subsidiary of Italian producer of homemade pasta sauces La Regina di San Marzano, will invest $20 million in a new food processing facility in Bacon County, delivering 250 jobs to Alma, Georgia. La Regina Atlantica will source carrots, peppers, basil, onions, and meats from farmers locally.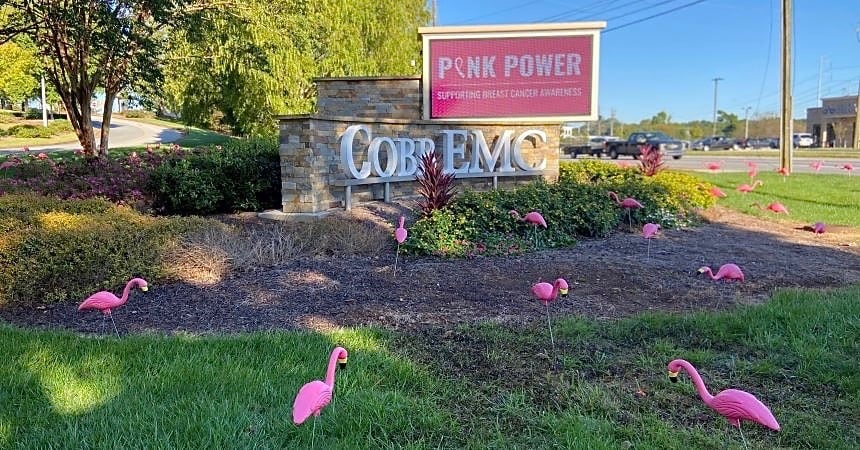 Oct. 12, 2020 Georgia Trend – Exclusive!
Mary Ann DeMuth reports that highlighting national Breast Cancer Awareness Month, Cobb EMC's annual Pink Power Flock the Yard campaign is deploying a small army of flamingos to celebrate the thousands of women who are impacted by breast cancer each year. The pink plastic birds reflect the pink ribbons that are symbolic of Breast Cancer Awareness and the birds' visibility is an effort to encourage women to get screened for breast cancer.
Oct. 12, 2020 Atlanta Journal-Constitution
Tamar Hallerman reports, like countless other small businesses across metro Atlanta, many LGBTQ-owned companies have been forced to scale back hours, operations and staff during the pandemic. Others have put expansion plans on hold or needed to pivot entirely.
Oct. 12, 2020 Atlanta Business Chronicle
David Allison reports that philanthropist, Atlanta Falcons owner and Home Depot co-founder Arthur Blank will donate $200 million for Children's Healthcare of Atlanta's big new hospital, which will be named the Arthur M. Blank Hospital. The gift is the largest Blank has ever made, and the largest Children's has ever received.
Oct. 12, 2020 All On Georgia
Staff reports that the Department of Defense has announced $600 million in awards for 5G experimentation and testing at five U.S. military test sites, representing the largest full-scale 5G tests for dual-use applications in the world. The test sites include Marine Corps Logistics Base in Albany.
Oct. 12, 2020 The Center Square
Staff reports that Georgia would need $8.8 billion to pay all of its bills, including public employers' pension benefits, according to a new ranking of the states' fiscal health based on pre-pandemic data. Georgia ranked 22nd among the 50 states on fiscal health, according to the analysis by Truth in Accounting (TIA), which is a Chicago-based nonprofit that reports on fiscal data from state and local governments.
Oct. 12, 2020 GPB
Stephen Fowler reports that in federal judge has denied a request to switch Georgia's election to hand-marked paper ballots for the November election, hours before in-person early voting is set to begin in a state that is the epicenter of the fight for voting rights. In a 147-page order issued late Sunday, Judge Amy Totenberg said that while there were concerns with Georgia's new ballot-marking device system and the state's implementation of it, making changes this close to the election "could cause electoral disruption and potential voter confusion."
Oct. 12, 2020 Facing South
Greg Huffman reports that in Georgia, state Rep. Thomas "Tommy" Benton of Jefferson, a former history teacher in Jackson County Public Schools, is facing off against Democratic challenger Pete Fuller, a systems administrator with a master's degree in instructional technology from the University of Georgia. Benton's Lost Cause version of history has been raising eyebrows in Georgia since at least 2016, when in an interview with the Atlanta Journal and Constitution he denied slavery was the cause of the Civil War.
Oct. 12, 2020 Cherokee Tribune & Ledger-News
Staff reports that in the race for U.S. House of Representatives in District 11, incumbent Republican Barry Loudermilk is facing a challenges from Democrat Dana Barrett on Nov. 3. Following are responses to questionnaires about themselves and their plans.
Oct. 12, 2020 Savannah Morning News
Katie Nussbaum reports that this year's general election might be one of the most anticipated in recent history, the outcome of several Georgia General Assembly races has already been decided as well-known and long-term representatives go into the Nov. 3 election unopposed. Both of Chatham County's state senators, Lester Jackson (D-District 2) and Ben Watson (R-District 1), are running unopposed.
Oct. 12, 2020 Georgia Recorder
Henry Redman reports, in the last decade, millions of registered voters across the country have been removed from voter rolls. Georgia removed 313,000 people from its rolls in October 2019.
Oct. 12, 2020 WABE 90.1
Molly Samuel reports, one of the issues Georgia voters will decide on in November is about amending the state constitution to allow lawmakers to specify how money from fees gets spent. As it stands now, lawmakers can create fees — and the funds that the money from those fees flows into — but they can't prevent that money from going to the state's general fund instead.
Oct. 12, 2020 Atlanta Journal-Constitution
Greg Bluestein reports that the race for president between Donald Trump and Joe Biden in Georgia remains deadlocked in the latest Channel 2 Action News poll, but the contest for a wild U.S. Senate special election now has a clear front-runner. Democrat Raphael Warnock tallied 36% in the poll released Friday, staking a double-digit lead over the two top Republicans in the race.