Cobb EMC promotes pink power
Flamingo flocks help raise breast cancer awareness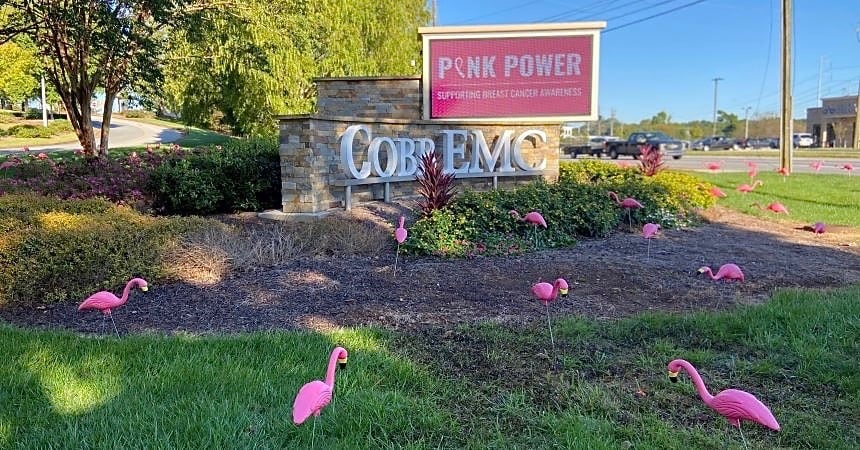 Highlighting national Breast Cancer Awareness Month, Cobb EMC's annual Pink Power Flock the Yard campaign is deploying a small army of flamingos to celebrate the thousands of women who are impacted by breast cancer each year. The pink plastic birds reflect the pink ribbons that are symbolic of Breast Cancer Awareness and the birds' visibility is an effort to encourage women to get screened for breast cancer.
The flamingo flock is an eye-catching display that's available for sponsorship in the community. Donors can send a flock to a friend or family member's yard, sponsor a bird at a local YMCA or help "feed the flock." All donations received will support the YMCA's Breast Cancer Survivor Program. Information about sponsoring a bird or a whole flock is available on the Cobb EMC website.
The American Cancer Society estimates that 276,480 new breast cancer cases will be diagnosed this year. In the U.S., there are more than 3.5 million breast cancer survivors and many are still receiving treatment. Regular screenings are crucial to early detection and prevention of the disease.
Cobb EMC is a member-owned, not-for-profit electric cooperative serving more than 200,000 residential and commercial customers in Cobb, Bartow, Cherokee, Fulton and Paulding counties.
Photo provided by Cobb EMC
Do you follow us? Find us on Linkedin, Facebook, Twitter and Instagram.