Tempting Travelers to Take Flight
Atlanta's airport is upping the ante on customer safety and convenience.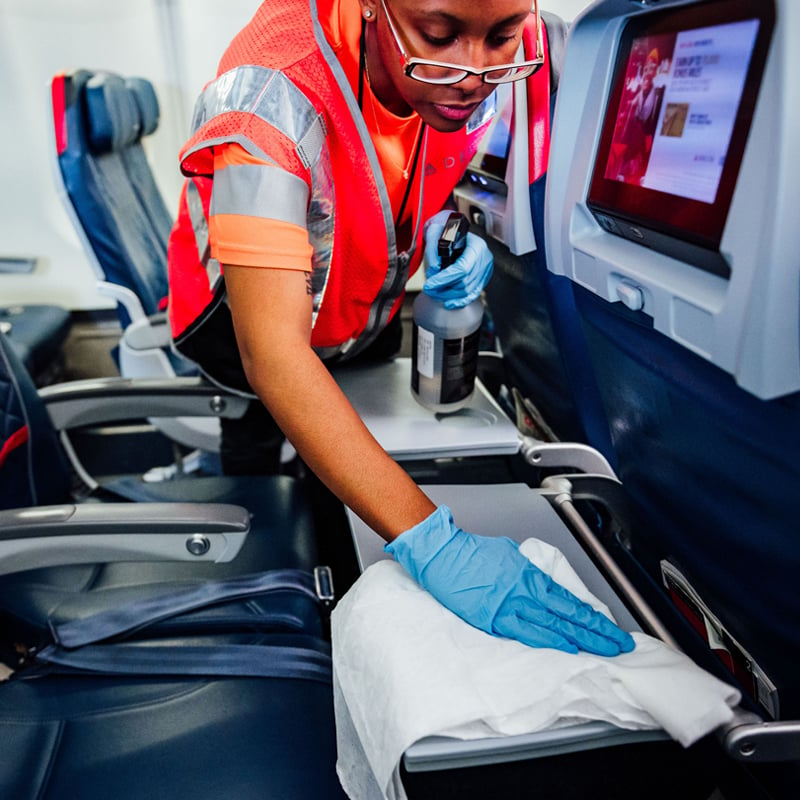 For Hartsfield-Jackson Atlanta International Airport (ATL), the impact of the coronavirus pandemic resembles the steep decline of a roller coaster. The world's busiest and North America's most efficient airport at the end of last year became nearly deserted a few months later.
"We have a facility that can handle 2,700 flights a day with no delay and 300,000 passengers," says John Selden, general manager. "On April 8, we had about 8,000 passengers and [fewer than] 300 flights. That was the bottom, and since that day we've been on a slow recovery."
To reassure prospective passengers, the airport administration assembled a 55-page playbook guiding efforts to increase sanitation and visitor safety. Selden and his staff also reevaluated the ongoing renovation projects that were begun in 2016 as part of ATL's $6-billion, 20-year master plan to figure out what should proceed in the face of a severe economic downdraft. By summer, he was feeling optimistic.
"There is hopeful news," he says. "I think we've seen the worst days we're going to see here. We're doing significantly better, improving day by day."
---
Weathering the Storm
When the pandemic began to take its economic toll, airport leaders took steps to reduce costs, accommodate airline partners and increase protections for workers as quickly as possible, says Selden. Employees – except those needed to keep the facility open – were sent home to telework, and empty planes were allowed to park on site. As airlines stopped using gates, most airport concourses were closed or operating at reduced capacity.
Only the main Transportation Security Administration (TSA) checkpoint in the domestic terminal remained open, and customs operations in the international terminal were consolidated. Approximately a third of the escalators, elevators and moving walkways were turned off, and the frequency of the Plane Train passenger transport was reduced. Visitors were limited in where they could park their cars, and shuttles from parking lots to the airport were suspended.
These measures were temporary and are being revised based on travel demand. Selden predicted a return to more than a thousand flights and 45,000 to 50,000 passengers a day beginning at the end of July until a significant treatment for the virus becomes available to make more people feel comfortable flying.
"If we're at 50% of peak by next summer, we think [we'll be] in a good place," he says.
To help offset economic losses, Hartsfield-Jackson received a $338.5-million rescue package from the Federal Aviation Administration as part of the Coronavirus Aid, Relief and Economic Security (CARES) Act. The airport must keep 90% of its nearly 700 employees on the payroll through the end of this year to comply with the terms of the funding, and it can be used for other operating expenses, debt payments and capital expenditures.
"The money is meant to pay the bills of the airport," Selden explains, "and keep it open safely [while] operating with reduced revenues from parking, concessions and terminal rent."
---
Clean Trajectory
A survey by the American Hotel and Lodging Association at the end of June illustrates what the airport is facing in terms of American travel during the pandemic. Only 32% of the 2,200 adults surveyed indicated they're planning vacations that require flying in 2020, in part due to concerns about cleanliness and safety.
"Our overarching goal is to ensure customers feel safe and secure here at the airport from the minute they drive onto the property," Selden says.
In pursuit of that goal, ATL, its shops, restaurants and the airlines have made many changes.
"We are following the governor's guidance, and many of our concessionaires [and restaurants] have taken extra steps," says Jai Ferrell, Hartsfield-Jackson's interim assistant general manager of commercial development. Among these is implementation of mobile pay options that don't require currency or credit card exchange for food purchases. She says restaurants have reduced the number of places where diners might congregate, such as at napkin and utensil counters, and the airport has removed seating to promote social distancing in shared food court spaces.
All airport workers are wearing masks, using gloves and other personal protective equipment (PPE) "because we have to deal with public trust and people being comfortable again," she says. The airport is also working on ways to encourage customers to wear masks.
"We have over 4.7 million masks, and we're issuing them to folks when they come into our queuing area," she says. Public service announcements on the Plane Train and signage around the airport are reminding travelers to social distance and comply with floor markings designating where people should stand in lines.
More than 400 touchless hand sanitizer stations have been installed throughout the airport, and Ferrell says restrooms are being cleaned and restocked more frequently. New smart technology sends alerts to custodians on a mobile device to let them know if something needs immediate attention in the restrooms, such as depleted soap or paper towels. Hand sanitizer stations are using the technology to alert custodians when refills are needed.
Deep cleaning throughout the airport has been ramped up, with gate holding areas and Plane Trains undergoing electrostatic fogging at night. And there are a number of procedures that have been implemented to keep people's hands to themselves.
Travelers who purchase memberships in Clear biometric technology screening avoid using traditional identification documents like driver's licenses and passports. Instead, retina scanning clears passengers to go to TSA checkpoints. In addition, the airport has stopped the exchange of devices and paper boarding passes when going through TSA and at the airline gates. "Now you scan your own digital credentials," says Ferrell.
The same contactless principle applies to parking, with credit cards now being used to enter and exit the lots in lieu of paper tickets. At the newly opened west parking deck, scanners are reading license plates and Peach Pass stickers for automatic billing. Selden says this makes it possible for travelers to make it from their cars through the checkpoints without having to touch anything, except their luggage.
His weekly phone conversations with other airport CEOs are providing ideas for continual improvement of safety and sanitization "There's some incredible technology being developed, and everyone is trying to get as touchless and as clean as possible," he says. Among the practices he's discussed are self-cleaning luggage bins and antibacterial touch pads.
"We're installing plexiglass between the [TSA queue] lanes to keep a physical barrier in between people," he says. "We borrowed that from Tampa [International Airport]." Thousands of linear feet of plexiglass were installed in July at the customs and border protection queue and the TSA queues.
"If you have 6,000 people at six feet [apart], you need a really big queue to keep people separated," he says. "We think plexiglass between lanes offers protection from an adjacent lane instead of alternating every other lane."
---
Airline Approach
Atlanta-based Delta Air Lines is also focusing on safety and sanitization as part of its effort to reassure travelers and recover from an 80% cut in domestic flights and a 90% reduction internationally during second quarter. CEO Ed Bastian told employees in a memo, "We don't know when it will happen, but we do know Delta will be a smaller airline for some time, and we should be prepared for a choppy, sluggish recovery even after the virus is contained." He estimated the recovery period could take two to three years.
Hartsfield-Jackson's largest airline partner has instituted measures that are in sync with those at the airport so customers can travel with more confidence. Delta is collaborating with the Mayo Clinic on employee testing and safety practices. The Minnesota-based healthcare system, consistently named one of the top in the country, has designed a COVID-19 testing program for the airline's entire workforce and is assisting in administering diagnostic and antibody tests. The findings are being analyzed to determine trends and provide the basis for updating policies and procedures.
The more than 60% of ticketholders who use the Fly Delta app on their mobile devices are receiving notifications about the airline's sanitation process, travel requirements and TSA guidelines. The procedures include thorough cleaning of self-service kiosks, gate counters and baggage claim carousels multiple times a day and electrostatic fogging of every flight before travelers board. Delta says the spraying method disinfects all surfaces on contact, even overhead bins. In addition, tray tables, entertainment screens, seat belts and armrests are wiped down between flights. Onboard air is recirculated every two to six minutes with fresh air or through filters that extract more than 99.9% of particles, including viruses.
Since May, the airline has required customers to wear masks to board and during the flight. According to its website, the mask requirement is non-negotiable, like other safety measures such as wearing a seat belt during takeoff and remaining seated when taxiing. Delta is blocking its planes' middle seats and capping seating capacity at 50% to 60% through the end of this month. On routes where demand is greatest, the airline says it will upsize to a larger plane or add more flights to the schedule.
Food and beverage service during flights has been streamlined, with flight attendants passing out snack bags during their first pass through the cabin. Delta also began distributing customer care kits in June that contain hand sanitizer, a mask and information about its cleaning efforts.
"This standard of cleanliness and care is a result of our partnership with leading medical experts and focuses on keeping areas clean, giving you more space and offering safer service," Bastian says in a message to customers.
---
Extending the Runway
One of the pandemic's silver linings for the airport, according to Selden, is the ability to speed up work on master plan renovation projects that will "improve our capacity and customer experience." With fewer travelers at Hartsfield-Jackson, construction can proceed with less inconvenience.
All projects are in progress, except the long-delayed $500-million Hilton hotel and mixed-use development next door. Developer Majestic Realty remains committed to the project but is evaluating potential design changes based on the effects of the coronavirus. "The paradigm of what a hotel is and how [people] will interact is changing," says Selden. "The rest of the [airport modernization] program is open, and we're going forward with everything."
Since the south terminal checkpoint has been closed and will remain closed until December, he says adding five lanes and renovating the existing five lines simultaneously has been possible along with installing faster, more accurate scanning technology. Those lanes should be operational by December. The five-gate expansion on Concourse T North is ahead of schedule and now should be completed by the end of 2022.
Work on the pedestrian bridges in front of the terminals, which enable people to walk from the parking garages over cars in the arrival and departure lanes, has remained on track because of decreased visitor foot traffic. One on the north side of the airport has opened, and he expects the rest to be completed by next spring. The protective canopies built over these walkways were completed last fall.
The 5,700-space, $150-million ATL West parking deck near the Georgia International Convention Center should open this month or next, depending on whether there's a need to park more cars than can be accommodated in the other garages. And for even more parking options, the $7.6-million Sullivan Road park and ride lot is now operational.
The 60-acre de-icing pad is in progress and is expected to be finished by 2022. And drilling on the 50-foot hole for the new $300-million Plane Train turnaround has begun. "It looks like we'll be finished speeding up the train from 108 seconds in between trains to 90 seconds by late 2022," Selden says.
Construction on the $58-million end-around taxiway that will improve safety and efficiency of planes on the southside of the airport was put on hold because of reduced flights during the pandemic. However, he says design of that project is now underway and is expected to be finished in fall 2023.
"We're doing all we can to speed up these projects because the operational impact is so much less to our customers [now]," he says.
Along with being able to complete the airport projects faster, Selden sees other positives as a result of the pandemic. One of these is the uptick in cargo arriving at ATL in big freighter planes, which he says will lead to more economic activity for the region. Previously 30 of these freighters landed each day at Hartsfield-Jackson, but that volume has increased to about 50 planes daily.
He also predicts the skies will be cleaner and quieter as a result of airlines retiring older planes not needed in this time of reduced travel.
"Many airports around the country have stopped building terminals [due to the pandemic]," he says. "All our capital projects are going forward." These are occurring simultaneously with improvements in touchless technologies and safety protocols and procedures, he says, "because nobody knows what the future will hold."