Gwinnett County: Dynamic and Diverse
International, growing and educated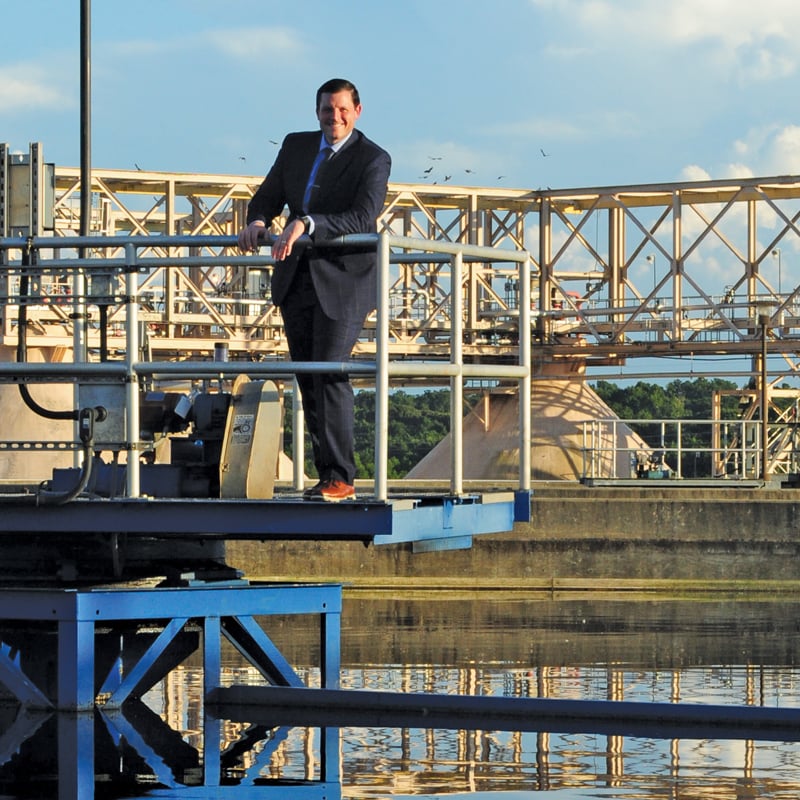 Long gone are the famous water towers along I-85 touting "Gwinnett is Great" and "Success Lives Here." But if a similar slogan greeted drivers today, it might read "Gwinnett – Dynamic and Diverse."
How diverse? The county and its school system have long since become majority-minority, more than 25% of the population is foreign-born and there are more than 130 languages spoken in Gwinnett.
"We do a new member orientation every eight weeks, and it looks like the mosaic of people in Gwinnett County," says Nick Masino, president and CEO of the Gwinnett Chamber of Commerce. "All races, religions, creeds and colors are represented, and it's great."
Gwinnett County Commission Chair (she's retiring at the end of this year) and lifelong county resident Charlotte Nash agrees. "I see a bright future for Gwinnett. We've got a great chamber of commerce and economic development staff in Partnership Gwinnett, plus a strong business community and great cities in addition to the county itself. There are a lot of good things to look forward to, and I expect Gwinnett County will continue being attractive to families." (Learn more about Legacy Leader Charlotte Nash's impact on Gwinnett County here.)
---
Mix of Communities
There is no shortage of different communities in Gwinnett County, with 16 incorporated cities, each with its own unique flavor.
Over the years, many of those cities have enhanced their own sense of place through new or revitalized downtown projects, some two decades old and some just breaking ground.
Norcross Mayor Craig Newton, the first Black mayor in Gwinnett County, has seen and overseen a lot of development in his city over the years. Riding through the heart of Norcross today, one can't help but notice several construction sites, including the Broadstone Junction apartments, with a new parking structure and public art plus townhomes, and The Brunswick, which also includes a parking deck along with a pool and other amenities.
Those parking garages are a signal that Norcross, along with the rest of Gwinnett, is getting more dense.
"A lot of suburbs are getting denser, including ours," says Newton. "Norcross spans six square miles. The bottom line is space. You can only go up. And we're finding that people really desire the type of neighborhoods with more density."
In total, there are more than 750 housing units either coming out of the ground or in process in Norcross. And in spite of COVID-19, city staff have processed more than 315 building permits so far this calendar year.
It's a similar story in Lilburn, where a downtown revitalization is underway. In 2019, the city saw more than 500 construction permits issued, with an estimated construction value above $66 million. That development hasn't slowed, with new townhomes, detached single-family and age-restricted homes under construction.
Lilburn leaders stress the city's successful partnership with entities including Gwinnett County, Lilburn Downtown Development Authority, the Lilburn Community District and others as key to its success. One example is a combined Lilburn City Hall and Gwinnett County library that opened in 2016.
"We have such a great partnership with Gwinnett County," says Lilburn Mayor Tim Dunn. "It really is amazing."
Andrew Carnes, vice president of economic development at Partnership Gwinnett, says creating a sense of place is a big goal for the county's future growth.
"Nowadays people want to walk out of their house, their flat or their townhome, turn right to go to a coffee shop, turn left to go to work or grab a bite to eat," says Carnes. "If we create a sense of place, then ultimately we're going to be able to recruit the talent, and once the talent is here we'll have the companies locating here."
He says the county has 25 projects in its announcement pipeline, indicating business continues surging forward in Gwinnett in spite of a 2020 that has proven tumultuous to say the least.
A huge project is Amazon's $238-million fulfillment center on the Gwinnett-DeKalb County line. Hiring was to begin last month, and the 700,000- square-foot facility is set to open by the end of the year.
And while the pandemic is still swirling in Georgia – and around the world – business does continue. In July, thredUP, the online fashion reseller, announced plans to expand in unincorporated Gwinnett to the tune of 700 new jobs and a $28.7-million capital investment. The 270,000-square-foot distribution center will be the company's fifth – and largest. The company expects to have 200 employees at the location by the end of this year and to reach 700 by the end of 2021.
Another big construction project just outside the chamber's headquarters is the four-star Westin Atlanta Gwinnett Hotel, which upon completion will stand 11 stories with 348 rooms and a 34,500-square-foot ballroom. Construction is also underway on parking garages at the nearby Infinite Energy Arena, potentially paving the way for a mixed-use development that would become a downtown of sorts for all of Gwinnett.
Gwinnett Place Mall in Duluth – most recently famous as a film location for the Netflix show Stranger Things – is also set for redevelopment. It went on the market late last year with leaders touting its mixed-use potential. Residential, to accommodate the area's growing population, would be an important part of any development.
In Lawrenceville, the county seat, Mayor David Still may be new to that position (he was elected last year), but he has served residents for several years on the City Council, the Downtown Development Authority and the Lawrenceville Tourism and Trade Association. This service gives him a unique perspective on the city he calls home.
As mayor, ensuring adequate housing available for people of all income levels – affordable housing for everyone – is a focus.
"A large percentage of the housing in Lawrenceville is rental, and much of that is poor quality," says Still. "I have been working with the Gwinnett Housing Authority and other organizations to address this issue and to provide quality housing for our citizens at multiple socio-economic levels."
Still is also interested in bringing jobs to his city, and he wants employees to live, work and play in downtown Lawrenceville. "We have built a livable, walkable community, and now we need to provide additional jobs that bring full-time residents to enjoy it," he says.
One forward-thinking project in Lawrenceville is The Water Tower, a technology and innovation center created to develop new and better ways to find, clean and reuse water. With Gwinnett County's population expected to reach 1.4 million by 2040, maintaining infrastructure is paramount. Universities, research groups and international associations are working with the center to guide policy and make it a global destination for water research.
Another innovative project, Peachtree Corners' Curiosity Lab, an autonomous vehicle (AV) test track and smart city lab, received this year's transportation award from IDC Smart Cities North America for its connected and AV project. Peachtree Corners is the first city in the U.S. to offer a live test track for AV research. The publicly funded lab invites startups, universities and established companies in to facilitate the growth of intelligent mobility and smart city technology.
The projects exemplify two of Carnes's personal slogans, "Gwinnett is the community of tomorrow," and "Gwinnett is a living laboratory."
---
A Flexible Future
Carnes also touts the flexibility of Gwinnett County's businesses, which have rapidly adjusted to the new reality of COVID-19. One success story is The Cutting Board Co., which despite its name is churning out much more than kitchen accessories these days.
When companies began shutting down over virus concerns, The Cutting Board Co. saw its business decline, too, especially since so many of its customers are restaurants. Then it pivoted to the creation of facemasks, face shields and other forms of personal protective equipment. Since that day, business has not only rebounded, the company has had to bring on 12 additional employees to keep up with the workload.
Matt McKee, the company's CEO, says its masks along with the acrylic shields that are commonly used at checkout counters and nail salons have been popular sellers.
"One of our core values here is, 'learn, change, grow,'" he says.
Gwinnett County is doing all three in myriad ways. Another huge change will be on the docket this fall, when voters are asked to approve a sales tax that would see Gwinnett join Fulton, DeKalb and Clayton counties in the MARTA system. If passed, the 30-year, 1% sales tax is expected to raise $12.12 billion to fund transportation projects including heavy rail from MARTA's Doraville station to Jimmy Carter Boulevard, 10 new bus rapid transit routes and improvements to local bus routes.
Gwinnett is also making sure it's ready for the future through its award-winning public school system, the largest in the state with some 180,000 students and 23,000 employees. At press time, the system had pushed back its start date until mid-August and planned to open with digital instruction for all students. A return to in-person learning would be staggered by grade level.
J. Alvin Wilbanks, the system's superintendent and CEO since 1996, says the system is "probably the best economic development tool the county has," as it helps attract both families and businesses to the area.
One of the shining stars among the system's nearly 150 schools is the Gwinnett School of Mathematics, Science and Technology, which has been ranked one of the best public high schools in Georgia.
But Gwinnett County Public Schools is beefing up its STEM offerings in other ways as well. The Paul Duke STEM High School opened in 2018, and a new high school set to open in 2022 will have an artificial intelligence theme, again showing how Gwinnett changes with the times.
"I'm not for changing for the sake of change, but you change when you need to," says Wilbanks. "And obviously, if you're not changing today you need to be."
The changes happening in Gwinnett County during the past 20 years have set it up to be a dynamic and diverse business and residential location well into the future.

---
Local Flavor
A Piece of India

Head down Rockbridge Road in Lilburn on any given day, and you'll find hallmarks of suburban Atlanta like ranch-style homes, strip malls and pine trees.
Keep driving, and you'll also find one of North America's largest Hindu temples.
Opened in August 2007, the BAPS (Bochasanwasi Shri Akshar Purushottam Swaminarayan Sanstha) Shri Swaminarayan Mandir Atlanta sits on 30 acres and brings India to Gwinnett County and the southeast. Since the day it first opened, it's attracted more than 2 million visitors.
"Gwinnett County is one of the most diverse counties in the state, and the Mandir highlights that," says Dr. Jigar Patel, who volunteers at the facility. "The fact that the Mandir is here and that so many of our regular visitors live in Gwinnett County is a direct reflection of how welcoming the county is."
The 30,000-square-foot facility was visited in 2017 by guru Mahant Swami Maharaj, the worldwide leader of BAPS, and was originally dedicated by his predecessor. BAPS adherents from across the south made the trip to Lilburn for both occasions. Similar Mandirs can be found in other cities like Los Angeles, Chicago, Houston and Toronto.
The construction process took 17 months as the building pieces were carved in India and shipped to the U.S. Included were 2,000 unique carvings, 391 columns and 13 spires. The temple's tallest spire reaches a height of 84 feet. For the Indian diaspora, it's literally a piece of home transported to them.
"It's a direct connection to their own spirituality," says Patel of the Mandir's meaning to BAPS practitioners. "It provides a perfect space for people to come and worship, meet, share a culture, music, food and friendships. It helps both members and visitors to stay connected to their culture."
But the Mandir draws rave reviews from others as well. In fact, those unfamiliar with the faith and the architectural style are often amazed when they step inside.
Patel says the two most frequent remarks he hears are about how peaceful and quiet the Mandir is inside thanks to its stone walls, and about the outstanding and intricate architectural detail.
Gwinnett Chamber of Commerce President and CEO Nick Masino describes the Mandir simply as "amazing. It's not a tourist attraction, it's a cultural and religious space," he says. It is also the most-visited place in Gwinnett County, he adds.
Like much of the U.S. and the world, the Mandir has been closed to in-person visits for most of the year due to COVID-19.
But BAPS volunteers haven't stopped their work. Sunday activities and meetings are now held on Zoom, more than 2,000 lunches have been donated to frontline workers, 1,000 surgical masks have been given to hospitals and more than 900 pounds of canned goods donated to Gwinnett schools. Lastly, $10,000 each was donated to Emory Johns Creek Hospital and Gwinnett Medical Center as they continue to fight the coronavirus.
Eventually the Mandir will reopen and regular activities will resume. For a facility designed to last 10 centuries, the future is always bright.